Osaka-raised Mixed-spice Curry at Nakanoshima European-style "ex-Yam House"
In 1915, Mr. Yam Namasuteo from India, the home of curry, came to Osaka that used to be considered the kitchen of Japan. He built The Nakanoshima European-style building in order to introduce new spices to Japan. He took all his effort to do so, but sadly, he passed away at a young age. After he passed away, people who admired him rebuilt the building as "ex-Yam House" and opened a curry shop.
Today, we will introduce the India-born and Osaka-raised curry which still retains the spirit of Mr. Yam.
Nostalgic western—style building surrounded by tall buildings
This is a business district with tall buildings called, "Nakanoshima", in Osaka. If you walk around, you can find a brown building which has a different atmosphere from the surrounding glass-made commercial buildings.
This is "ex-Yam House". When you get closer, the Taisho-era style entrance will grab your attention. The  front porch of this building and its stylish lighting also remind us of the old days.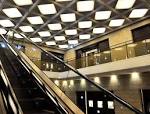 The curry shop inside the "ex-Yam House" can be easily overlooked, but it's quietly located on the opposite side of the entrance. People who pass by tend to wonder what kind of shop it is and tempt to go inside.
Each ornament helps to create a calm atmosphere.
The unchanged heavy curry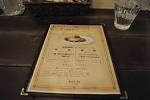 There are four types of dishes on the menu which are called as A, B, C, and D. You can select three of the types four and customize your dish. One from Keema curry of the day, and two from the standard dishes. You can also choose the type of rice. You might need some time to decide what you want to order because there are ten different flavors on the menu.
You can also enjoy mixing three different types of curry on your plate to add additional flavor, that is why the curry is called "mixed curry".
The lunch set costs 950 yen with salad and yogurt.
After I ordered the lunch set, my curry finally arrived. I ordered the "Japanese-style duck and keema with citrus and added flavor, spinach curry and yam curry with jasmine rice". They give a larger serving of rice free of charge during lunch time.
Soft-stewed radish, radish sprouts, sliced carrots, onions, and tomatoes are served like the trees in the forest with dome-shaped rice. You might feel a bit overwhelmed with so much food on your plate.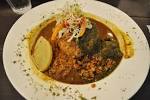 When I took my first bite, I felt that the texture of the curry was a little rough. This texture is made by coarsely ground spices. However, this not only enhances the spiciness but it also enhances the taste of vegetables, and adds a very coherent taste.
As I continued eating, I started to feel a little hot. I looked around, and other customers also seemed to be sweating a little. Thanks to the authentic spices, even though we didn't feel the too hot taste, our bodies were warming up from the inside.
Finally, cooled ourselves down by eating yogurt from dessert.
At the one corner of the business district, the curry shop inherits the taste of the old days, which is "ex-Yam House Nakanoshima European-style building." When you enter the European-style building the curry taste remains from the old-days. However, "mixed curry", the style where you eat several kinds of curry at the same time by mixing them on your plate is very modern. Why don't you go and taste the curry for yourself?
Information
ex-Yam House Nakanoshima 
Address:
〒530-0005 Daibil main building 2F, 3-6-32, Nakanoshima, Kita-ku, Osaka-shi, Osaka prefecture
Opening hour:
Mon-Fri: 11:15am - 14:00pm, 18:00pm - 22:00pm (last order 21:00pm)
Sat: 11:15am - 14:00pm, 18:00pm - 21:00pm (last order 20:30pm)
※ Closed as soon as the curries are sold out.
Closed: Sundays and holidays, the second Monday
Wi-Fi environment: No
Credit cards: Unknown
Language: Japanese only
Access:
About 3 minutes walk from Keihan Nakanoshima line / Watanabe Hashi station
About 5 minutes walk from the subway Yotsubashi line / Higobashi station About 165m from Watanabe Bridge Station
Price: Lunch set: 950 yen
Religion Status: Unknown
Telephone number : 06-6600 -6136
Official HP: http://kyuyamutei.web.fc2.com/nakanoshima/
The information presented in this article is based on the time it was written. Note that there may be changes in the merchandise, services, and prices that have occurred after this article was published. Please contact the facility or facilities in this article directly before visiting.