Kintaikyo Bridge - Crossing Five Beautiful Wooden Arches In Iwakuni
Kintaikyo, found in Iwakuni, Yamaguchi Prefecture, is an unusual wooden bridge with five arches. Let's take a closer look at this architectural wonder and the impeccable scenery around it.
Kitaikyo - The Most Beautiful Bridge in Yamaguchi
Iwakuni is the easternmost city of Yamaguchi, sharing a border with Hiroshima prefecture.
Here you will find a beautiful, curiously constructed bridge that is one of Japan's Three Famous Bridges alongside Nagasaki's Meganebashi and Tokyo's Nihombashi. Today, we would like to introduce to you the charms of the lovely five-arched wooden bridge, Kintaikyo.
The Highlights of Kitaikyo Bridge
Kintaikyo is essentially made from five small bridges connected together in order to make a single massive bridge, which in itself is quite rare. The three innermost spans of the bridge were built using a method known as serimochishiki, which involves a calculation of the arches' integrity; this method produces bridges that are not only aesthetically pleasing but exceptionally durable as well.
Since Kintaikyo was first built in 1673, the spans have been continuously maintained by professional craftsmen who have developed and expanded on bridge-building technology, allowing this bridge to preserve its historical form.
Looking up at the bridge from below you can see right away that it has been built purely from wood; there isn't a trace of metal bracing or concrete to be seen anywhere.
We went over Kintaikyo from Machikawa. To cross the bridge and come back, you must pay a 300 yen toll. The bridge is open 24 hours a day, however, the tollbooth is not, so if you plan to visit Kintaikyo at night, you simply place your fee in the deposit box and head on your way.
As you reach the three central spans, you will notice that they are composed of small gentle staircases that turn into a slope at the top of the arch. Likewise, when descending from the top of the arch you will find a similar staircase, so please be careful and watch your step on the bridge.
Enjoy Fabulous Views from the Bridge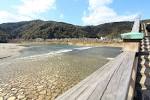 The view from the bridge is astounding; if you look down from the railing, you can watch as Nishikigawa River rushes thunderously past, the water surging along its course.
Though it was often destroyed by floods in the past, the present incarnation of Kintaikyo was built by combining Japanese architecture with technology imported from the West, making it incredibly sturdy.
If you turn towards the land, you should look up towards the mountains. On the mountain to the north, you will be able to see Iwakuni Castle standing guard over this entire area.
We have crossed over the five arches of Kintaikyo. The mountain-side flood plain was planted with many different types of trees, making it a particularly beautiful sight in the spring with its cherry blossoms and the fall, when the red maple leaves are at their finest.
On the mountain-side of Kintaikyo, if you walk for a short distance, you will find the White Snake Viewing Institution. These white snakes are a protected species and are so rare that in all of the world, Iwakuni is the only place in which you can see them. When visiting this area, if you are an animal-lover or just a bit curious, please stop by this viewing center and see the captivating white snakes.
The land around the mountain-side was molded by the Iwakuni jokamachi (city built around a castle) and as a result, you can find many shops and restaurants in historical houses from the Edo era.
Local Dishes and Iwakuni Souvenirs
It's definitely a good place to stop and take a break. If you are looking for a souvenir of your visit to Iwakuni, we recommend the Kintaikyo senbei (700 yen with tax), crackers that have been made in the shape of the bridge's arches.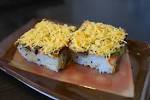 Here you can see the local specialty: Iwakuni sushi. Although it has been cut in this photo, it starts out as a showy 60 cm long rectangle of delicious sushi. Sandwiched in the middle you will find Iwakuni lotus root, which has an extra hole compared to other varieties of lotus root, with thin strips of omelet scattered and layered on top.

If you are traveling in Yamaguchi or in neighboring Hiroshima, please make your way to Iwakuni and see the amazing architectural feat that is Kintaikyo.

The information presented in this article is based on the time it was written. Note that there may be changes in the merchandise, services, and prices that have occurred after this article was published. Please contact the facility or facilities in this article directly before visiting.