Meet The White Snakes Of Iwakuni In Yamaguchi
Have you ever seen a white snake before? At the Shirohebi Shiryokan (White Snake Museum) in Iwakuni, Yamaguchi prefecture, you can see the charms of albino rat snakes and Iwakuni Shirohebi Shrine for yourself.
Have you ever seen a shirohebi, a pure white snake before? While you might find some albino snakes, these are often the result of mutations, as it's very rare for a pure white snake to be born in the wild.
But there is a special place in Japan where you can see white snakes up close, in Iwakuni, in Yamaguchi prefecture.
Today, let's pay a visit to the Shirohebi Shiryokan (White Snake Museum), and see the snakes and more of the charms of the Iwakuni Shirohebi Shrine found on the premises too.
What's the Origin of White Snakes? Where Can I See Them?
Little is known about the origin of shirohebi. It's thought that they came about as a result of natural pigment mutations in ordinary Japanese rat snakes.
The first mentions of shirohebi appear in the Ganyuu Chronicles, a document outlining the history of Iwakuni. In the chronicle, it states that a shirohebi first appeared at the foot of the castle in 1738.
People in those days regarded the shirohebi as being a beneficial, good fortune summoning guardian deity of the home, and are believed to have helped their numbers multiply as a result of this belief.
In 1972, the Iwakuni shirohebi was declared a protected species in Japan.
In recent years, urbanization has encroached on the natural territory of the shirohebi, which has caused a decrease in their numbers. For that reason, breeding and protection programs are carried out by five different facilities in Iwakuni, and at these centers, visitors can see and learn more about these rare white snakes too.
Today we called on the Imazu Tenjin Shirohebi Shiryokan, which is an indoor breeding facility and an outdoor farm, where you can freely watch the shirohebi that call this area home.
Or, you can pay a visit to Yoshika Park, near the famous wooden Kintaikyo bridge, where another white snake breeding facility is located.
Full of Shirohebi Decorations! Shirohebi Shrine
Shirohebi Jinja, a Shinto shrine dedicated to Houkan Shirohebi Benzaiten, the guardian of economic fortune and provider of business-related blessings, stands the next to the Imazu Tenjin Shirohebi Shiryokan.
Throughout the main hall and precincts of this shrine, you will find a great number of decorations and design elements based around white snakes. Let's take a closer look around.
This is the main shrine. If you look closely at the stone toro lantern in front of the main hall...
... you'll see that there is a shirohebi carved into the base of the lantern. Every detail of the shirohebi, right down to its characteristic red eyes, has been faithfully reproduced on this work.
Here is the chozuya, the sacred washing well where visitors purify themselves before making offerings at the shrine.
The purifying water of this well comes out the mouth of a white snake. The faucet portion of this well is referred to as the minakuchi (spout).
There are other shrines throughout Japan where you will find dragon or turtle themed spouts, so if you are planning to visit other shrines, make sure to take a closer look at their minakuchi too.
Next to the main shrine, you will find the shrine store, which sells omikuji (fortune slips), omamori (protective charms) and other shrine related items.
This is the shirohebi omikuji (200 yen). This slip of paper has been folded into the shape of a snake's head, and it almost seems as though an army of snakes were peering out at you from the wall. The sight of the little red tongue peeking out from its mouth is very cute though.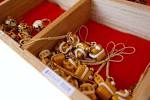 And here is the tawara strap (550 yen), a special charm featuring a white snake wrapped around the top of a bag of rice.
Historically, rice has been the staple diet of the Japanese, and mice or rats, which would eat the rice in storage, are considered vermin. Shirohebi are albino Japanese rat snakes, which feast on rats and mice, and as such, are a welcome protector of rice.
n this strap, the three rice bags that the snake is protecting are stacked in bales labeled "fuku" (good fortune), "zai" (money or wealth), and "kou" (happiness), so by wearing this strap, you can expect to be blessed with better luck, financial success and happiness.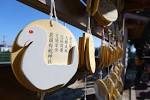 By all means, please come and see these rare and beautiful white snakes, only found in this region of the world.
Information
Iwakuni Shirohebi Shrine
Address: Yamaguchi, Iwakuni, Imazumachi 6-4-2
Hours: from 9:00
Closed: None
Wi-F: None
Credit Cards: Not accepted
Nearest Station: JR Iwakuni Station
Access: 20 minute walk from JR Iwakuni Station
Religion: Shinto
Phone: 0827-30-3333
Website: Iwakuni Shirohebi Shrine (Japanese)

The information presented in this article is based on the time it was written. Note that there may be changes in the merchandise, services, and prices that have occurred after this article was published. Please contact the facility or facilities in this article directly before visiting.