Drawing Fans From All Over: Kendama Specialty Shop & Cafe Sulab
Kendama - a Japanese toy that's increasingly popular overseas. Today let's visit Sulab, a specialty shop and cafe for kendama enthusiasts found in Kawagoe, Saitama. Here you can meet fans of this toy from around the world!
A Japanese traditional toy, the kendama, similar to the cup-and-ball game overseas, has found popularity overseas as well in recent years. A peculiarly shaped wooden toy, it has a central stick with 3 plates on either side and on the tip of the stick, and a ball attached by a long string to the other end of the stick.
Initially moving overseas as a children's toy, it quickly found popularity with street sport fans. Kendama enthusiasts and those with a vague knowledge of this toy should by all means make the journey to Japan to learn more about this entertaining game.
We recommend visiting Kawagoe in Saitama prefecture, where you can find the kendama specialty store and cafe, Sulab. Let's check out the shop!
A Surprising Wall of Kendama!
When you walk into the shop one of the first things that you will see just might be a bit overwhelming at first - an entire wall full of various kendama.
Sulab not only handles sales in Japan, but nearly all sales of kendama in America, Denmark, Taiwan, and other countries all around the world.
For Starter's, Let's Try Out the Kendama!
"I don't have a kendama."
"I've never played with one of these before."
Don't worry about it!
In Sulab there are many different kendama to borrow and try out for yourself. Just ask the staff and they will provide you with a trial kendama to play with in the shop.
A shop with this many kendama that you can not only purchase but having a space where you can try them out beforehand makes Sulab an incredibly unique store in Japan.
Left and Right Kendama
Did you know that there are right-handed and left-handedkendama? It goes without saying that Sulab has both on hand to try out.
There are even big ones like this. Comparing these to the kendama next to them really show just how big they really are.
Ok, now that you've chosen your kendama, it's time to try it out! Even if you have never tried it before, the two owners will gladly give you an introductory lesson to playing with the kendama. The techniques are simple and in about 10 minutes, you are sure to have the movements down pat.
And once your skills have improved, by all means please give the Japan Kendama Association's beginner and semi-beginner qualification test a try - it's free to enter. If you speak to a staff member who has been officially certified by the Kendama Association and successfully perform the test for yourself, they can provide you with an honorary certificate.
Players and Fans from Around the World Gather Here
If you look around the shop interior you will discover many t-shirts signed by professional kendama players from both Japan and overseas on display. The owner and shop manager Su-san has exchanged and received these from kendama tournaments all over.

Sulab is actually an internationally famous shop, well-known to those in the kendama world. At times, both domestic and international kendama pro players drop by this shop. According to Su-san, in the past there have been people that have come all the way to Kawagoe strictly to visit Sulab.
Of course there are kendama fans in Kawagoe, but people from all across Japan, America, France, Singapore, Malaysia, Taiwan and other countries also make the journey and gather here.
You might not even know them at all, you might not even speak the same language in the slightest, but everyone's mutual interest in kendama soon breaks down any barriers and people find ways to communicate here in the cafe space.
Souvenir: An Original Kendama from Sulab
Sulab sells their own original kendama: the su-ken. Made from Japanese zelkova, walnut, maple and other types of wood, these kendama come in a wide variety and, after giving them a try, you are sure to notice how easy to use they are.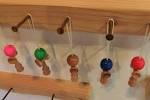 They also sell cute miniature kendama cellphone straps too.
You can also find Pill being sold at Sulab. This is a slightly different juggling toy, that was inspired by the 'ken' and 'dama' (or cups) of the kendama. It also makes a great souvenir.
Talk about Kendama and Make Friends in the Cafe Space
Sulab is a joint establishment, not only is it a specialty shop but it is also a cafe; the cafe has a one drink minimum system for those visiting their cafe. (First-time visitors are not required to order a drink).
In the inner part of the store interior there is a bar where alcoholic drinks may also be ordered. It's a lot of fun to get a little tipsy and chat with the other patrons about kendama here - you really should try it.
The perfect toy to play with in an open space, it is still somewhat difficult to find kendama when shopping overseas. By all means, please enjoy this unique aspect of Japanese culture at Sulab in Saitama.
Information
Kendama Specialty Shop & Cafe Sulab
Address: Saitama, Kawagoe, Shintomicho 2-30-3
Hours: 11:00-21:00
Closed: Thursdays
Nearest Station: Kawagoe Station, Tobu Tojo line, JR Saikyo Line, Seibu Hon-Kawagoe line
Access: 5 minute walk from Hon-Kawagoe Station
Telephone: 049-214-4276
Official Website: Sulab Web Shop
Official Facebook: Sulab

The information presented in this article is based on the time it was written. Note that there may be changes in the merchandise, services, and prices that have occurred after this article was published. Please contact the facility or facilities in this article directly before visiting.