Cruise From Narita to Tokyo Station in JR's Cozy Green Cars
When traveling major routes by train, take the JR Green Cars to ride in comfort. In this article we introduce the amenities of Green Cars, and explain how to buy tickets.
Japanese trains are punctual and come frequently, so they are the best mode of transportation if you're planning to travel around the country, especially in urban centers like Tokyo. Using the trains really makes a big difference in terms of efficiency.
However, depending on the train line and the time of day, trains can be packed with passengers, and having to spend a long time in transit can be an unreasonable demand. For people who want to travel in a little more comfort, we recommend riding in a Green Car.
Three Reasons To Take the Green Car
Green Cars are train cars equipped with better customer facilities than normal cars. We'll introduce three reasons why we recommend them for travelers.
1. Spacious Seating Makes Even The Longest Commute a Breeze
The seats on the Green Cars are more spacious than seats on regular cars, and they can be reclined. You can stretch your legs out, and even if you recline the seat, it won't feel cramped. Don't you feel that it's a little wasteful to get tired out just from traveling on the train? On the Green Car, you can take a restful nap.
2. Seats Facing Each Other Encourage Conversations with Family and Friends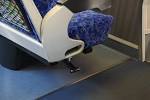 The Green Car has revolving cross type seating. Stepping on the pedal at the foot of the aisle-side seat will rotate it, which allows four people to sit across from one another.
When traveling with family and friends, you can maintain your lively conversation thanks to these seats. However, there may be other passengers taking naps. Be considerate and keep your voice down.
Read also: Japanese Train Etiquette: Rules for Riders
3. The Seats Come With Tables! You Can Work Peacefully
Have you ever been on a train journey and wanted to research your destination, but there wasn't a place to put your computer, or you couldn't focus because of the noise?
Depending on the time of day, regular train cars can be extremely noisy, and they would not make a proper working environment. On the other hand, Green Cars are remarkably quiet.
Green Cars are also equipped with tables, so you can focus on your work.
Furthermore, Green Cars are staffed with Green Attendants. In addition to inspecting passenger tickets, they sell drinks and light meals inside the car. They'll kindly respond to your inquiries, so feel free to call them if you need something.
1. Service Routes: Green Cars Operate on Major Lines, Such As Narita-Tokyo
It is not the case that Green Cars run on all train lines.
This map shows routes where Green Cars are coupled to the trains, as well as main stations where those trains stop. You can travel to major sightseeing destinations on Green Cars that go from Narita Airport to Tokyo Station, as well as from Shinjuku to Yokohama, among other routes.
However, even on these routes, some trains will not have Green Cars attached. Also, it's important to note that Green Cars differ in several ways from bullet trains and limited express trains: for example, all seating is unreserved, and smoking is prohibited.
2. Fare System: The Further You Go, The Bigger the Savings
To be able to ride the Green Car, you have to buy a Green Car ticket in addition to the regular ticket. When purchasing Green Car tickets beforehand or inside the train, the fare will vary according to distance until destination (under 50 km, and over 51 km), as well as the day of the week (weekdays, and weekends or public holidays).
Even in situations where the station ticket machines are too crowded, you can purchase Green Car tickets on the train, so you don't have to worry. However, be aware that you will be assessed a slightly higher fare. You're better off arriving at the station with time to spare.
3. Purchasing Tickets Inside and Outside the Platform Area
You can buy Green Car tickets at the Suica-marked ticket machines outside the ticket gates at a station where Green Car trains stop, as well as the service counters at major stations.
Read also:
The ticket machines have English displays.

Read also: 
If you don't pick up a ticket before entering the platform area, you can buy one at the Suica-only machines inside. As mentioned before, you can also purchase tickets from the attendants inside the train.
4. Where To Get On: Look for the Green Mark!
The boarding locations for Green Cars are indicated with green marks. The boarding locations vary according to the arrangement of train cars, so check the composition of the train you'll be riding.

If you're traveling in Japan, travel by train is a must. Without limiting yourself to Green Cars, please use the convenient train services wisely, so you can have an efficient and comfortable journey.


Read also: What You Should Know About Japanese Trains (How to Take Trains)


The information presented in this article is based on the time it was written. Note that there may be changes in the merchandise, services, and prices that have occurred after this article was published. Please contact the facility or facilities in this article directly before visiting.