Onomichi U2, The Starting Point Of Your Seto Inland Sea Route!
Today we will introduce Onomichi U2, a complex facility offering lodging and shopping experiences. They provide with an overall service for cyclists heading to Shimanami Kaido, and many products emanating the local charm.
Onomichi in Hiroshima prefecture is an old city with a rich history surrounded both by mountains and the sea.
Although one of Onomichi's most popular and representative tourist routes includes visiting its many historical Buddhist temples, it didn't take long for world-famous TV station CNN to recognize the beauty and charm of this city and its surrounding area and pick its Seto Shimanami Kaido (Cycling Route) as one of the World's Most Incredible Cycling Routes ever.
Other must-see spots and places, such as stylish shops and stores are also making their way to the spotlight with its visitors, and are helping to tell the story of the fascinating city of Onomichi. Today, we will be introducing a former storehouse at Onomichi Bay, which has now become a reformed complex facility called Onomichi U2.
Read Also:
The Perfect View: Everything About The Shimanami Kaidō
Five Must-See Sakura Spots In The Chūgoku And Shikoku Regions
All-Included for a Great Start on the Shimanami Cycling Route
Onomichi U2 adjoins Onomichi Bay and is the starting point of Shimanami Kaido. Once a marine transportation storage facility, it was renovated under the hands of two skilled architects Makoto Tanijiri and Ai Yoshida, to become an unconventional and charming complex facility.
Anyone who plans on journeying on the Shimanami route by bicycle will find this lovely store offers the best and most useful services to cyclists, as well as a wide variety of items brimming with local charm.
A Hotel to Stay the Night with Your Beloved Bicycle
Photo courtesy of Onomichi U2
Hotel Cycle is Japan's very first hotel where you can check in while still riding your bicycle.
In their lobby and guest rooms that show off the techniques and beauty of local traditional craftsmanship, guests of the hotel are allowed to bring their bicycles indoors, and there is even a room equipped with special bicycle hangers for customers to use if necessary.
Photo courtesy of Onomichi U2
As there is a shared room with space for bicycle maintenance and repair, one can say that this hotel has done everything in their power to support the cyclists' lifestyle through and through.
A Shop Where You Can Rent a Bicycle
Photo courtesy of Onomichi U2
Welcome to a professional bicycle shop solely equipped with Giant brand products, which are highly valued and respected in the world of cycling. Here you can find not only various bicycle models, but the appurtenances as well, such as baskets and stands, and many other useful cycling items one could need on their journey.
Photo courtesy of Onomichi U2
At this shop it is also possible to rent a Giant's sports bicycle and the staff will help you with your rental or purchases in accordance with your needs and desires, so you can fully enjoy cycling to your heart's content. Their all-around service makes it possible for international visitors to have a blast cycling around the country, without any troubles when it comes to bringing their own bicycles from home to Japan.
Only in Onomichi – a Bakery with Marine and Mountain Blessings
At Butty Bakery, travelers can find a marvelous assortment of bread and groceries made from the local ingredients. Take a closer look and you'll discover a variety of pastries such as baguette-style bread, and some shop originals made using special ingredients from the local producers. You can also take your time and relish your chosen pastry while sipping on a drink at the Yard Café right across the bakery.
Furthermore, in the grocery corner you can find some excellent souvenirs such as pickled oysters, a well-known delicacy of Hiroshima, or seasoning made from the Seto area lemons, and many other tasty treats.
A Café with a Delicious Local Menu
At the Yard Café, with its serene, sunkissed ambiance, customers can relish a refreshing natural orange juice made from locally grown oranges. Apart from their standard menu, you will also find this café's services are very convenient for cyclists, since here they can refill their drinking water, and get energy bars and other goods that could come in handy during their trip.
Pedal Away at a Special Bar
Take a look inside the Kog Bar, and brace yourself for a wonderful surprise – for hardcore cyclists whose restless feet always crave the road, you can enjoy a chair with bicycle pedals and a saddle? This unique bar provides with an equally unique experience of peddling your way into a lovely evening while gazing at the beautiful Seto Inland Sea, with a wine or champagne glass in your hand.
You can also pay a visit to the restaurant next to the bar, where they serve grilled dishes made from fresh marine products from the Seto Inland Sea. Spend an unforgettable evening dining at this restaurant's large dining table, or on the deck space, where you can also appreciate the splendid view of the surroundings!
A Shop Supporting a Natural Lifestyle
Shima Shop offers selected items that can improve your lifestyle in Seto, and inspires a way of life in unison with the nature itself.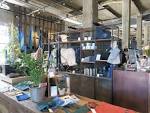 Apart from the clothing, tableware, and other everyday necessities, a huge bookshelf with a vast number of books and magazines, which is, at the same time, a library as well, will make any heart flutter just looking at it.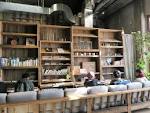 Visit Onomichi U2, a complex facility that will amaze you with its diverse shops and stores filling every corner, and that will provide you with a luxurious shopping and dining space to spend your time in. Each item available here tells the story of Onomichi's charisma in its own, original way, so much you might even want to shop for yourself instead.
And above all, Onomichi U2 provides full services to cyclists that want to explore the marvels of the Shimanami Kaido. Right outside of the facility, cyclists can make full use of the coin shower services (5 minutes for 100 yen) and public toilets, so there is no doubt that Onomichi U2 is the perfect starting point for any cyclists about to take on this journey.
How about paying a visit to Onomichi U2, where you can witness and experience the beauty of Shimanami Kaido and the Seto Inland Sea to the fullest?
Information
ONOMICHI U2
Address: Hiroshima, Onomichi, Nishigosho 5-11
Closed: None
Nearest Station: Onomichi Station, JR West Japan San'yo Main Line
Access: 5 minute walk from south exit of Onomichi Station
Phone: 0848-21-0550
Website: Onomichi U2

HOTEL CYCLE
Hours: check-in from 15:00; check-out by 12:00
WiFi: Available
Credit Cards: VISA/MasterCard/JCB/Amex/Diners
Other Languages: English
Menu/Pamphlets in Other Languages: Available
Price: a room for two per night starts from 18,200 yen
Phone: 0848-21-0550

The RESTAURANT/KOG BAR
Hours: 7:00-10:00, 11:30-16:30, 17:30-21:30
Kog Bar: 17:30-23:00
WiFi: Available
Credit Cards: VISA/MasterCard/JCB/Amex/Diners
Language: Japanese
Menu/Pamphlets in Other Languages: English
Price: from 1200 yen
Phone: 0848-21-0563

Yard Café
Hours: 8:00-19:00
WiFi: Available
Credit Cards: VISA/MasterCard/JCB/Amex/Diners
Language: Japanese
Menu/Pamphlets in Other Languages: English
Price: from 360 yen
Phone: 0848-21-0550

Butti Bakery
Hours: 8:00-19:00
Credit Cards: VISA/MasterCard/JCB/Amex/Diners
Language: Japanese
Price: from 180 yen
Phone: 0848-21-0564

U2 SHIMA SHOP
Hours: 11:00-20:00 (on weekends and holidays: 10:00-20:00)
Credit Cards: VISA/MasterCard/JCB/Amex/Diners
Language: Japanese
Phone: 0848-21-0533

GIANT
Hours: 9:00-19:00
Credit Cards: VISA/MasterCard/JCB/Amex/Diners
Language: Japanese
Phone: 0848-21-0068

The information presented in this article is based on the time it was written. Note that there may be changes in the merchandise, services, and prices that have occurred after this article was published. Please contact the facility or facilities in this article directly before visiting.