Cooked on a Roof Tile?! Yamaguchi's Famous Kawara Soba
Did you know that there is a dish cooked on kawara roof tiles? Kawara soba is Yamaguchi prefecture's local favorite. True to its name, it is prepared on a kawara tile. The type of soba used is cha-soba, and ingredients like pork, eggs, and green onions ar
Did you know that there is a dish that is cooked on top of a kawara (roof tile)?
In Yamaguchi prefecture in the Chūgoku region, there is a local dish called "kawara soba". True to its name, it's soba cooked on a kawara tile.
Today we will be introducing kawara soba and why it has been so popular among locals for years.
Read also: Japanese Encyclopedia: Chūgoku Region
Cha-soba cooked on a real kawara tile.
Kawara soba is offered in restaurants and specialty shops throughout Yamaguchi prefecture.
The origin is said to go back to 1961, when the founder of a kawara soba specialty shop Ganso Kawara Soba Takase invented it.
It is said that a special cooking method for kawara soba was born based on the story of soldiers during war cooking wild herbs and meat using roof tiles.
When hearing the word "soba", most people think of a grayish colored noodles. This is the color of the buckwheat used in making soba noodles. But kawara soba noodles are green. This is because matcha (green tea) is kneaded into it. This type of soba is known as "cha-soba".
When you eat cha-soba, you will enjoy the delicate scent of tea, different from the normal soba.
Salty-sweet pork, kinshi tamago (shredded egg crepes), seaweed, green onion, lemons, and momiji oroshi (grated radish and chili pepper) is topped on the soba.
The soup has a nice scent of bonito and kelp, and uses sugar and soy sauce to create a salty-sweet taste. It goes well with the flavorful noodles. You dip the noodles and toppings in the soup when you eat.
As time passes, the noodles on the kawara gradually get baked to create a crispy texture. It's nice how you can enjoy a different food texture from when you started eating.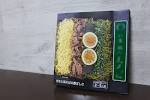 For those who want to eat kawara soba at home, there is souvenir kawara soba available as well. When cooking kawara soba at home, you should use a frying pan instead of a kawara. In supermarkets around the Shimonoseki area, kawara soba sets are often on sale, so kawara soba for dinner is quite normal in this region.

If you visit Yamaguchi, we highly recommend you try out the local favorite - kawara soba.

The information presented in this article is based on the time it was written. Note that there may be changes in the merchandise, services, and prices that have occurred after this article was published. Please contact the facility or facilities in this article directly before visiting.