Learn How To Use A Katana! The Samurai Museum In Shinjuku
The brave samurai is a symbol of Japan. Why not experience the world of the samurai at the Samurai Museum in Kabukichō, Shinjuku? The facility has displays of katanas, matchlock guns, and everything samurai-related, as well as sword battle performances an
The samurai (warriors in medieval Japan) were active from the 10th century to the 19th century in Japan. There is a museum where you can learn about their history and feel their spirit in Kabukicho, Shinjuku. It's called the Samurai Museum.
Red Armor and Japanese Architecture Welcomes You
After walking for about 10 minutes from Shinjuku station a suit of red armor will come into view. The Samurai Museum is located behind the Japanese-style entrance.
The inside is so quiet you will forget you are in Shinjuku; this allows the visitors to quietly look at the exhibitions. We recommend you have your bags taken care of by the staff so you can thoroughly enjoy the facility.
First Floor: Souvenirs and Armor
Once you've passed through the reception, you will find some valuable armor from the Edo period on display. Explanations are written in 4 languages - Japanese, English, Korean and Chinese, so you will be able to easily understand more about the samurai culture.
If there is something you are curious about or you don't understand, try asking one of the staff. They can help you in English, so there is nothing to worry about if you can't speak Japanese.
Second Floor: Katana Swords and Matchlocks
On the second floor you will find various weapons and be able to look at armors more up close than on the first floor. Armors worn by the ashigaru soldiers (*1), called okashi gusoku, are displayed here alongside the armor of generals.
*1 Ashigaru: Lower class foot soldiers.
Most people will think of katana (swords) when speaking of samurai. Of course, valuable katanas of the time are displayed, but so are matchlock guns.
Matchlock guns were used by the samurai during battle, so we recommend checking these out as well.
These are replicas of the armor that the San'eiketsu, meaning "the Three Great Heroes", were said to have worn. They are Oda Nobunaga, Toyotomi Hideyoshi and Tokugawa Ieyasu. By visually comparing the three suits of armor, you can gain a better appreciation for the sheer diversity of the colors and designs that were popular in Japan among the samurai class.
Read also:
Japanese Encyclopedia: Daimyo ("Feudal Lord")
Japanese Encyclopedia: Shogun ("Military General")

Take a Photo Wearing a Kabuto
Photo courtesy of: Samurai Museum
You are not allowed to touch the displays, but you can try on a kabuto (helmet), some armor and a kimono to take some pictures (for 500 yen). Why not transform into a samurai and make good memories?
Sword Battle, Iai Performances and Other Experiences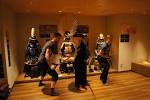 Photo courtesy of: Samurai Museum
There are 'tate' (*2) and 'iai' (*3) performances every day. You will be able to watch powerful katana fighting up close, as well as learn about fighting techniques and ask questions.
*2 Tate: sword-fighting demonstration.
*3 Iai: the art of drawing, using and re-sheathing one's sword.
You can hold the katana yourself and try out a kata, which is a choreographed pattern of movement using the katana. It's time to pretend you're a samurai warrior!
There are many more experiences available for you to enjoy. You can learn shodo, or Japanese calligraphy, from a famous teacher, or take photos wearing the full armor of a samurai. They are planning on increasing the number of things you can do so we encourage you check them out.
Souvenirs: Take Home the Samurai Spirit
You can purchase various souvenirs at the shop on the first floor. Oko, Japanese incense, is burned inside the building, and you can also buy it at the souvenir shop (from 500 yen). It makes for a great gift for ladies.
The most popular is the samurai armor figurine (1500 yen). Original t-shirts and the tokkuri and ochoko set (sake carafe and cup set) (1250 yen) are also available.
The realistic katana replica is also a popular product that is often sold out. You can choose from swords ranging from 3000 yen to 30,000 yen, depending on your budget.
You should definitely stop by and enjoy the dignified atmosphere of Samurai Museum, to experience and learn more about the fascinating world of the samurai.
Information
Samurai Museum
Address: Tokyo, Shinjuku, Kabukicho 2-25-6
Hours: 10:30-21:00
Wi-fi: -
Credit cards: Yes
Languages: English
Menus in other languages: English, Korean, and Chinese descriptions available
Nearest station: Shinjuku Station of JR and Toei Subway Lines, Higashi-Shinjuku station of Tokyo Metro and Toei Subways, Shinjuku-sanchome station of Tokyo Metro and Toei Subway.
Access: 10-minute walk from the East gate of Shinjuku station, 5-minute walk from the South gate of Seibu-Shinjuku station, 6-minute walk from Exit A1 of Higashi-Shinjuku station, 10-minute walk from Exit B12 of Shinjuku-sanchome station.
Price range: Adults 1800 yen, children under 12 years 800 yen, under 3 years free
Religion: -
Phone number: +81-3-6457-6411
Homepage: Samurai Museum

The information presented in this article is based on the time it was written. Note that there may be changes in the merchandise, services, and prices that have occurred after this article was published. Please contact the facility or facilities in this article directly before visiting.