Discover Rare Books At Book Marüte In Kagawa
Book Marüte, nestled inside a converted storehouse in Takamatsu, Kagawa, is a bookstore that stocks rare books and photo collections with limited print runs.
As books continue to go digital, people can read the latest novels and bestsellers on their tablet devices. However, there are still people who prefer the feel of paper, and people who want to find books that don't exist online. If you are one of those people, the rare book seller Book Marüte is the perfect place for you.
Located in Takamatsu city, Kagawa, Marüte is based in Kitahama Alley, a storehouse which has been converted into a shopping mall. The building retains the storehouse's exterior while the inside has been redone, so you would never assume there was a bookstore inside. Muster up the courage to step inside the storehouse and you will see "Book Marüte" written on a blackboard. Head up to the second floor and you will see Marüte.
This is Marüte. The decorative plants and distinguished-looking bookshelves will catch your attention.
Marüte is said to stock many rare, valuable books and photo collections that are not found in major bookstores. Not limited to books from Japan, a large number of books from overseas are also ordered here.
There are also books which have been individually hand-printed, and you will often see books which have only had print runs of 50 to 100 copies. Marüte has all the books you probably never would have encountered if you hadn't come inside.
Its unique interior, along with the books, will pique your interest as well. Apparently, Marüte originally served as a secondhand shop, and now the goods that were placed on the shelves of the secondhand shop are sold alongside books.
There is an antique phone, something rarely seen in recent years. These unusual interior decorations are another aspect of Marüte's charm.
There is a cafe space towards the back, where you can read through your purchases while having a drink.
There is a gallery space next to the bookstore, and photography exhibits by various photographers are held here. While Marüte used to be a secondhand store, the photographers who held their exhibitions next door asked if Marüte would stock photo collections, which is how it became a bookstore.
Recently, the Guesthouse Madoka has been operating near Marüte, and it has a similar treasure trove of books in its common area. If you are traveling through Takamatsu, by all means, stop by.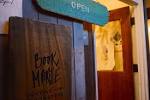 A book that exists nowhere else in the world is waiting for you at Marüte. Come and find it when you pass through Kagawa.
Information
Book Marüte
Address: Kagawa, Takamatsu, Kitahama 3-2 Kitahama Alley-J
Hours: Weekdays 11:00 - 20:00, Weekends/Holidays 13:00 - 20:00
Closed: Tues/Wed
Wi-Fi: None
Nearest Station: Takamatsu-Chikko Station (Kotohira Railroad, or Kotoden)
Access: Ten minute walk from Takamatsu-Chikko Station (via the Kotoden)
Phone: 090-1322-5834
Homepage: Book Marüte (Japanese)