Kaki No Tane - Everyone's Favorite Snack From Niigata!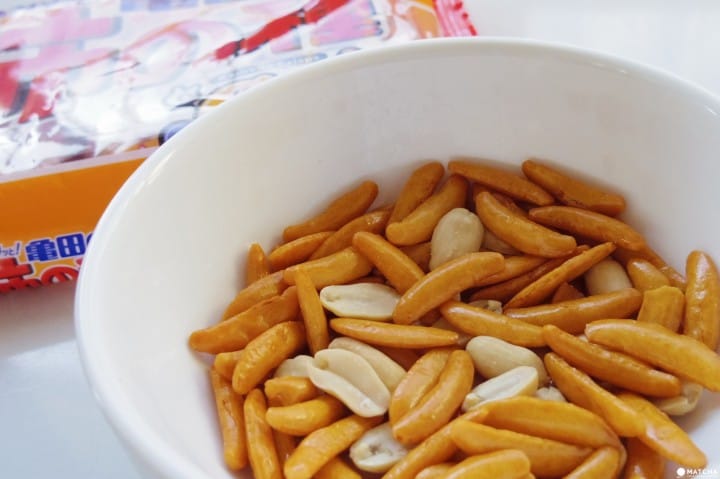 The number one Japanese snack to enjoy while drinking beer is kakinotane. Find out more about this crispy rice cracker treat and give it a try!
It might not be as fancy as a decadent cake or scoop of premium ice cream, but the taste of these crackers are addictive. Made from rice—similar to senbei, okaki, and arare—it has a spicy flavor that it is guaranteed to trigger non-stop eating. This beloved snack is Kaki No Tane.
I am from Niigata Prefecture's Nagaoka City: the birthplace of this popular Japanese snack. In this article, I would like to introduce the charms of Kaki No Tane that make it a mainstay among the repertoire of rice crackers.
What is Kaki No Tane?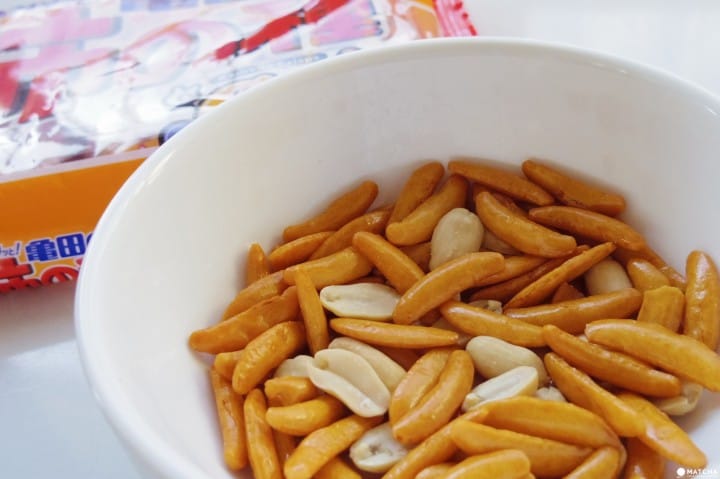 Kaki no tane can simply be described as a type of rice cake. It is made by cutting up kneaded mochi (sticky rice) into small pieces and then coating the surface with soy sauce and other savory ingredients. Tiny arare crackers—the size of your pinky nail—are then packaged into small plastic bags. They are quite crunchy when you chew on them.
Naniwaya: The Birthplace of Kaki No Tane in Niigata Prefecture
Kaki no tane is a snack that is popular nationwide in Japan.
The birthplace of this crispy rice cracker is Nagaoka City in Niigata Prefecture: a prominent rice production center in the northern region of Japan.
The origin story dates back to 1924 and recounts how the founder of a rice cake manufacturer Naniwaya stepped on a metal mould by mistake and went ahead with the distorted shape. This is how the snack came to be defined by its signature crescent shape.
Presently, the manufacturing process is spread across the country with many manufacturers producing Naniwaya's original snack.
Pictures courtesy of Naniwaya Official HP (Japanese)
The taste of spicy soy sauce remains the same as it was 90 years ago. These cans filled with kakinotane were the first to hit the shelves.
Kameda Seika: The Rice Snack Manufacturer Behind "Kakipi"
Pictures courtesy of Kameda Seika Co. (Japanese)
Now, I'm sure some of you have associated kaki no tane with kakipi. Kakipi is a snack that mixes kaki no tane rice crackers and peanuts in a golden ratio. It's also perfect for nibbling while sipping an alcoholic beverage. Kameda Seika Co. is said to have been the first company to sell kakipi in Japan.
A National Referendum Designates the Best Ratio of Kaki No Tane to Peanuts is "6 : 4"
So, how do you prefer to eat kakipi?
It is said that the best ratio between spicy rice crackers and peanuts is "6 : 4." However, everyone's kakipi eating habits differ from one person to another. Some prefer to eat all of the peanuts first while others find themselves left with a bunch of peanuts after snacking on all of the kaki no tane crackers.
A famous actress once rooted for a "7 : 3" ratio—a statement which eventually led to a national referendum that 10,000 people voted for.
Why not find your own unique way to eat kakipi?
A Variety of Ever-Evolving Flavors
Wasabi Flavor
Pictures courtesy of Kameda Seika Co.
Using wasabi sourced from Nagano Prefecture's Azamino City—a picturesque location renowned for its wasabi production—the burning sensation in this flavor is highly addictive. It may be a bit too intense if you devour all of these wasabi-flavored crackers in one sitting, so it's advisable to first snack on a small portion.
There is also a ume-shiso (plum-perilla) flavor in the same series.
Burning Hot Flavor
Pictures courtesy of Naniwaya
This flavor takes the spiciness of kaki no tane to another level. It is perfect for those who find the regular spiciness simply not packing enough punch. Some products are said to be five times as fiery as the standard version.
"Kaki-Choco" - Rice Crackers Covered in Chocolate
Pictures courtesy of Naniwaya
Don't make any hasty conclusions before you try them! You will know why this flavor is popular once you put it in your mouth. Various manufacturers sell chocolate-coated flavors: namely, white chocolate, kinako (roasted soybean flour), strawberry, and cheese.
The variety from Bourbon, a major Japanese snack company, are even said to have hard-core fans.
*Naniwaya's "Kaki-Choco" is only sold during the winter.
Japanese Pepper Flavor
Pictures courtesy of Kameda Seika Co.
This was the winning flavor in a campaign coined "Kakinotane is Marriage Hunting" launched by Kameda Seika. The major snack maker searched for local flavors across Japan that would deliciously pair with the original flavor of kaki no tane. This limited edition flavor uses a certain type of Japanese pepper ("sansho") produced in Wakayama Prefecture.

Unique Regional Flavors
Pictures courtesy of Kameda Seika Co.
The picture above features unique regional flavors from kaki no tane's line-up. Here are the exclusive and limited-edition flavors clockwise from above left:
Niigata Prefecture (Souvenir): Pork cutlet sauce flavor
Niigata Prefecture (Limited Edition): Italian seasoning
Kansai Region (Limited Edition): Takoyaki flavor
Setouchi Region (Limited Edition): Grilled oyster
Shikoku Island (Souvenir): Yuzu bonito
Kyushu Island (Limited Edition): Yuzu pepper
As you can see, there's a little more emphasis on Niigata Prefecture—which makes sense because it's where the company originated.
Kaki No Tane - All-Time Favorite Japanese Crackers Among Many Snackers
You can find this snack stocked at any supermarket or convenience store in Japan. Even some 100-yen shops sell these spicy rice crackers. The affordable price point is another attractive point of this snack.
From the young to the old, kaki no tane lovers come in all ages. Whether it's an afternoon snack or paired with a refreshment during work—or with nibbles and alcoholic drinks—this snack suits almost any occasion or time of the day.
After reading this article, you must be burning with the desire to eat kaki no tane. So simply run to a nearby store and treat yourself to this much beloved treat!
The information presented in this article is based on the time it was written. Note that there may be changes in the merchandise, services, and prices that have occurred after this article was published. Please contact the facility or facilities in this article directly before visiting.