Japan Traditional Crafts Aoyama Square: A Great Display of Handicrafts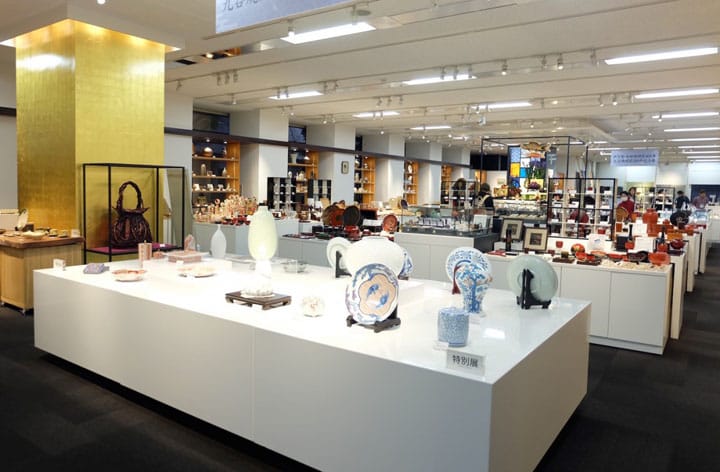 An overlooked but important part of Japanese culture are traditional handicrafts. If you'd like to see all the officially recognized works made in Japan, look no further than Japan Traditional Crafts Aoyama Square gallery and shop in Aoyama, Tokyo.
Perhaps one of the most overlooked but important parts of Japanese culture are traditional handicrafts.
While it goes without saying that they have a long history and show off the specialties of their home regions, the delicacy and intricacy of the various designs and patterns in these crafts is entrancing. And, as they possess impeccable designs interwoven with practicality, there are certain items that you will just want to get your hands on when you visit Japan.
The Difference Between Traditional Crafts and Handicrafts
Incidentally, there is a difference between traditional crafts and traditional handicrafts. Traditional crafts typically are those "that are still handmade using techniques and technologies that have been passed down through generations."
Though this might sound like a clear definition, it is lacking one very important point: only those items that have been officially designated by the Japanese Ministry of Economy, Trade and Industry may be referred to as traditional handicrafts.
In order to be considered true "traditional handicrafts", the individual traits of the handicraft, the raw materials and the inheritance of the technology must meet the stringent requirements of the "Traditional Handicraft Industry Related Law." Handicrafts that not only have a longstanding pedigree and high quality, but also have an official seal of approval to the credit would be the perfect souvenirs of a visit to Japan.
As of June 2015, there are 222 handicrafts that have been officially recognized by the Ministry of Economy, Trade and Industry.
Traditional Handicrafts - How Can You Tell?
Inside the cup is the official "Tradition Certification Stamp." The contrast of the red and black against the gold background is striking.
It would be best to take a closer look at how to distinguish between traditional handicrafts and ordinary crafts.
The very first thing to check is the "Tradition Certification Stamp".
Traditional artisans are proud of their handmade works and so, in order to not be tricked by replicas when shopping, this sticker is your guarantee that the item you are buying is an authentic traditional handicraft.
This seal is not always affixed to the traditional handicrafts (it may be impossible due to the material of the craft), but when shopping for such items it is a good idea to keep this sticker in mind.
All the Handicrafts Under One Roof
To see all of these items at once, look no further than Aoyama, Tokyo, where the Japan Traditional Crafts Aoyama Square gallery and shop stands. Here you will find all the various designated handicrafts on a six month rotating display, where they can be viewed or purchased, and others on special limited time exhibitions.
If you make your way to Aoyama Square, you will see pottery and ceramics, woodwork, textiles, bamboo work, edged tools, dolls and so on - virtually every single variety of items are available here.
On the day of our visit, kabuto ("helmets") associated with the Japanese spring festival Tango-no-sekku,celebrated each year on May 5th,were on display.
From Seto city in Aichi prefecture came these finely decorated "Seto Sometsukeyaki" - or blue-and-white ceramics.
These well-known ukiyo-e or woodblock prints, show the lives of the common people of the Edo era, especially those living in Edo itself (now Tokyo).
At Japan Traditional Crafts Aoyama Square, the upper limit of prices may be quite high, but there are numerous goods to be found in the 1000 yen range, making this an excellent place to look for authentic souvenirs. This shop is also duty-free, making it very popular with visitors from overseas.
Next, let's take a closer look at some of the traditional handicrafts that have proven popular with visitors to Japan.
Hakone's Parquetry
Coming from Hakone city in Kanagawa prefecture, a mountainous area with an abundant variety of trees, are these Hakone Yosegizaiku or wooden mosaic works. The variegated geometric designs and natural hues of the wood in the parquetry really show the visual harmony created by the various types of trees used.
They have small boxes, accessory cases, accessories and more charming items.
Nanbu Ironware
Morioka, Iwate prefecture is the birthplace of Nanbu tekki or Nanbu ironware. Nanbu tetsubin (*1) and the Nanbu tetsubin kyūsu (*2) shown in the photo are very famous. Their traditional forms are hard to grow tired of and recently, the colorful versions of the ironware have grown in popularity.
*1 Tetsubin: an iron kettle, used for boiling water.
*2 Kyūsu: a small kettle most commonly used for tea ceremonies; both tea and hot water are put inside.
Kanazawa Gold Leaf
Gold is considered to be an auspicious color in Greater China. In this photo you can see "Kanazawahaku" from Kanazawa city, Ishikawa prefecture, where more than 90 percent of Japan's kinpaku (golden leaf, *3) needs are met. The chic atmosphere and gorgeous designs of these items along with the brilliance of the gold make them distinctively Japanese handicrafts.
*3 Kinpaku: gold leaf work.
The Perfect Souvenirs are?
Of the numerous goods available, perhaps two of the best souvenirs are the chopstick rests and bookmarks.
Both are small and light, making them easy to pack and carry with you. And, despite their size, they are finely detailed with typically Japanese designs. *Stock availability depends on season.

Well-known for its high-brand stores and fashionable restaurants, Aoyama is also home to the Nezu Museum. If you get the chance, why not spend the day immersing yourself in Japanese traditional handicrafts and modern tastes in Aoyama?

The information presented in this article is based on the time it was written. Note that there may be changes in the merchandise, services, and prices that have occurred after this article was published. Please contact the facility or facilities in this article directly before visiting.