Yamanaka Onsen - A 1300 Year Old Hot Spring Town in Ishikawa
The attractions of onsen are not only the hot spring itself but also the extraordinary time you can spend in the town eating delicious treats, shopping for souvenirs, and of course taking pictures.
Onsen or hot springs are one of the most relaxing places you can experience while visiting Japan. The attractions of hot spring are not only the baths themselves but also the incredible memories you can make while visiting the Onsen-gai, the hot spring town itself.
There are so many ways to enjoy an onsen town: eating delicious treats while you walk about, shopping for souvenirs, and of course taking pictures. Yamanaka Onsen in Ishikawa prefecture is one of these wonderful onsen-gai, and is conveniently located only an hour away from Kanazawa.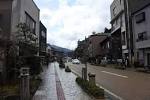 Yamanaka Onsen is a historic onsen town that has existed for 1300 years. From these ancient days to now, many people have visited Yamanaka to bathe in the hot spring, hoping to cure their fatigue and illness as they rest. Here are some interesting places you can visit along Yuge-kaidō, the main street of Yamanaka Onsen.
Read also: Japanese Encyclopedia: Edo Jidai (Edo Period)
Refresh Yourself at Kikuno-yu
How about getting refreshed at Kikuno-yu hot springs first before you start strolling around the town? Kikuno-yu is a public bath; admission is 440 yen for adults (those over 12 years old), 130 yen for children over 6, only 50 yen for infants over 3 years old, and free for babies. The male bath has a gorgeous green tile roof and is housed within an elegant building; across from that, the women's bath is quite magnificent as well. Yamanaka Onsen is said to be an excellent place to rest and cure your stiff shoulders.
In front of these buildings, there are also insen or springs with drinkable hot spring water and ashiyu, hot spring foot baths. The insen water has a unique taste and smells somewhat sulfurous, which is totally different from typical tap water.
Ashiyu are very effective at warming up your body and for relieving swollen, tired feet and ankles. If you are pressed for time, this may be the easiest way for you to quickly enjoy an onsen.
Read also: Japanese Encyclopedia: Ashiyu (Foot Bath)
The Representative Local Souvenir: Yamanaka Lacquerware
These lovely pieces of lacquer ware (*1) are called Yamanaka Shikki, and they are a specialty of Yamanaka district. The unique textures and wood grains along with the fine maki-e (*2) decorations add a beautiful elegance to these crafts.
*1 Shikki: Japanese lacquerware
*2 Maki-e: a traditional art technique where gold and silver powder are used to create illustrations and designs on lacquerware.
There are many Yamanaka lacquerware shops to be found along the Yuge-kaidō. Each shop has their own original designs, so it would be fun to go hunt for your favorite piece of lacquer ware. Or you may find some amazing bowls or chopsticks in beautiful shapes and colors for your friends and families. Shikki are works of art that are created with great care by artisans.
The Bright Red Ayatori-hashi Bridge
When you go about halfway down the moutainside near Yuge-kaidō, you will find the Ayatori-hashi. It's very hard to miss thanks to the eye-catching contrast of the red bridge and greenery around it.
When you first see the bridge, you are sure to be surprised by its unique shape. The S-curved bridge is relatively long and up pretty high from the ground, so it may not be the best place for those with a fear of heights.
After you cross the bridge and follow the trail through the wood for about one kilometer, you will come across Kōrogibashi bridge. Doesn't taking a walk in the woods sound lovely?
Kōrogibashi - a Scenic Spot Representing Yamanaka Onsen
Kōrogibashi is located on the edge of Yuge-kaidō. This wooden bridge blends in well with the natural scenery surrounding it. This particular bridge is quite popular with both domestic and international visitors as it is not only traditionally Japanese in appearance, but changes quite dramatically in appearance based on the season in which you visit it.
After crossing the bridge, you will find stairs that lead to the riverbank below. Whether you look up or look down, Kōrogibashi is a picture-perfect spot from every angle.
A variety of different events are held in Yamanaka Onsen throughout the year so when visiting there you are sure to enjoy the interplay of nature, tradition and culture.
Information
Yamanaka Onsen

Address: Ishikawa, Kaga, Yamanaka Onsen Nishikatsuragi-machi Ura 5-1
Nearest Station: JR Kaga Onsen Station (加賀温泉駅)
Access: 30 minutes by Kaga Onsen bus from Kaga Onsen station
Phone Number:0761-78-0330
Official Website:Yamanaka Onsen

The information presented in this article is based on the time it was written. Note that there may be changes in the merchandise, services, and prices that have occurred after this article was published. Please contact the facility or facilities in this article directly before visiting.