Character Cars Galore At Takada Honcho Itasha Festival In Niigata
Check out the many itasha (anime character cars) on display along with idol concerts at the Takada Honcho Itasha Festival held in Joetsu city in Niigata.
Are you familiar with the Japanese otaku term, 'itasha'?
Itasha is a term referring to cars that are decorated with designs of characters from anime and games. Due to the "almost painful to see" visual effect they create, they are called itasha (itai=painful + sha=car). The itasha is now a major part of the otaku culture and there are many events are held nationwide where itasha owners and itasha fans gather.
This time we would like to feature a major itasha event, The Takada Honcho Itasha Festival. Marking their fifth year in 2016, during this time, unique itashas gather together from all over Japan and are displayed in Joetsu city, Niigata.
In 2016, 38 cars were entered in this event, making it a record for the festival. The event was a great success and, aside from itashas, there were live concerts held by local idols along with cosplay gatherings.
In this article, we would like to show you what the itasha festival was like along with some of the anime characters that were featured on the cars.
The Itashas Displayed at the Event!
1. Love Live!
This is a Toyota Voxy where the left side is decorated with the character Maki Nishikino from the TV anime, "Love Live!".
The back of the car has all nine of the main characters.
"Love Live!" is a fictional high school girl anime group and a popular Japanese anime series. It was popular among a wide age range of fans from kids to older anime otaku.
2. Macross F
This is a Mitsubishi Lancer Evolution with the two main characters, Sheryl Nome (left) and Ranka Lee (right) from the TV anime "Macross Frontier".
"Macross F" is a popular science fiction Japanese robot anime. For fans of this series, this car is irresistible.
3. GUMI (Vocaloid)
On this Toyota Sera, there is the Vocaloid (*1) character, GUMI designed on. One of the most popular Vocaloid characters is Miku Hatsune, but GUMI is just as popular.
*1 Vocaloid: A computer program made by YAMAHA used to make songs using human voices.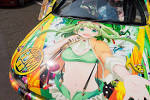 The bright green and yellow colors are very vibrant and eye catching among the many itashas.
4. Lily (Vocaloid)
Next is another popular Vocaloid character, Lily, designed onto a Nissan ELGRAND.
5. Miku Hatsune and Rin Kagamine (Vocaloid)
Lastly, we cannot miss the cute blue haired pig-tailed idol, Miku Hatsune along with the blonde Vocaloid character, Rin Kagamine designed on the Toyota Alphard.
In the back seat area, there was a Playstation 3, and a monitor and controllers set where you can enjoy playing music games featuring Miku Hatsune.
Music was blasting from the car as steam rose in sync with the music. With the amazing performance, fans that stopped by began to dance along with the music. We were able to understand the popularity of Miku Hatsune right away seeing this itasha.
This is the owner of this car who goes by Mikuphard.
Cosplayers Dressed as Anime and Vocaloid Characters
At the itasha festival, we encountered some cosplayers who dressed up as anime and Vocaloid characters. This is a cosplayer dressed as Snow Miku, who is the snow fairy version of Miku Hatsune.
Next to this itasha is a cosplayer dressed as Honoka Kosaka, who is the main character of the anime, "Love Live!".
Local Foods and Idol Concerts
On the day of the event, the shopping district opens up for foot traffic and many pop-up shops are available. You can sit and enjoy meals at the tables or on the sidewalk.
At the Former Daiyon bank Takada branch in the shopping district, you can enjoy a live concert held by local idols for only 500 yen.
Miku Hatsune Live Stage at Night
After spending the day looking at itashas and tasting local delicacies, there was a free outdoor stage featuring a 'concert' by Miku Hatsune.
Itasha festivals are held nationwide, but whether you are an itasha enthusiast or not, the Takada Honcho Itasha Festival can be enjoyed in many ways. There is a paid parking lot near the event area, but it is recommended to take the train due to crowds that attend. Why not take this opportunity to visit Joetsu city in Niigata?
Information
Takada Honcho Itasha Festival
Address: Niigata, Joetsu city, Honcho 3-2-18
Hours: Itasha display from 10:30 - 18:30 / Miku Hatsune live concert from 18:30
Languages: Japanese
Nearest Station: JR Takada Station in Joetsu city, Niigata
Access: 1 hour 50 minutes from Tokyo to Joetsu Myoko on the Hokuriku shinkansen. Transfer to the Haneuma line on the Echigo Tokimeki train and go on a 10-minute ride to Takada station. Walk 5 minutes to the event area.
Price: Free entry (500 yen for the idol live concert)
Telephone number: +81-025-522-1829
Website: Takada Honcho Itasha Festival (Japanese)
The information presented in this article is based on the time it was written. Note that there may be changes in the merchandise, services, and prices that have occurred after this article was published. Please contact the facility or facilities in this article directly before visiting.