Ways To Travel To Yakushima, Japan's First World Heritage Site
Registered as a UNESCO World Heritage Site in 1993, Yakushima Island is Japan's first contribution to the World Heritage Site list. There are various ways to get there as Yakushima is located in the south of Kagoshima. From Osaka, Fukushima or Kagoshima?
Yakushima is an island off the southern coast of Kyushu island and a part of Kagoshima Prefecture, which was registered on the UNESCO World Heritage Site list in 1993, the first in Japan. Jōmon Sugi (a cedar tree from prehistory) and Shiratani Unsuikyō gorge are two of the top attractions in Yakushima which let you experience nature at its finest. Let's take a look at how to travel to and get around in Yakushima.
How to Get to Yakushima
Yakushima is an island off to the south-south-west of Kagoshima Prefecture. It has a population of about 13,000 and an area of 500 km2. The island was formed by the upheaval of granite which made the whole island quite mountainous. There are no bridges or tunnels which connect Kyushu island and Yakushima, so you must take either a ferry or fly to reach Yakushima.
Related articles:
Kagoshima Prefecture in Southern Kyushu: Its Nature
Kagoshima Prefecture in Southern Kyushu: Its Culture
Direct flights from Osaka, Fukuoka and Kagoshima

Yakushima Airport is located in the west of the island between Miyanoura district and Anbō district where there are many accommodations available. There are direct flights between Yakushima airport and Osaka-Itami International Airport, Fukuoka Airport and Kagoshima Airport. ss
Here is a rough estimate of the time and cost of your trip:
From Osaka-Itami International Airport to Kagoshima Airport 
Number of flights: one per day
Time: About 90 minutes
Fare: About 30,000 yen for one way

From Fukuoka Airport to Yakushima airport
Number of flights: one per day
Time: About 60 minutes
Fare: About 25,000 yen for one way

From Kagoshima airport to Yakushima airport
Number of flights: four per day
Time: About 35 minutes
Fare: About 15,000 yen for one way

Reference: JAC HP (Japanese)
If you are traveling from Kyoto, Osaka or Fukuoka area, taking a direct flight is the best way to reach the island. But if you want to travel from other areas of Japan, it is better to go to Kagoshima first and catch a flight or a ferry from there. And, if you want to take the cheapest option to travel between Kagoshima and Yakushima, the ferry is the best way for you.
Traveling from Kagoshima by Ferry
There are two types of ferry service between Kagoshima port and Yakushima: a regular ferry service called Yakushima2 and fast ferry service called Toppy and Rocket Jetfoil. The Yakushima2 ferry between Kagoshima port and Miyanoura port goes back and forth once per day which takes up 4 hours (one way) and costs from 8,900 yen for a round trip.
The fast ferry between Kagoshima port and Miyanoura port as well as Kagoshima port and Anbō port, the "Toppy" and "Rocket" Jetfoil, takes less time than the Yakushima2 ferry. The ferry runs back and forth six times a day. The ride takes one hour and 50 minutes. Some ferries stop at Tanegashima island on the way which makes the journey about two and a half hours long. A round trip costs 16,100 yen.
All of these travel options, the flights, regular ferry and fast ferry have discounted early bird tickets. So please book as soon as possible when you figure out your travel plan.
Getting Around in Yakushima
Two companies, Matsubanda Kōtsū and Tanegashima-Yakushima Kōtsū operate buses in Yakushima. The bus runs from 4:10 to 19:30.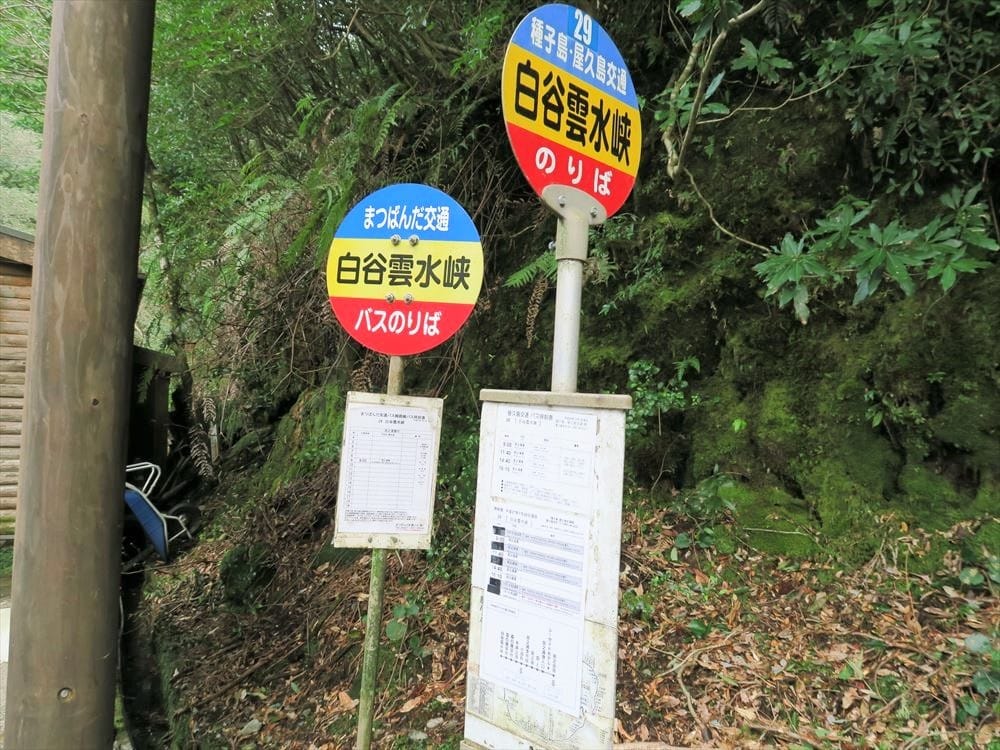 You can find bus stops (like in the picture above) along the streets where the bus travels. As the fares are based on the total distance traveled you are expected to pay when you get off the bus rather than at the start of your journey.
Yakushima is rich in nature and a beautiful spot that most Japanese people want to visit at least once in their lifetime. Why not plan a trip to Yakushima based on the information above?
Information
Yakushima port 屋久島空港
Address: Kagoshima Kumage-gun Yakushima-chō Koseda 501
Hours: depends on time of flights
Closed: Open all year around
Wi-Fi: Unavailable
Credit cards: VISA/Mastercard/Amex/Diners
Languages: Japanese and English
Menu in other languages: Japanese and English
Most accessible station: Bus stop for "Yakushima airport (屋久島空港)" at Matsubanda Kōtsū (まつばんだ交通) and Tanegashima-Yakushima Kōtsū (種子島・屋久島交通)
Access: by air from Osaka-Itami International Airport (大阪伊丹空港), Fukuoka Airport (福岡空港) and Kagoshima Airport(鹿児島空港) and by ferry or fast ferry from Kagoshima port (鹿児島港)  .
Religion: N/A
Official Website: Yakushima airport (Japanese)
Yakushima Miyanoura port 宮之浦港
Address: Kagoshima Kumage-gun Yakushima-chō Miyanoura 1208
Hours: 6:00-19:30
Closed: Open all year around
Wi-Fi: Unavailable
Credit cards: VISA/Mastercard
Languages: Japanese
Menu in other languages: Unavailable
Most accessible station: 30 minutes bus ride from Yakushima airport (屋久島空港)
Access: 4 hours by ferry or one hour and 50 minutes by fast ferry from Kagoshima port (鹿児島港)
Religion: N/A
Phone number: 0997-46-2213
Official Website: Miyanoura port
Yakushima Anbō port (安房港)
Address: Kagoshima Kumage-gun Yakushima-chō Anbō, 176−1
Hours: 6:00-16:30
Closed: Open all year around
Wi-Fi: Unavailable
Credit cards: VISA/Mastercard
Languages: Japanese
Menu in other languages: Unavailable
Most accessible station: twenty minutes by bus from Yakushima airport (屋久島空港)
Access: two hours by fast ferry from Kagoshima port (鹿児島港)
Religion: N/A
Phone number: 0997-46-2213
Official Website: Anbō port (Japanese)