Enjoy Matcha Art In Wazuka, The Town Of Tea
Ever wanted to see how tea is made or learn how to make tea art? Wazuka is the place to go for those who love Japanese tea.
When someone mentions Kyoto, the majority of people imagine things like shrines, temples, Kyotocuisine and, of course, Japanese culture.
Let's gain a deeper appreciation for one of the most famous Japanese drinks and Kyoto's pride - matcha (powdered green tea) by visiting the town of Wazuka, the number one producer of tencha, the raw material of matcha.
Green Spreading Out as Far as the Eye Can See
Wazuka is located on the southern edge of Kyotoprefecture. Let's peep into this small town surrounded by luscious tea fields and see a life with tea.
First, we head to the tea field Ishidera. The tea plants growing along the mountain slope have grown in a stripe pattern, which gives the landscape a striking appearance.
As we were walking slowly around the tea field, we noticed that new leaves were sprouting. We were visiting at the beginning of April. You can only see the new leaves sprouting like this in April. The next tea field is called kabuse-cha (*1) because the tea field is covered by a black sheet for production purposes.
Now, let's find out some more about the different things you can enjoy in Wazuka.
*1 Kabuse-cha: a type of Japanese tea that has a strong taste but is less bitter because the tea leaves are deprived of sunlight just before they are harvested.
Wazukacha Cafe: Enjoy Tea Direct From The Farmers
At Wazukacha Cafe (和束茶カフェ) you can find many types of tea produced in Wazuka. Tea is served not only in kyūsu, but there are also easy-to-make tea bag types and powdered tea types too. Recently, herb tea made from Wazuka-produced herbs has become popular with young women.
Read also:
Inside the store there are sweets in which tea is one of the main ingredients, as well as products dyed in tea. Everywhere you look inside the shop there are countless items that would make brilliant souvenirs of Japan. We would like to recommend hōjicha chocolate - chocolates that have had hōjicha (roasted tea) mixed in (12 pieces for 400 yen with tax).
Inside the store, the space in the back has become a cafe where you can take a quick break. This time we had Wazuka's specialty sencha (green tea). It was very smooth tasting with little bitterness, making it very easy to drink.

Wazukacha Cafe has a tourist information window and has convenient English and Chinese maps available to help you take leisurely strolls about Wazuka.

Furthermore, around Wazukacha, every second Sunday of the month from 10:00 - 14:00 there is a chagengyō marche (a tea festival and market). It is a wonderful event where a lot of Wazuka's lovely products are gathered together, held at a place that is considered to be the place of origin of tea culture in Japan. Please check it out!

Now, let's look at an interesting art service that you can enjoy in Wazuka.

Read also: The Wonderful World of Japanese Tea
Matcha Art
This is matcha art, where you draw pictures in matcha tea. This time we had the characters for "Wazuka" drawn. I never imagined there would come a day where you could draw pictures in matcha.
Megumi Yoshida, who is certified as a Japanese tea instructor, will be teaching us "matcha art". She will teach us the steps, starting with how to make matcha tea.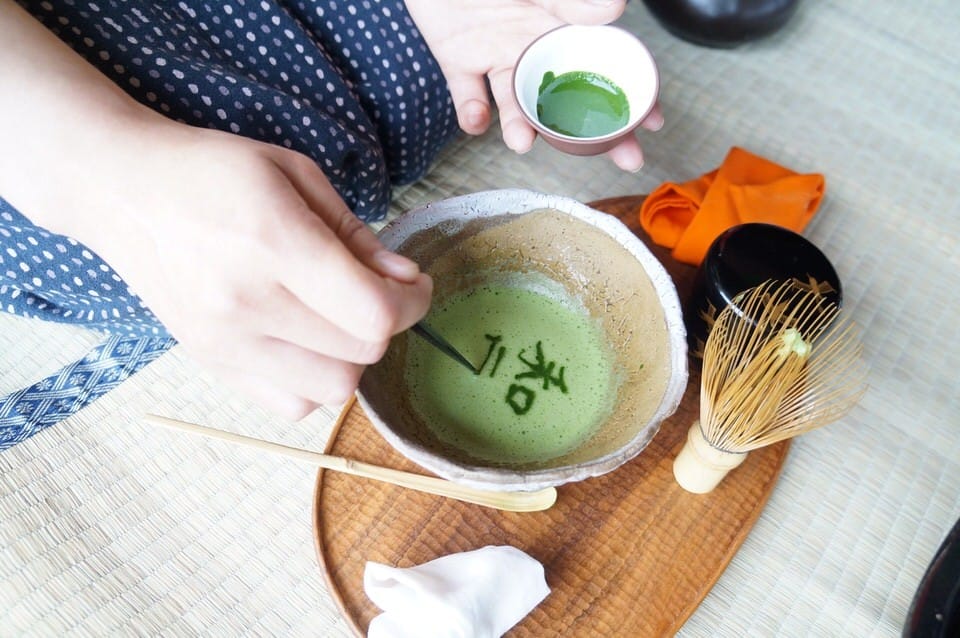 The pale green bowl of matcha serves as your canvas while the darker matcha is your paint. The trick to drawing well is to put the matcha straight onto the surface. It's almost a shame to drink the completed matcha art. I was very reluctant, but it was delicious.
A Town that Lives with Tea
Matcha art grew from the idea that "tea should be something that can be enjoyed lightheartedly"; a feeling that makes perfect sense when you find yourself absorbed in the process.
Ms. Yoshida was born and raised in Wazuka, but at one point left the town for work. She says that she didn't realize the appeal of wazukacha ("the tea of Wazuka") until she came back to her hometown.

They have a matcha art workshop several times a month and if you make a reservation 2 months in advance, it's possible for them to make most schedule adjustments. They also plan to start incorporating English support in their workshops.
The wooden platform that the boy in this picture is standing on is a "mobile tea room", available in Wazuka. It was raining today, so it was placed inside, but on days with good weather it's possible to experience sadō (茶道,tea ceremony) outside.
This tea room has a bookcase, making it possible to enjoy tea or matcha art while reading. In the future this bookcase will have manga and English-translated books so that visiting foreigners can enjoy the tearoom too.
On days with good weather, you can spend your time outside, staring at at the tea fields too. The only place you can spend time like this is at Wazuka.

In the peaceful tea-town Wazuka you can experience other activities, such as tea picking, staying in a farmhouse、cycling and more. How about heading away the busy downtown Kyotoand enjoying Wazuka?
Information
Wazukacha Cafe

Address: Kyoto, Sōraku, Wazuka-chō, Shirasu Ohasama 35
Hours: Monday-Saturday 10:00-17:00, Sunday 9:00-17:00
Closed: New Years
Wi-Fi: -
Credit Cards: Most major ones
Other Languages: Simple English
Menu in Other Languages: Yes
Nearest Station: JR Kamo station (加茂駅)
Access: Take the Nara Kōtsū bus (奈良交通バス) from Kamo Station West Exit heading in the Wazuka Kosugi direction to Wazukasan-no-iemae (approximately 20 minutes)
Price Range: From 100 yen up
Phone number: +81-3-0774-78-4180
Homepage:

Welcome to Tea-topia Wazuka (PDF)

The information presented in this article is based on the time it was written. Note that there may be changes in the merchandise, services, and prices that have occurred after this article was published. Please contact the facility or facilities in this article directly before visiting.