Best Souvenirs from Okage Yokochō, Nearby Ise Grand Shrine
This article features 5 recommended items to bring as a souvenir from your visit to Ise Grand Shrine, Mie prefecture. Okage Yokocho is located right by the Inner shrine (Naiku) of Ise Grand Shrine where you can get to feel the atmosphere of an old Japanes
Ise Grand Shrine is the most famous attraction in Mie prefecture. You will find a gathering of charming townhouses with a retro atmosphere right by the entrance to the Inner Shrine (Naiku) of the Ise Grand Shrine. This street is called "Okage Yokochō".
Okage Yokochō is designed to represent a small town from the Edo to Meiji Period. Some of the buildings constructed during those periods have been moved here. There are many kinds of souvenirs you can only find on this street.
We will introduce 5 stores located in Okage Yokochō, which sell unique souvenirs. We hope this selection will help you decide what to bring back home.
Related articles:
Japanese Encylopedia: Meiji Period
Japanese Encylopedia: Edo Jidai (Edo Period)
1. The "Maneki Neko" Figurines of Kitchō Shōfukutei
"Kitchō Shōfukutei" is a shop selling more than 1,000 kinds of Maneki neko (beckoning cat figurines) gathered from all over Japan. The "maneki neko" is a lucky charm which is believed to bring good luck and fortune for its owner. There are many maneki neko made of wood or ceramics, created with enthusiasm by talented craft artists.
If you find a huge maneki neko with its left paw raised, you will know you are now at the entrance of the store.
What do you see on the top right corner of their store sign in the picture above? A mouse!! It is a pretty original idea, isn't it?
We warmly recommend you buy the "Maneki Neko Omikuji (Beckoning Cat Fortune telling paper)" as a souvenir. It is said that the cats whose right paw is up bring you money, while the ones whose left paw is up help you connect with good people.
These items bring different kinds of good fortune depending on the colors as well.
Here is what the maneki neko will bring you according to the colors. The white ones are for happiness, while the black ones are for removing bad luck. The red ones are for avoiding diseases, the yellow ones for finding a good partner, while the golden ones are for making your wish come true.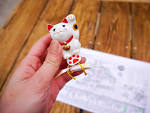 The omikuji ("the fortune telling paper") will come out when you pull a string under the maneki neko like in the picture above.
Your fortune is written on the omikuji. You will see cat footprints on the paper. The more footprints there are on the paper, the more good luck you will have. This is probably the cutest omikuji you could find in Japan. Your fortune is written in Japanese. Please read this MATCHA article about omikuji if you want to know what is written on your fortune paper.
Read also: Japanese Encyclopedia: Omikuji (Fortune Telling)
2. The "Okage Inu Sablé" from the Main Store of 
Isuzu Chaya
"Isuzu Chaya Main Store" sells seasonal traditional Japanese sweets as well as cakes.
The most famous souvenirs you can buy here are the "Okage Inu Sablé (Okage dog biscuits)" (5 biscuit pack - 700 yen, tax included)
Ise Grand Shrine used to be the shrine that Japanese people had to visit at least once in their lifetime back in the old days. But there we many people who were not able to come and worship because they were ill. So they used to ask other worshipers to bring their dog on behalf of its owner with them. These dogs were called Okage Inu (Okage Dog).
The Okage Inu dogs were tied a shimenawa (*1) or a coin to their neck and were taken care of other shrine visitors while he was paying respects to the shrine on behalf of their owner.
*1… Shimenawa: braided rice straw ropes used for ritual purification in the Shinto religion. They indicate a sacred place.

Sablé buiscuits, which have a smooth texture and nice aroma of wheat are so soft that they will melt in your mouth. They are loved by all generations.
3. Retro And Unique Snacks From Zeniya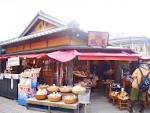 Zeniya is a shop selling unique candies and snacks, that you can find only in Ise. At the entrance you will find a decoration displaying an ichi monsen coin (a present day 100 yen coin). This store used to be called "Ichimonsen", because the candies and snacks sold here have always been cheap.
Fukubiki-Sembei (fortune cookies) (Small ones - 700 yen, tax included) have a toy inside. You will find a different toy every time you open a cookie.
The Omikuji Sembei (fortune cookies) (390 yen, tax included) is one of the popular products. It has a small fortune telling paper in it. See what your today's fortune is!
Ryōshi Arare (Fisherman rice crackers, 390 yen per pack, tax included) are made from mochi rice and flavored with seaweed, squid and shrimp. They will be the best snacks during your travel.
4. Name Stamps from
Kamijiya
"Kamijiya" sells products which let you learn more about Japanese traditions and seasons. There are products made from washi paper (traditional Japanese paper, made from rice) on the 2nd floor.
The most popular product here is onamae hanko(name stamps, 520 yen, tax included).
Each stamp is covered with traditional Ise chiyogami (Yūzen) paper. You can get to choose from more than 500 Kanji characters or names. It will give a unique allure to a post card if you stamp it on.
5. Shōyu (soy sauce) pudding from 
Ise Shōyu Hompo
Soy sauce is a particular specialty among Ise products. Soy sauce manufacturers dedicate it to Ise Grand Shrine every year. Soy sauce produced in Ise has a rich but refreshing taste. If you use it when you eat sushi and sashimi, the Ise soy sauce will boost the taste of these dishes.
Have you ever heard of sweets made with soy sauce? Ise shōyu no toromi purin("Ise thick soy sauce pudding", 390 yen, tax included) is popular for its thick texture. It is made with Ise soy sauce and amakōji (*2) which leaves a sweet taste on your tongue. You will always want to come back here to eat it again once you get to taste this pudding.
*2 Amakōji: a fermented product made from rice. It is used to make food sweeter.
As introduced here, there are many items you can only find here in Okage Yokochō. We highly recommend you come here when looking for souvenirs from the Ise Grand Shrine.
Sponsored by Sony digital entertainment services Inc.

Information
Okage Yokochō
Address: Mie, Ise city, Ujinakanokiri-chō 52
Hours: 9:30 - 17:30 (may change depending on the season)
Closed: Open all year around
Wi-Fi: Available
Credit cards: are accepted
Languages: -
Menu in other languages: Not available
Nearest Bus Stop: Jingu kaikan-mae
Access: Take a bus from the JR Iseshi Station and get off at Jingu kaikan-mae. 1 minute walk from Jingu kaikan-mae.
Price Range: depends on the shop
Religion: -
Phone number: +81-59-623-8838

The information presented in this article is based on the time it was written. Note that there may be changes in the merchandise, services, and prices that have occurred after this article was published. Please contact the facility or facilities in this article directly before visiting.