7 Shopping Spots in Kichijoji - Trendy Shops In Laid-Back Tokyo
Kichijoji in western Tokyo is a popular suburban area with convenient access from Shinjuku and Shibuya, stylish shopping spots, and many restaurants. Learn where to go shopping and how to get to this charming area for a relaxing day trip.
Kichijoji is an area of Tokyo that is directly accessible from both Shinjuku and Shibuya. It is known as a neighborhood that is easy to live in, with its many unique shops, clothing boutiques, and restaurants. It is also close to The Ghibli Museum, Inokashira Park, and other major sites in western Tokyo.
Continue reading to learn the top 7 shopping spots in this trendy area of Tokyo and how to get there.
1. Atre Kichijoji Store
Atre Kichijoji is a shopping center connected to JR Kichijoji Station.
Entrances to this shopping center are even located on the platform as well as under the elevated railway tracks.
We highly recommend you try the food shops on the first floor; many stores which offer various kinds of Japanese cuisine can be found here. There is an open square by the bus station in front of the train station. Doesn't it sound nice to grab something to eat and relax here after a busy day of shopping?
There are stores such as Yu Nakagawa and Hashi Gallery Mon where you can find lots of different Japanese items which are perfect for souvenirs.
2. Kirarina Keio Kichijoji
Kirarina Keio Kichijoji (Japanese) is a shopping mall connected to the Kichijoji Station by the Keio Inokashira Line. Here you can find many different fashion brands and stores selling miscellaneous items.
You can see the a view of Kichijoji from the grass-covered terrace here. It is a family-friendly place too as it is equipped with kids restrooms and facilities for children.
3. Marui (OIOI) Kichijoji Store
Marui is a chain department store which is found in urban areas all across Tokyo and Japan.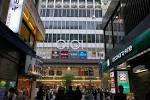 Marui Kichijoji Store is located right across from the central exit of Keio Kichijoji Station.
Unlike other department stores, there aren't any basement food shops here, but there are plenty of clothing stores and everyday item shops such as Mujirushi Ryohin (Muji) to choose from. Muji also has a cafe where you can take a break from shopping.
4. Kichijoji SUNROAD
One of the most famous shopping streets in Kichijoji, Kichijoji SUNROAD starts from the west exit of JR Kichijoji Station.
This shopping street has been here since the 1970s and has been one of the top shopping destinations not only for the locals but also for domestic and international tourists ever since.
This covered traditional shopping street is about 300 meters long, filled with many stores on both sides of the street. No matter when you visit, the atmosphere here is lively and there are always many people around shopping. And as it is covered, you don't have to worry about getting wet on rainy days.
5. Kichijoji Daiyagai
Kichijoji Daiyagai (Japanese) is a shopping street next to Kichijoji SUNROAD.
There are three sections to this shopping street: East, West and South, all of which have various fashion stores and food shops. Kichijoji Daiyagai is also covered, making it an ideal place to shop in all weather conditions, too.
In traditional Japanese shopping centers, there are many alleys with other smaller shops tucked away on them. This is also the case at Kichijoji Daiyagai, so please check out these hidden treasures too when you visit.
6. Coppice Kichijoji
coppice KICHIJOJI (Japanese) is a green-walled building found a two-minute walk from Kichijoji Station.
The theme of this shopping center comes from the English word "coppice," meaning an area of small trees or bushes. They want to create a natural environment with greenery where people can feel relaxed while shopping.
There are two buildings called Building A and B which offer different styles of stores.
The Kichijoji Art Museum is located on the 7th floor of Building A and features exhibitions of modern Japanese art as well as various other genres, artifacts, and collections. General admission is only 100 yen, so if you would like to stimulate your artistic senses, please stop by this museum.
7. Uniqlo Kichijoji Store
Uniqlo is one of Japan's representative casual fashion brand and can be found all over the world. The Uniqlo Kichijoji (Japanese) just 3 minutes away from the north exit of JR Kichijoji Station has seven floors.
As you can see in the pictures above, each floor has its own storefront-style windows, enabling passersby to see all the latest fads available at Uniqlo.
Uniqlo offers a service called "UTme!," which allows you to make your own T-shirts. Here at the Kichijoji store, you can make ones using designs by Mr. Kinshi Otani who is a graphic designer living in Kichijoji. Why not get one as a souvenir of your visit to Kichijoji?
How to Get to Kichijoji
Kichijoji is located in the western suburbs of Tokyo and is easily accessible from Shibuya, Shinjuku, and the central area of the city. There are two major train stations in Kichijoji: JR Kichijoji Station and Keio Inokashira Line Kichijoji Station.
From Shibuya, use the Keio Inokashira Line, as it is the fastest and most convenient. It takes approximately 17 minutes and costs 200 yen one-way. If you are coming from JR Shinjuku or JR Tokyo stations, use the JR Chuo Line. From Shinjuku Station, it takes 15 minutes and the fare is 220 yen. It takes 29 minutes and costs 390 yen if you ride from Tokyo Station.
Enjoy Shopping and Exploring Kichijoji!
Kichijoji is a convenient, trendy, easily-accessed shopping paradise. It is no wonder Kichijoji is such a highly sought after place in Tokyo! By all means, if you want to spend the day shopping, please head to Kichijoji.

The information presented in this article is based on the time it was written. Note that there may be changes in the merchandise, services, and prices that have occurred after this article was published. Please contact the facility or facilities in this article directly before visiting.