Art Mix Japan 2016: A Festival of Japanese Traditional Arts
Art Mix Japan 2016: A Festival of Japanese Traditional Arts
A weekend-long event where you can see and experience many of Japan's famous and lesser-known traditional arts.
From May 7th to 8th, 2016, a traditional Japanese arts festival, Art Mix Japan was held at Ryutopia Main Hall, in Niigata city, Niigata prefecture. Their 4th annual event, 2016's Art Mix Japan featured 25 different traditional performances with acts and instruments from all across Japan, including taiko drums and a performance from Aomori prefecture using the Tsugaru-shamisen or 3-stringed Japanese lute from the Tsugaru area.
Tickets are sold on a per-performance basis and run from 1500 yen to 4000 yen, making traditional events that would otherwise be difficult to experience more accessible to a wider audience. Once you've reached the end of this article, you will surely want to attend next year's Art Mix Japan.
*Tickets may be purchased from overseas and instructions on how to do so are provided at the bottom of this article.
Tsugaru-shamisen Performance in a Tatami Room
The performances featured in Art Mix Japan are held at a variety of different locations throughout the city. The first performance that we attended was at Enkikan (燕喜館), a convenient 5 minute walk from the Art Mix Japan main hall. Enkikan itself was once the home of a wealthy merchant in Niigata and when they are no performances being held here, admission to this elegant old home is free.
The performance we attended at Enkikan, featured a Japanese traditional quartet known as Otodama (音魂), who are based out of Niigata. Otodama are lead by the brothers Yūki and Akira Satō: Yūki is a guitarist, while Akira is a renowned Tsugaru-shamisen player, who has previously won the Tsugaru-shamisen World Tournament. This quartet delivers a Japanese musical performance that has both intermingling delicacy and intensity, and is so popular that it sells out quickly.
The dynamic sounds of the drums and flutes, along with the Tsuguru-shamisen echo all the way outside the hall.
Free Outdoor Stage
In front of the main hall, the Niigata City Performing Arts Center Ryutopia, or Ryutopia for short, there is an open air event space, where you can enjoy many free events.
This is a traditional performance from Niigata called the Niigata Tarukinuta (新潟樽砧); rather than striking large drums, the performers are playing music on soy sauce and sake casks.
Edo Utsushi-e: The Original Anime
Now, let's head back to the main hall in Ryutopia.
On the 5th floor of this performing arts center is the Nōgakudō or Noh theater, and it is here that we watched an Edo Utsushi-e performance.
Edo Utsushi-e, or Edo magic-lantern pictures, are said to be the grandfather of modern Japanese anime. The images appear on the screen are projected from illustration slides that are placed in a wooden box with a lantern inside, while a storyteller read the tale (in Japanese) from the wing of the stage.
After the Edo Utsushi-e, the staff came out from behind the curtain and brought the lantern and slides with them in order to give the audience a demonstration of how this set-up works. They also mentioned that you can sometimes get low temperature burns from the lantern during the performances, which is a pity for them.
Need to Take a Break? How about some Japanese Sake?
If you would like to take a break or have some time to kill between performances, why not enjoy some Japanese sake? In Ryutopia, if you pay an additional 2100 yen fee, you will receive a coupon book with 12 tickets inside that you can redeem for various kinds of Japanese sake. This coupon book also comes with 1 500 mL bottle of mineral water.
You can also exchange these tickets for some traditional snacks if you like.
All of Niigata's Dances at Once! The Niigata-sō Dance
The Niigata-sō odori or Niigata-sō Dance, took place in a different theater at Ryutopia and is a performance that can only be seen in Niigata. Each dance is a masterpiece in and of itself, with anywhere from 100 to a 1000 dancers gathered together on stage, all moving beautifully to the music.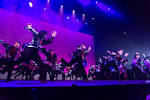 If you are seated close to the stage, you can actually feel the wind blowing towards you from the flapping of the happi (*1) that are wrapped around the dancers.
*1 Happi: a traditional type of outer wear with long sleeves that is tied about the waist by a thin string attached inside the lapel; most often worn by participants at festivals and other traditional events.
How to Buy Tickets
Art Mix Japan is definitely an event that is recommended to visitors from overseas. There is a secure cloakroom in the main hall where you can safely leave your things and you can purchase tickets to the events of your choice online from overseas.
From abroad, you can order the tickets directly from the pages below. Please pay close attention to the "Important Reminders Regarding Purchase of Tickets".
Japanese: Ordering tickets in Japanese
English: Ordering tickets in English
The Flow of Buying Tickets
1. Send a reservation by e-mail to the address provided in the Important Reminders. Keep your receipt/confirmation number.
2. Upon arriving in Japan/Niigata, proceed to the management office or the ticket office of the performance venue with your receipt/confirmation number to pick-up your ticket.
3. Pay for your ticket (may require cash-payment rather than credit card).
How to Sign-up for the Art Mix Japan Newsletter
Art Mix Japan will send e-mails about event information, ticket sales, as well as information about next year's performances via their e-newsletter.
*This e-newsletter does not need to be renewed and will be sent to your address unless you unsubscribe from it.
From the Art Mix Japan main page, scroll down to the bottom and look on the right of your screen. You will see the AMJ newsletter link.
Fill in the form provided here.
If any of the performances we presented in this article have piqued your interest, then by all means, please make plans to see Art Mix Japan next year.
Information
Art Mix Japan
Address: Niigata, Chuō-ku, Ichibanboridōrichō 3-2 (Ryutopia Main Hall)
Hours: Depends on the performance, roughly from 11:00-20:30
Other Languages: Website in English
Nearest Station: 7 minutes by car from Niigata station (新潟駅)
Access: 15-20 minutes by bus from Niigata Station by Bandaibashi bus (BRT) heading to Aoyama, 5 min walk from Shiyakushomae bus stop; 27 min by car from Niigata Airport
Price range: From 1500 yen, around 4000 yen per performance
Phone number: +81-3-025-255-1332
Website: Art Mix Japan
The information presented in this article is based on the time it was written. Note that there may be changes in the merchandise, services, and prices that have occurred after this article was published. Please contact the facility or facilities in this article directly before visiting.