Beppu Onsen - Oita's Amazing Hot Springs
On April 14th, 2016, a series of large earthquakes struck the heart of Kumamoto prefecture. We talked to some of the people in Oita prefecture's Beppu city, listened to their stories and learned that, "life as usual" is returning to the region.
On April 14th, 2016, a series of large earthquakes struck the heart of Kumamoto prefecture. The Beppu and Yufuin areas in Oita prefecture suffered damage as well. Now (May 2016), the majority of the sightseeing spots and accommodation facilities have, for the sake of their customers' peace of mind, undergone safety checks, repairs and have reopened for business.
Beppu and Yufuin, two of the finest representatives of Japan's hot spring culture, are destinations popular with both domestic and international visitors. MATCHA sat down with some of the people working in the tourism industry and listened to their stories. We were happy to see that the same old liveliness has returned to Beppu and Yufuin.
Today's article will focus on the current situation in Beppu.
Oita - the Prefecture with the Most Hot Springs And Its Representative City, Beppu
The steam from the hot springs drifts through the air over the city of Beppu.
When thinking of Japan, many think of onsen (hot springs). Onsen springs can be found throughout Japan, that is why one could call it a land of hot springs. Oita prefecture has the lion's share of these hot springs, making it the number one onsen resort area in Japan. It is actually affectionately called "Onsen-ken Oita" ("Hot spring prefecture Oita").
Within this onsen prefecture, Beppu is known as the representative hot spring city.
Hot spring water can be divided into ten different types and Beppu, with its great output and number of sources, has seven of these varieties to enjoy.
No matter where you look around Beppu city, it is obvious that this is a hot spring town. Perhaps the most characteristic sight of all is the constant outpouring of steam that can be seen from almost everywhere in Beppu.
Within the city itself, here and there you can see the plumbing that maintains the hot springs and even see steam rising up from the pipes under the streets themselves.
There are over 100 public baths that can be visited and enjoyed for as little as 100 to 200 yen. At these public baths both locals and visitors can chat together, which is a great way to relax and have fun.
Beppu is definitely a place where daily lives and hot springs intertwine. Among the locals there are even those that have hot springs in their own homes.
There are also plenty of free hand and foot baths available everywhere. Travelers can wash away their fatigue as they visit the hot springs together with the locals and other tourists in the area.
The Viewing Only Hot Springs - The Hell Onsen in Beppu
At Beppu, you can enjoy not only soaking in the hot springs, but also looking at them. Let's take a look at the Hell Onsen, with "Hell" (jigoku) being a slightly unconventional hot spring. Let's call on Beppu's Hell Onsen first.
Read also: Enjoy the Otherworldly Sights of Beppu Onsen's "Hell Tour"
In Beppu there are eight different hell onsen. This striking blue one is of particular interest. It is called Umijigoku ("The Sea Hell").
Another feature of this place is its beautiful traditional Japanese garden. Visitors can admire here beautiful cherry blossoms in the spring and dozens of other flowers that bloom all year round. During our visit we saw plenty of visitors from overseas enthusiastically taking pictures inside the garden.
We spoke with Mr. Yasunari Takahashi from Beppu Jigoku Association.
Tourism Oita Association member Mr. Hiroshi Nara (left) and Beppu Jigoku Association member Mr. Yasunari Takahashi (right).
Did the earthquake have any impact on business?
Mr. Takahashi: We decided to close for the day when the earthquake happened. For the sake of our guests' safety, we had to make sure that all our facilities were problem-free. We were very fortunate to find that nothing was wrong and were able to re-open for business the next day.
Is there anything that you would like to say to visitors from abroad?
Mr. Takahashi: Although we are not qualified to say that there is nothing to worry about, we would like you to know that, for the people of Beppu, life has returned completely to what it was before the earthquake, and we are waiting for our guests!
Please tell us which are the best ways to enjoy the charms of Umijigoku.
Mr. Takahashi: Well, of course this is the only place where you can see a "hell-ish" landscape, but there are also other facilities here that should not be missed. Using the heat from the hot springs, w ha've been able to grow royal water lilies, so from the latter half of May to early November, you can visit the gardens and hot house and see these incredibly beautiful flowers.
The leaves of the growing water lilies.
The water lily manager, Mr. Katsumoto Ōno.
Mr. Takahashi: Here at Beppu's Hell onsen, we sell onsen tamago ("slow-boiled eggs") and onsen puddings, which are slow cooked in the steam from the hot springs. Since there are slight variations to each dish based on the water quality and the cooking technique, you should definitely try each and enjoy these subtle differences for yourself.
This is the Umijigoku steamed pudding. It has a bittersweet flavor, likely to be enjoyed especially by grown-ups.
Here is an onsen tamago. You can taste a faint saltiness from the hot spring in it.
Here are the staff at Umijigoku.
At Umijigoku, you can take funny pictures as well.
Here is another famous hell onsen, Chinoikejigoku (The Hellish Blood Pond).
A tour guide that visited on the same day with us.
Making Your Own Onsen Dishes - Jigokumushi Kōbō Kannawa
For the people of Beppu, it's impossible to think life in a way that is not connected to the hot springs. Made with vapor rising from the hot springs, steamed cuisine is a common sight on every dinner table in Beppu.
At the Jigokumushi Kōbō Kannawa, a cooking studio, you can experience making your very own steamed dishes.
In this kitchen amid a permanent cloud of steam, you can use your own ingredients to make steamed dishes of your own.
Here are the ingredients in the oven; the warm steam blows in your face as you cook.
We spoke with Mr. Norimitsu Yamamoto, the director.
What has been the reaction of your non-Japanese visitors to the "Hell Steamed Foods" workshop?
Mr. Yamamoto: It's really popular. Before the earthquakes nearly a third of our visitors were from abroad, with many of them coming from Southeast Asia. We are really grateful that, slowly but surely, people are coming back to see us.
What do you think has made them happy about this cooking experience?
Mr. Yamamoto: Well, steamed cooking is really healthy, which has made it quite popular among ladies. Besides, visitors are really excited that all the vegetables, seafood and almost all the raw ingredients we use are from Oita. I think this is what makes people really happy - using local ingredients to cook dishes that can't be found anywhere else.
Sea-Watching from a Sand Bath
Let's take a look at a truly unique kind of hot spring: the sunayu or sand bath. This "sand bath" involves being buried up to your neck in sands that have been heated by a hot spring.
Anyone can enjoy the sand baths for a fee of 1030 paid at the ticket window.
Seeing the customers all buried in the sand is a unique experience.
This is their highest location, commanding a great view of Beppu Bay. Laying in the soft sand while it slowly warms you up is a thoroughly relaxing experience. Even during the earthquake, for the sunagake master (*1) Ms. Momoyama, business went on as usual.
*1 Sunagake master: a certified professional with over three years of experience working at the sand bath resort.
Sunagake master Ms. Momoyama (left).
Sightseeing in Beppu is Up to You - Mr. Nishida, Oita Tourism
Mr. Yōichi Nishida is the manager of Beppu Hotel and the representative of the Onsen-ken Tourism Committee, a division of the Oita Prefectural Tourism Board. It goes without saying that if you would like to know more about sightseeing in Beppu, there is no one better to ask than Mr. Nishida.
Now that a few weeks have passed since the earthquake, how have things been in Beppu?
Mr. Nishida: Though the earthquake did affect us, many of the accommodation facilities have thankfully already returned to business as usual. We are fully prepared and waiting for our customers.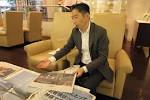 Is there anything specifically you would like to tell your guests from overseas?
Mr. Nishida: Oita is the prefecture in Japan with the highest number and greatest output of hot springs. If you would like to experience a certain type of onsen, you can almost certainly find it here. Onsen hopping is something that you can only experience in Beppu.
For example, if you are interested in beauty care from head to toe, you can try the cleansing effects of the sulfur spring Myōban Onsen, then head over to Kannawa Onsen to experience the moisturizing power of their metasilicic acid spring. Just like using shampoo then conditioner, these hot springs have a beneficial synergic effect.
In addition, not only can you enjoy great gourmet foods, such as fresh-caught fish and seafood from Beppu Bay, kabosu citrus fruits and shiitake mushrooms, but through the four seasons you can admire the ever changing landscape of our region.
At a time when it may be hard to get accurate information on what is going on, we are truly grateful to those visitors who still come to Beppu and still want to come to Beppu. While it would be incredibly irresponsible to say that everything is safe, for all of us present in the tourism industry, the symbol of our revival has been our ability to carry on with business just as we did before the earthquake. Therefore, with our hearts' focused on giving as much information and guidance as possible, we are waiting for you to come to Beppu.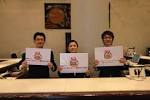 The staff at Hotel Shiragiku.
In Conclusion
The statue of Mr. Kumahachi Aburaya, the founder of the Onsen Tourism city, Beppu.
The most surprising thing about our visit to Beppu was the fact that, for almost everyone we spoke to, life had returned to normal. In other parts of Japan it seems that "destruction" is the first thing that comes to mind when thinking about the Kyushu area.
But from everyone working in the tourism industry whom we met, the most common thing we heard was that "life had gone back to normal" and that "things were going on as usual". Everyone is working to protect the image of Beppu as it was before the earthquake, always aware of the dangers of being too complacent in times of prosperity.
With this in mind, they all sincerely believe that, perhaps slowly but surely, visitors will come again to Beppu.
This is the staff of Beppu Information Office, a facility within Beppu station, which is used by more than 6000 tourists each month. Beppu is waiting to welcome everyone.
Information
Umijigoku ("The Sea Hell")
Address: Oita, Beppu, Shikannawa 559
Hours: 8:00 - 17:00
Nearest Station: JR Beppu Station
Access: From JR Beppu Station's west exit, take Kamenoi Bus 2/5/41/43 going towards Kannawa for about 20 minutes; get off at Umijigokumae bus stop, and walk for 1 minute.
Entrance Fee: Adults 400 yen, High school 300 yen, Junior High 250 yen, Elementary 200 yen.
Phone Number: 0977-66-0121
Website: Umijigoku (Japanese)

Jigokumushi Kōbō Kannawa (Steam Cooking Facility)
Address: Oita, Beppu, Furomoto 5
Hours: 9:00 - 21:00
Closed: Every 3rd Wednesday of each month
Wi-fi: Yes
Credit Cards: -
Menus in Other Languages: Yes
Nearest Station: JR Beppu Station
Access: From JR Beppu Station's west exit, take Kamenoi Bus 2/5/7/9/41 going towards Kannawa for about 20 minutes; get off at Kannawa bus stop, and walk for 1 minute.
Price Range: Depends on the ingredients. To rent the ovens is 510 yen for 30 minutes. Phone Number: 0977-66-3775
Website: Jigokumushi Kōbō Kannawa (Japanese)

Beppu Kaihin Sunaba (Sand Bath Facility)
Address: Oita, Beppu Shōningahama
Hours: March-November 8:30 - 18:00 (last entrance at 17:00); December - February 9:00 - 17:00 (last entrance at 16:00)
Closed: Every 4th Wednesday (if a holiday, the next day).
Nearest station: JR Beppu Station
Access: From JR Beppu Station's east exit, take Kamenoi Bus 26/26A for about 15 minutes to Rokushōen/Beppu Kaihin Sunabamae bus stop, it's right there.
Entrance Fee: 1030 yen
Phone Number: 0977-66-5737
Website: Beppu Kaihin Sunaba (Japanese only)

The information presented in this article is based on the time it was written. Note that there may be changes in the merchandise, services, and prices that have occurred after this article was published. Please contact the facility or facilities in this article directly before visiting.