Learn How To Make Woodblock Prints At Mokuhankan - In English!
Ukiyo-e or woodblock prints are one of Japan's best known art forms. At Mokuhankan, you can learn how to make your own ukiyo-e in English, in historical Asakusa.
Woodblock prints are a traditional art form where designs are carved into a wooden surface, paint or ink is applied to the raised areas and then paper is placed onto this surface, whereby the pattern is transferred onto the paper. Most popular during the Edo era, Japan's multicolored ukiyo-e are also highly valued in Europe and North America.
At Mokuhankan in Asakusa, not only can you purchase some of the works, but you can also take part in Print Party, a workshop where you can make your very own ukiyo-e.
Today we'd like to introduce this fun workshop to you!
Right by Sensōji Temple!
Mokuhankan is located very close to Sensōji Temple in this white, two storey shop.
The ukiyo-e classroom is located at the top of the stairs on the right. This traditional Japanese tatami room has a very peaceful atmosphere.
First, the Fundamentals of Woodblock Prints
In today's lesson, we will make woodblock prints where the colors have been split onto separate woodblocks. The print we are making has four shades of ink; starting with red, then blue, yellow and finishing with black. When the colors are brought together in this fashion, seven colors will appear in the final print.
This means that there are several wooden boards with different parts of the total pattern carved into them, with different raised areas for the inks, that come together to create a single ukiyo-e image.
Several slightly different versions of each design are possible as a result, so in the corner an edition number, known in Japanese as a kentō is written. This number makes it possible for the printer to know in which order the ink has been placed and to keep the paper aligned, so as to prevent the overall design from shifting.
Harder Than It Seems! Making the Woodblock Print
Now, let's try our hand at making woodblock prints!
First, put paste on the board, then apply the paint on the diagonal.
Next, take the brush and rub the wooden board; this will blend the paint with the paste. At that time, you must make sure that there isn't any excess paint in the carved portions of the woodblock.
Once the ink is spread out, it's time to place the paper over the woodblock and press it into the design by rubbing the paper. When you are lifting the paper to place it over the design, pinch it between your index and middle fingers as those they were scissors; this will help you to accurately place the paper along the guidelines.
With one finger holding the paper in place, take the baren (*1) and firmly press the paper against the woodblock. Keep the pressure on the baren constant; try to avoid leaning or tilting it as you press down.
To move the baren effectively over the paper, try making small circular motions! And once the pattern has risen to the surface, check to see if there are any thinly colored areas, and if so, fix them. If any ink gets into the unraised portions of the current woodblock, that ink will be transferred into the wrong part of the print, which will change the final look of the piece - so please be careful when placing your paper down and using the baren.
*1 Baren: a round tool used to press paper against woodblock prints; this somewhat heavy tool is wrapped in bamboo husk in order to help it slide smoothly against the paper.
Now that the pattern has fully risen to the surface, it's time to slowly peel the paper off the woodblock. You've completed your first color pattern!
After you have repeated these steps 3 times,the full pattern will really stand out on the paper.
The final step, the black ink plate, is when the finishing touches of the piece are added. As the paper and edition marks can be quite dry at this point, there is a risk of tearing, so it is very important to work quickly in these final moments.
Now that it is complete, initial your piece. This print features the Japanese folk tale of Momotarō. Aren't the colors lovely?
See Professional Works on Display
The print furthest to the left was made by the shopkeeper, David.
After coming to Japan 30 years ago and teaching himself the art of ukiyo-e, the master print maker, David Bull, opened Mokuhankan in Asakusa in 2014.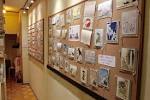 At present, not only David's works but also those of his students are on display and available for purchase at Mokuhankan. The ukiyo-e on display here range from reproductions of traditional prints to completely new and modern original designs.
Among the prints here there are some that took as many as 96 individual woodblocks to make. If a single plate along the way had shifted, you would have to start that lengthy process all over again... Ukiyo-e are without a doubt an extremely delicate work of art.
Print Party Reservations Online
Mokuhankan's Print Party system is available 3 times a day, every day excluding Tuesdays. You can also participate without an advance reservation as each Print Party can have up to 5 members, however if you want to guarantee a place for yourself, you should make a reservation ahead of time. For more information and to make a reservation, please refer to the Mokuhankan Print Party reservation page.
The staff are all capable and really good at explaining the finer points of the process and what to watch out for, so even beginners will feel at ease taking part in this experience. And you can have your Print Party in English, so non-Japanese speakers and visitors to Japan are most welcome to join.
And if it isn't too busy, you can try your hand at making as many woodblock prints as you'd like! Being able to freely make your own ukiyo-e is a truly enjoyable experience.
The workshop lasts for about an hour, but along the way there is plenty of time to chat and enjoy some tea with the staff and other participants. Ukiyo-e seem to have an unapproachable aura to them, but the time spent taking part in the Print Party was, from beginning to end, full of smiles and a calm, pleasant atmosphere.
Being able to freely make your own ukiyo-e while visting Mokuhankan in historical Asakusa sounds like a fantastic memory of your time in Japan, doesn't it?
Information
Mokuhankan
Address: Tokyo, Taito, Asakusa 1-41-8
Hours: 10:00-17:30
Closed: Tuesdays
Wi-fi: Available
Credit Cards: All cards
Other Languages: English, Japanese
Menus/Pamphlets in Other Languages: English
Nearest Station: Asakusa Station (浅草駅) Asakusa line, Sky Tree Line, Ginza Line
Access: 6 minute walk from exit 6 of Ginza line, 8 minute walk from exit 8 of Sky Tree line, 10 minute walk from exit A4 of Asakusa line
Price Range: 2000 yen per person (groups over 2 people: 1500 yen per person)
Phone Number: 070-5011-1418
Website: Mokuhankan

The information presented in this article is based on the time it was written. Note that there may be changes in the merchandise, services, and prices that have occurred after this article was published. Please contact the facility or facilities in this article directly before visiting.