A Mysterious Experience Awaits! The Tokyo Trick Art Museum
A Mysterious Experience Awaits! The Tokyo Trick Art Museum
Come try interactive Trick Art in Japan! The Tokyo Trick Art Museum is just the place for those who want to experience art up close and personal, especially Japanese art.
Illusions bewilder viewers by playing with their visual senses. That is what makes them so appealing - they can be enjoyed by both young and old, men and women, and language is never a barrier.
Today we would like to introduce to you the Tokyo Trick Art Museum, a great place where visitors to Japan can enjoy some really creative optical illusions while learning a little bit about Japanese culture.
Better still, you are allowed to take pictures of all the exhibitions! Action shots, funny poses, you can enjoy it all here.
Trick Art?
Trick Art (*1), also known as trompe l'oeil, is art that you can see, touch and interact with; this uniquely Japanese experience is the first of its kind. By using human illusions, paintings can become 3D art, and totally different impressions will appear depending on the angle they are viewed from. Not only that, but you can enter the works and experience the mirage in the painting for yourself.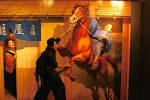 When you enter the Tokyo Trick Art Museum, the staff will give a 3 minute explanation of the works, and how to best enjoy them. The explanation is also available in English, which means that even first-time visitors can feel at ease.
Trick art are works of art that are not complete until a person has entered them. Once the explanation is over, it's time to start taking pictures!
Now let's take a look at some of their attractions.
*1 Trick Art is a registered trademark of the SD Corporation.
Ninjas and Monsters! Get into Japanese Culture
Up first is the Japanese culture themed Edo Area (*2).
Oh no, you've been trapped by ninjas! But just how do you think this photo was taken?
*2 Edo: the former name of Tokyo.
As a matter of fact, here the ceiling and floor designs have been reversed. The last photo was turned 180 degrees. It's extremely hard to successfully take these pictures, but by all means, please try your best.
In this Japanese-style room, the seat seems to be empty, but the mirror shows someone's reflection. It's like being in a horror movie. The trick of this photo... you will just have to learn in person.
Next up is the Not-so Scary Monster Area with lots of monsters! If you're not careful, you might get eaten by one of them.
When it comes to Trick Art, facial expressions are just as important as the poses. Depending on the situation you will have to play different parts which is a lot of fun.
Enjoy Famous Art Works
Taking a break from Japanese culture, now let's head into the Masterpiece Area with its various animal and copies of famous paintings.
Your imagination is sure to run wild as you try to come up with the best poses to match the Trick Art.
Hanging by a hair's breadth from a sheer drop, in this piece you will feel just like you're in an action movie!
By the way, this work was entirely made with one brush. These aren't just tricks, but works of art and design that required careful attention to detail.
Anyone Can Enjoy Trick Art
Opened in 2011, the Tokyo Trick Art Museum was founded by Kazumoto Kenjū, whose goal is summed up in his words: "I want to make museums more approachable and enjoyable for everyone".
Now they have placed panels with Japanese, English and Chinese explanations and pose ideas near the works. And, if you're planning on coming to the Tokyo Trick Art Museum in a small group, you can ask the staff to take pictures for you and they might even give you some challenging poses to try out.
Near the exit, you can buy an anthology of the trick art works, original playing cards and more; you will surely find some truly unique souvenirs on sale here.
There is even some Trick Art to be found in the shop... but to see that, you'll have to visit for yourself!
Besides the amazing works we introduced today, there are many, many more to enjoy here at Tokyo Trick Art Museum. Best of all, many of the works don't have poses decided for them yet, so the staff are looking to see what original poses the customers can come up with.
With so many different ways to have fun among trick art, wouldn't you love to take some pictures to surprise your family and friends back home?
Information
Tokyo Trick Art Museum
Address: Tokyo, Minato, Odaiba 1-6-1 Decks Tokyo Beach Island Aeon Mall 4F
Hours: 11:00 - 21:00 (last admittance 20:30)
Closed: -
Wi-fi: -
Credit Cards: -
Other Languages: Basic English
Menus in Other Languages: English, Chinese, Basic Thai
Nearest Station: Odaiba Kaihinkōen Station (お台場海浜公園駅) on the Yurikamome Line, Tokyo Teleport Station (東京テレポート駅) on the Rinkai Line.
Access: 2 minutes from Odaiba Kaihinkōen Station, 5 minutes from Tokyo Teleport Station
Price Range: Adults 900 yen, Children 600 yen, Under 3 Free
Phone Number: 03-3599-5191
Homepage: Tokyo Trick Art Museum
The information presented in this article is based on the time it was written. Note that there may be changes in the merchandise, services, and prices that have occurred after this article was published. Please contact the facility or facilities in this article directly before visiting.