Enjoy Superb Meat and Craft Beer at Yona Yona Beer Works
Yona Yona Beer Works is operated by the makers of Yona Yona Ale, Yo-Ho Brewing. Sample ten craft beer varieties at one of their four stores in Tokyo.
When thinking about Japanese alcohol, sake probably comes to mind for most people. However, Japan also produces other alcoholic beverages of high quality, such as beer.
Japanese beer brands are frequent award recipients at world beer ranking events, and they make outstanding beverages; outside of Japan, the tastes of craft beers produced by small-scale domestic breweries are not easy to come across.

Read also:
What's In That Can? A Guide to the Taste of Japanese Beers

Bars Where You Can Savor a Craft Beer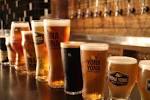 Pictures provided by Yo-Ho Brewing
The best place to enjoy those craft beers is at Yona Yona Beer Works (よなよなビアワークス), the official beer bar of Yona Yona Ale, which has four locations in the Tokyo area.
With ten beer varieties produced by Yo-Ho Brewing, the brewery responsible for Yona Yona Ale - Japan's pioneering craft beer - Yona Yona Beer Works offers delicious original food that goes perfectly with craft beers.
A Comfortable and Relaxing Interior
This time, we visited a location which receives a lot of overseas visitors: the Akasaka branch in Minato Ward.
The Yona Yona Beer Works has a spacious interior and a relaxed vibe. Incidentally, the theme of the Akasaka branch is "a kitchen space." While stylish, the Beer Works also feels like a place to unwind.
First, You Should Try A Yona Yona Ale
Pictures provided by Yo-Ho Brewing
Let's get right into it, and talk about the food and beer varieties available at the restaurant.
Of course, the Yona Yona Ale (a small-size glass for 450 yen) is popular. As an IPA, its bitter taste and fruity aroma - reminiscent of citrus - are what fans find irresistible. While canned Yona Yona Ale can be found at convenience stores, it's doubly delicious when poured from a tap into a glass meant specifically for Yona Yona Ale. The beer kegs at Yona Yona Beer Works have been sent directly from the brewery, so the drinks are extremely fresh.
Small, regular, and pint beer sizes are available, and you can also order a three-variety tasting set. Enjoy your favorite beer in the glass size you prefer.
The Juicy Roast Chicken is Perfect with Beer
Roast chicken (half-size) paired with a pint of Yona Yona Ale
Naturally, the menu selections here are excellent alongside pints of beer; the dishes are made with carefully-selected domestic ingredients, and many of them use Japanese herbs and spices. All of the food at Yona Yona Beer Works should be sampled by visitors from overseas.
The Akasaka location offers original and very filling kiln-roasted items, and the most popular dish is the roast chicken (quarter-portions for 980 yen), which has a flavor that goes perfectly with a Yona Yona Ale.
Take your first bite of the chicken, and you'll be amazed at how soft it is! Since it was carefully roasted in a kiln, you'll notice that the skin offers a delightful crunch; meanwhile, the juices have been sealed into the meat to keep it moist, and that juicy deliciousness will become apparent as it fills your mouth.
You Won't Be Able to Put Your Glass Down Once You Have A Plate Of Fried Gyōza
From left: Cilantro-Topped Fried Gyoza (five pieces), a Wednesday Cat (small) and an Aooni IPA (pint)
This is Yona Yona Beer Works' take on gyōza dumplings: Cilantro-Topped Fried Gyōza (750 yen). In Japan, rather than boiling the gyōza, it is typical to fry them to produce a characteristic crispy, almost-burnt exterior.
These gyōza are filled with plenty of ingredients to give them a hefty volume and meaty flavor. The faint spiciness of the gyōza, coupled with the cilantro topping, is great alongside the striking bitterness of the "Aooni" IPA (a small-size glass for 480 yen). Another option is the "Wednesday Cat" Belgian white ale (a small-size glass for 480 yen), with its invigorating scent of coriander seeds and orange peel. The combination of beer and gyōza is so addicting, you won't be able to stop ordering 'just one more.'
A Jiggly, Beer-Infused Caramel Pudding
For dessert, how about sampling the "Tokyo Black" bitter pudding, made with caramel and the "Tokyo Black" dark beer (500 yen)? Its soft texture and caramel sauce meant for the adult palate is something to enjoy.
Other items on the menu include: fried potatoes flavored with "aonori," the Japanese staple condiment made of green laver seaweed, jumbo-sized kebabs of seafood, meat, and vegetables, salads with mushrooms and seasonal vegetables, and much, much more. The food and drink menu is also written in English, so tourists have nothing to worry about.
The items listed above are from the dinner menu, but there are also drink sets available at lunch, where you can choose from a variety of main courses, like the pasta or grilled meat. An additional 430 yen will get you a Yona Yona Ale to enjoy, too.
In Conclusion
This time we went to the Akasaka location, but the Roppongi, Omotesandō and Aoyama locations are not far away. These locations are easily accessible via public transportation and situated near many hotels, which is good news for tourists staying in the area.
The manager, Mr. Kasuga, says "Come try our food, entirely made with domestic ingredients, then wash down your meal with one of our carefully-made beers!"
If you want to confirm how delicious Japanese craft beers really are, then by all means, head over to Yona Yona Beer Works and taste them for yourself.
Information
Yona Yona Beer Works (Akasaka location)
Address: Tokyo, Chiyoda-ku, Nagata-chō 2-Chōme 14-3 Tōkyū Plaza Akasaka 2F
Operating hours: 11:30 - 23:00 (on weekdays, only the lunch menu is available until 16:00); last order for food at 22:00, last call at 22:30
Fixed holidays: None (follows the holiday schedule of Tōkyū Plaza Akasaka)
Wi-Fi: None
Credit cards accepted: Visa, Mastercard, UC, DC, Diners Club, American Express, JCB, NICOS, Saison
Foreign language support: English (English-speaking staff not always on duty)
Foreign language menus: English
Closest station and access: One minute walk from Akasaka-Mitsuke Station (on the Tokyo Metro Ginza Line), via the outer canal exit
Price range: 1,000 - 3,999 yen
Phone number: 03-5510-4789
Official webpage: Yona Yona Beer Works
Published in cooperation with TERIYAKI, an app that can locate the best restaurants
■ TERIYAKI - your Gourmet application for the best dining places
Price: Free / Monthly plan for 480 yen
Available on: iTunes Store and Google Play
※Search for "Teriyaki" on the iTunes Store or Google Play.
[iTunes Store]
https://appsto.re/i6gv8tL
[Android]
http://teriyaki.me
[Official Facebook]
https://www.facebook.com/gourmet.teriyaki
[Official Twitter]
https://twitter.com/teriyaki_tweet

The information presented in this article is based on the time it was written. Note that there may be changes in the merchandise, services, and prices that have occurred after this article was published. Please contact the facility or facilities in this article directly before visiting.