Join The Straw Hat Pirates! Tokyo One Piece Tower (Live Show)
Tokyo Tower is a tourist favorite in Tokyo and home to Tokyo One Piece Tower, a theme-park dedicated to the popular anime "One Piece". In this article we'll be showing you some of the attractions and live shows held here.
One Piece is a popular Japanese anime. Its first large-scale theme park, Tokyo One Piece Tower was established in March of 2015. The park is located in one of Japan's most visited tourist spots: Tokyo Tower.
You will be entering the Straw Hat Pirates' Tongari Island, where you can immerse yourself in the world of One Piece. It's a must-go spot for fans.
In this article we will be introducing the attractions and live show that you can experience at One Piece Tower.
Read also: Join The Straw Hat Pirates! Tokyo One Piece Tower (Restaurant & Shops)
Enjoy Character Attractions
At One Piece Tower, attractions associated with the Straw Hat Pirates await visitors.
This is "Usopp's Road to Sogeking", created by master sniper Usopp. It's an attraction where you try to hit down the targets with a slingshot, like Usopp. We tried it out, but contrary to our expectations it was pretty difficult. If you can hit all the targets, you will receive a nice gift!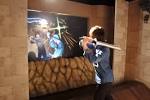 This is "Zoro's Soul of Edge", where you will be taught swordsmanship from the great swordsman Zoro himself. You will be cutting cannon balls with a sword. It is an attraction that might require some good reflexes.
There is also a display of the swords that appear in the manga. They are beautiful and quite realistic swords; you might find yourself entranced by them. It is one of the displays that we definitely recommend you check out.
There are also other attractions like "Nami's Casino House" and "Brook's Horror House" you can enjoy with the Straw Hat Pirates. They are all must-see attractions for fans. As there is no time limit at the One Piece Tower, you should enjoy the attractions as long as the park is open!
Take Photos With Life-Size Figurines
There are many photo spots and life-size figurines of the characters throughout the park. For example at the entrance, a One Piece Tower original character, the Tongari transponder snail welcomes you. You should definitely get a shot of the beautiful Thousand Sunny as well.
A party is underway at the bar, complete with Sanji's delicious dishes. The life-size figurines are very cool, and you'll really feel as if you've stepped into the One Piece world.
There is also some trick art and more photo spots with the characters. You can sit on the chairs of the 3 admirals to take a picture as well. Make sure to get some nice photos to make your friends jealous!
Exciting Live Show
"Burning Stone" which is passed out to all live show participants. It's a key item in the show.
The live show is exclusive to One Piece Tower and an event that almost everyone watches. All visitors in the park can watch the show for free. It is held once or twice every hour. You can check the exact time schedule on the One Piece Tower website or at the park on the day you visit.
Watching the thrilling live show will totally draw you into the One Piece world. The show uses the latest in projection mapping technology. You're sure to have a blast!
Read also:
Join The Straw Hat Pirates! Tokyo One Piece Tower (Restaurant & Shops)
Thorough Tokyo Tower and Tokyo Skytree Comparisons By A Thai Student


The information presented in this article is based on the time it was written. Note that there may be changes in the merchandise, services, and prices that have occurred after this article was published. Please contact the facility or facilities in this article directly before visiting.