Hot Oden Served in Seconds - Canned Oden, an Akihabara Specialty
Oden, the popular Japanese dish enjoyed by the locals in winter, can be found in its canned version in Akihabara. Let's find out what this Akihabara specialty is all about!
Oden is a popular Japanese hodgepodge stew which people yearn to eat on cold winter days. There is a place in Tokyo where hot oden is served in seconds.
The building below is the place I'm talking about. It is across a street from AKIBA Cultures ZONE building, on the corner of a lane that runs parallel with Chuo-doori main street.
This five-story building houses stores on each floor, including Akihabara Crane Labo, Nadeshico Sushi, and Chichibu Denki. There stand several vending machines on the first floor around the building. It appears a group of people is hanging around the machines.
Eight vending machines are placed surrounding the store on the first floor. One machine looks different from others, the white one on the right side from the center of the photo.
Look at this. This machine sells canned oden!
Actually, this is the birthplace of canned oden (aka "Oden-kan"). It was once quite a trend in Japan. At the beginning of the 1990's, Chichibu Denki on the 3rd floor of the building started to sell canned oden here. It soon became popular around Akihabara, then nationwide.
When canned oden was first introduced, there weren't many places to dine in Akihabara. In addition, people wanted to spend time to look around as many PC stores or anime stores as possible without wasting time. Canned oden met their demands and it still remains as a specialty food in Akihabara.
This machine sells two types of canned oden, one with beef tendon (gyusuji) and another with fish balls (tsumire). A vending machine that sells canned oden; quite an unusual scene.
I tried oden with beef tendon
I bought an oden-kan with beef tendon and tried it at once.
The contents were very hot. I found a konnyaku (potato jelly) on a skewer on the top, so I tried it first. It had a nice chewy texture!
Then I used the skewer to eat the rest. Next was daikon radish (a giant white radish), the most important item that determines oden's quality. When you make oden at home, you have to simmer daikon until it is tender enough so that it absorbs tasty soup well. Since the daikon had been in the soup since it was cooked in a factory, it was very tender with a rich flavor. It tasted really good.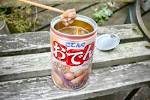 The chunks of beef tendon were pretty small, but I found several pieces and that was satisfying enough. I drank the soup together with the beef pieces.
Another odd canned food
On the row below oden, you will find canned ramen noodle. A weird vending machine in the weirdest town in Japan; a perfect match.
Chichibu Denki on the 3rd floor sells canned oden that is not heated for you to take home. You can eat canned oden either on site or at your home.
You cannot buy canned oden at Chichibu Denki on Sundays since the store is closed. But the vending machine is working everyday. I'd like to recommend you to try oden-kan, an odd specialty food in Akihabara.
Information
Chichibu Denki (チチブデンキ)

Address: Chichibu Denki Building, 3-12-15 Sotokanda, Chiyoda-ku, Tokyo 101-0021
Hours: Monday - Saturday 11:00 - 18:00
Closed: Sunday
Wi-Fi: Information not available
Credit card: Information not available
Language: Information not available
Station: Akihabara Station
Access: Three minutes on foot from Denkigaiguchi Exit of Akihabara Station
Phone: 03-3253-3443
Website: http://www.chichibu-el.co.jp/

The information presented in this article is based on the time it was written. Note that there may be changes in the merchandise, services, and prices that have occurred after this article was published. Please contact the facility or facilities in this article directly before visiting.