Coredo Muromachi - Packed With Traditional Foods And Goods
Coredo Muromachi - Packed With Traditional Foods And Goods
Discover more about Coredo Muromachi 1, 2, 3 in Nihonbashi through a selection of their shops specializing in traditional Japanese foods and household goods.
The Nihonbashi area, located right by Tokyo Station has been a popular business district since the Edo era. The streets are lined with many shops that have been around for over a century. Today, we would like to introduce to you to Coredo Muromachi, a mall that has a collection of shops carrying traditional ingredients, Japanese household goods, and much more.
Coredo Muromachi is split into three buildings. They all have a "Japanese feel", but each have their own unique traits.
1. Coredo Muromachi 1
Coredo Muromachi 1 opened in 2010. It's a shopping mall with a largest multipurpose hall in Nihonbashi on the fifth and sixth floor. From tea shops, confectionery shops, restaurants ranging from Japanese, Thai, Chinese, and Italian can be found. You can find a perfect shop that suits your needs.
It is connected to the A6 exit of Mitsukoshimae Station on the Tokyo Metro.
Find Some Unique Japanese Teas
Related Article:They Even Have Sakura Tea! Ocharaka Japanese Tea Shop (Japanese)
On the first floor of Coredo Muromachi, you can find some unique Japanese teas at the tea shop, Ocharaka (Japanese). You can find things such as cherry blossom teas, old-fashioned carbonated ramune drinks, and flavored green and hojicha teas. With a vast selection, there are plenty of different kinds of drinks here that suit non-Japanese tastes as well.
From Coredo Muromachi 1 to Coredo Muromachi 2
Let's head to Coredo Muromachi 2, located right by Coredo Muromachi 1. There is a path that connects Coredo Muromachi 1 and 2 from the second floor, but we decided to head over from the outside.
2. Coredo Muromachi 2
The reason why we decided to take the oudoor route was this! Right next to Coredo Muromachi 2, stands the impressive red torii gate of Fukutoku Shrine. Fukutoku Shrine has a long history, dating back to over 1000 years ago. Many people visit this shrine to pray for luck in winning the next lottery. Do stop by when visiting Coredo Muromachi next time!
Coredo Muromachi 2 has a collection of historical stores that have been in business for over 100 years. This was also the first building to have a movie theater in the Nihonbashi area, making it quite busy every day.
Taste Some Old-Fashioned Snacks!
From: Try Deep-fried Imokenpi At Imoya Kinjiro, Nihonbashi(Japanese)
On the first floor of Coredo Muromachi 2, there is a candied sweet potato (imokenpi) shop, "Imoya Kinjiro". The sweet potato here is fried in olive oil once, so the texture is crispier than the standard candied sweet potato. You can even taste freshly made candied sweet potato right on the spot.
Related Article: The Base Of Washoku!Taste The Golden Dashi At "Nihonbashi Dashi Bar"
Lastly, Coredo Muromachi 3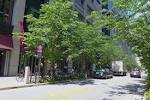 Coredo Muromachi 3 neighbors Coredo Muromachi 1. It is also a 2-3 minute walk from Coredo Muromachi 2, but let's go back to 1. Another suggested route is to explore Coredo Muromachi 1 and 3 from the Mitsukoshimae Station exit A4 passage way, then going to Coredo Muromachi 2.
3. Coredo Muromachi 3
Coredo Muromachi 3 contains shops that carry traditional Japanese items such as chopsticks, towels, shikki (*1) items, fashion goods, household materials and interior decorations. It's a little different from Coredo Muromachi 1 and 2 that focus mainly on food.
*1 Shikki: (漆器), traditional Japanese lacquerware.
Visit the MUJI Shop too!
On the fourth floor, you can find the MUJI shop that is popular among visitors to Japan.
In Conclusion
As the capital of Japan, Tokyo is considered to be an international city, but the Nihonbashi area still keeps the traditional style of Japan alive. If you wish to immerse yourself in Japanese culture, stop by Coredo Muromachi!
Information
Coredo Muromachi 1
Coredo Muromachi 2
Coredo Muromachi 3
Address: 2-2-1 Nihonbashi Muromachi, Chuō-ku, Tokyo
Hours: Varies by shop
Closed: Varies by shop
Wi-fi: Not available
Credit cards: Varies by shop
Other Languages: Varies by shop
Menus in Other Languages: Varies by shop
Nearest Station: Mitsukoshimae Station (三越前駅), Tokyo Metro Ginza Line & Hanzōmon Lone
Access: Connected to A4 and A6 exits of Mitsukoshimae Station
Price Range: -
Religious Considerations: –
Phone Number: -
Homepage:Coredo Muromachi (English)
The information presented in this article is based on the time it was written. Note that there may be changes in the merchandise, services, and prices that have occurred after this article was published. Please contact the facility or facilities in this article directly before visiting.