Enter The Oldest School In Japan! Ashikaga Gakkō In Tochigi
Tochigi prefecture is where you will find Ashikaga Gakko, Japan's oldest school. Here you will find unique architecture and the origins of Japan's education system as well.
The philosophical movement known as Confucianism was born in China and brought to Japan more than a thousand years ago. The teachings of Confucius (*1) had a great deal of influence on Japan, as well as on many other Asian countries.
Ashikaga Gakko, or Ashikaga School, as "gakko" means "school" in Japanese, in Tochigi prefecture, is the oldest school in Japan and one in which students studied Confucianism. It is a recognized national historic site and has now been opened to the public.
Today let's learn more about the origins of education in Japan through a trip to Ashikaga Gakko.
*1 Confucius: a Chinese philosopher from the 5th-6th century BCE.
Pass Through Three Gates and See a Statue of Confucius
There are three gates to pass through when entering Ashikaga Gakko, each with their own different meanings.
The first gate is called Nyutoku-mon. 'Toku' means 'good, virtue' in Japanese, and it is said to make you feel more proper when you pass this gate.
The second gate is Gakko-mon. Although there are thousands of schools of all kinds across Japan now, Ashikaga Gakko was the very first, so this gate, with the characters for 'Gakko' ("school") on it, is very special.
The third gate is called Kyodan-mon. The 'kyo' part is written with the character for apricots, while 'dan' means platforms or podium. Although it may sound obscure, when Confucius was teaching his lessons, many apricot trees were grown and this formed the relationship between the time and the lessons. This gate was built during the Edo period, but burnt down and was rebuilt in 1900.
After passing through Kyodan-mon, you will see a Confucian temple where a statue of Confucius has been placed. The statue of Confucius you see here is sitting down, which is very unusual to find - he is usually depicted standing up in teacher-like poses.
Buildings Reconstructed in the Edo Glory
The building in the picture above called is called the 'Hojo', and is used for rituals and events. This building also burned down, but was rebuilt in 1990 in its mid Edo era style.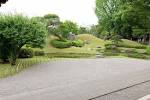 The garden seen from the inside of this building was also recreated exactly as it was in the past. It might be fun to imagine that you are a student studying here as you walk about and look at this replicas of the past.
A building, called 'Kuri" is connected to the 'Hojo', and has a traditional Japanese kitchen and doma floor, which provided the necessary facilities for students to live at the school.
If you look up, you can see the original wooden beams. As you can see from the picture above, these beams were made from logs, which give the space a rugged and simple impression.
Right by the entrance to the Kuri, you will find a Yuza-no-ki or a water balance. If you put the right amount of water into the empty bucket water balance, the bucket will sit level. But, if you put too much water into the bucket, it will flip over and spill the water all over.
This balance is based on one of the teachings of Confucius, who intended it as a lesson to not be too proud and to remember your humility. By all means, please give it a try when you visit Ashikaga Gakko.
Lessons Still Taught Today
There is a large pine tree standing in front of the Kyodan-mon, which is known as the Kanafuri matsu. In the past, students would write the words they couldn't read or didn't understand on a slip of paper and tie them to the tree. The next morning an answer would have been written on the same paper by one of the teachers.
Now there is a box placed by the Kanafuri matsu in which anyone can leave a question they want answered. Doesn't this sound like a really helpful studying system?
Enter the Oldest School in Japan
Ashikaga Gakko, the oldest school in Japan, is opened to the public as a national heritage site and has many displays and buildings dedicated to explaining its impact as the root of the education system in Japan to visitors.
When you purchase your admission ticket you will receive a paper that looks like this, a Japanese school enrollment paper. Why not get it stamped and keep it as a souvenir of your time at Japan's oldest school?
If you are interested in the history of education in Japan, Confucianism or just love historical architecture, then a trip to Ashikaga Gakko is our recommendation for you.
Information
Ashikaga Gakkō (Ashikaga School)
Address: Tochigi Prefecture, Ashikaga, Shoheicho 2338
Hours: April-Sept 9:00-16:30, Oct-March 9:00-16:00
Closed: The third Monday every month
Wi-Fi: -
Credit cards: -
Languages: Basic English
Menu in other languages: English, Simplified Chinese, Korean, French
Nearest Station: Ashikagashi Station, Tobu Isesaki Line; Ashikaga Station JR Ryōmō Line
Access: 16 minutes walk from Ashikagashi Station, 12 minutes walk from Ashikaga Station
Admission: Adults 420 yen, High school 210 yen, junior high and under free
Phone: +81-284-41-2655
Website: Ashikaga Gakkō (Japanese)

The information presented in this article is based on the time it was written. Note that there may be changes in the merchandise, services, and prices that have occurred after this article was published. Please contact the facility or facilities in this article directly before visiting.