Hinomoto Hanpu in Asakusa - Canvas Bags That Improve Through Time
Hinomoto Hanpu Asakusa makes high quality handmade bags that can be used without worrying about the weather or the seasons.
The more carefully made and higher quality a bag is, the more it gains in both meaning and color as it is used.
Hinomoto Hanpu uses a special cloth called hanpu to make all their bags, creating sturdy products that can be used for ages. Today we will be introducing a few of their select products available at their Asakusa store.
What is Hanpu?
Hanpu or sailcloth is a thick cloth made from cotton or hemp fibers that has been woven in a plain weave: the threads are woven in an alternating vertical and horizontal pattern. The Japanese character used for the word 'hanpu' 帆布, is composed of the characters for 'sail' (帆, kai or han) and 'cloth' (布 fu/pu). This fabric has been used in Japan for centuries when a sturdy, durable fabric was needed - such as for sails on ships. Nowadays it is mainly used in the manufacturing of bags, tents, shoes, painting canvases and so on.
Hinomoto Hanpu processes cotton canvas which they use to produce various different products. Let's take a closer look at some of their items.
A High Quality Bag That Fuses Functionality with Beauty
Canvas bags are very sturdy! The one on the left is said to have been used for 10 years, but even now it still carries out its function as a bag. It's hard to believe that these two bags were originally the same model, but you can certainly feel a different air coming from both of them.
Manufactured to be waterproof, you can use these bags on a rainy day without any worries. And since it's for everyday use, being able to use it them without having to limit yourself to certain weather or seasons is a great feeling.
Notice the distinct aging on the bag. Since natural cotton material is used, once you have use the product for a long time, a damaged jeans sort of texture appears. Part of the appeal of the hanpu's appeal is that the more you use it the more unique it becomes.
Other Popular Products
Hinomoto Hanpu carries various products of different size and designs.
This tote bag with a fancy design has a red leather handle which combines the elegance of leather with the sturdiness of canvas. It's perfect for people who need to carry a lot.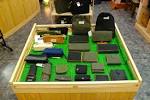 Wallets, pen cases, and other small goods are interesting too! There are many canvas products available here for you to check out the softness of the materials.
They also have items like canvas hats here. As these are made from all natural fabrics, they have great ventilation. These hats would be perfect for outdoors sports fans.
Hinomoto hanpu's selectiveness
Hinomoto Hanpu has a factory in Yonezawa, Yamagata prefecture, where employees hand produce hanpu products everyday. Because cotton is used instead of man-made fiber or nylon every items comes equipped with the feeling and sturdiness of natural materials.
At Hinomoto Hanpu they increase the number of threads as they weave the cloth, making a thick and sturdy canvas to work with. Passing a needle through that thick fabric is a difficult technique that truly makes you marvel at the technical skill of their employees.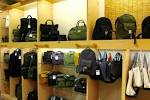 Hinomoto Hanpu's Asakusa shop located in the center of Asakusa's tourist location is lined with many products that we couldn't introduce to you this time. If you pick up a product just once, you'll be surprised at how high the quality is. Please take a trip over there and experience the appeal of hanpu.
Information
Hinomoto Hanpu Asakusa
Address: Tokyo, Taitō, Asakusa 1-31-4
Hours: 10:00-18:30
Closed: -
Wi-Fi: -
Credit Cards: All cards are accepted
Other Languages: Simple English
Nearest Station: Asakusa station (浅草駅) Tōei Asakusa line/Tokyo Metro Ginza line/Tōbu Skytree line
Access: 4 minute walk from A4 exit of Asakusa line, 5 minute walk from exit 6 of Ginza line, 4 minute walk from main entrance of Tōbu Skytree line
Price range: From 5000yen-20,000 yen
Phone number:+81-3-6231-6194
Website:Hinomoto Hanpu Asakusa (Japanese)

The information presented in this article is based on the time it was written. Note that there may be changes in the merchandise, services, and prices that have occurred after this article was published. Please contact the facility or facilities in this article directly before visiting.