How To Choose Alcohol At Convenience Stores
Do you ever find yourself wanting a drink - even though it's late at night? At convenience stores you can find many verious kinds of alcohol. Here is the best advice when looking for a drink at a convenience store.
At night, if you find yourself wanting some alcohol but aren't near any bars, pubs or supermarkets, never fear - you can buy it at your closest convenience store too. Easy to buy, lots of varieties to choose from, this is a popular option for travelers wanting to relax with a drink in their hotel room or looking for a special souvenir from their time in Japan. Today let's take a look at some of the chūhai (*1) and sweet and sour plum drinks known as umeshu that you can find at most convenience stores.
*1 Chūhai: alcoholic drink mixing Japanese sake or shōchū with carbonated water, juice or another mixer.
How To Find Convenience Stores Selling Alcohol
There are a few convenience stores in Japan that do not sell alcohol. The stores that do, will have a sign with the character for alcohol (酒) out front of their shop somewhere.
2 Shop Areas with Lots to Choose From!
In convenience stores, there are two areas where you can buy alcoholic drinks: the refrigerated section, called the "reizō corner" (冷蔵コーナー) and the non-refrigerated section, called the "jōon corner" (常温コーナー).
In the reizō corner, you will find cold drinks such as chūhai and beer.
While in the jōon corner you will find Japanese sake, shōchū, whisky and other spirits available. If you are looking for something to drink right away, whether it is wine or sake, check the reizō corner which in most stores stocks a few cold bottles of the drinks found in the non-refrigerated section.
How to Tell Alcohol and Juice Apart
Alcoholic drinks are sold near the juices but are distinctly labeled with the Sake Corner (お酒コーナー) sign.
Furthermore, each can and bottle is clearly labeled with the character for alcohol (酒, sake), so please look carefully for this marking before making your purchase.
How To Tell Alcohol and Non-alcoholic Drinks Apart
Non-alcoholic beverages, are sold in the same area as regular alcoholic drinks, which may be extremely confusing at first. In this case, you will need to confirm whether they have alcohol (お酒) or non-alcoholic (ノンアルコール) written on the can or bottle. You may also check the alcoholic content, as non-alcohol drinks often include ALC 0.00% or something similar on their labels.
Great For Travelers! What is Umeshu?
Of the many alcoholic drinks available in Japan, one of the most popular by far is umeshu or plum liqueur. Umeshu is made from Japanese plums that have been preserved in shōchū, giving this strong alcohol a pleasant, fruity taste. There are several brands of umeshu that have an actual plum or plums in the bottle; these are known as genshu (原酒). Umeshu is typically drunk in one of three ways: on the rocks, or mixed with water or soda. You can add hot water to umeshu in the winter to warm it up, or if you would like to try something truly unique, try adding yogurt to umeshu. This makes for an excellent, mellow dessert.
You can find canned umeshu mixed with soda in the same refrigerated corner as the chūhai. If you'd only like to drink a bit, then this is the perfect can for you.
Age Confirmation at the Register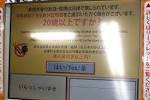 At the cash register you will be required to verify that you are old enough to purchase alcohol.
You may be required to show some form of photo ID (most likely your passport), and will be required to touch the "yes" (はい) button on the touch panel of the register under the question "Are you over 20 years old?" (20歳以上ですか?).
Please Enjoy Your Alcoholic Beverages
Now you've got your drinks! At the same shop, you can also buy otsumami, or drinking-snacks to go along with your drinks. When you're in Japan, please freely enjoy these great alcoholic drinks.

The information presented in this article is based on the time it was written. Note that there may be changes in the merchandise, services, and prices that have occurred after this article was published. Please contact the facility or facilities in this article directly before visiting.