Nostalgic Tokyo - A Street Car Ride on Toei Arakawa Line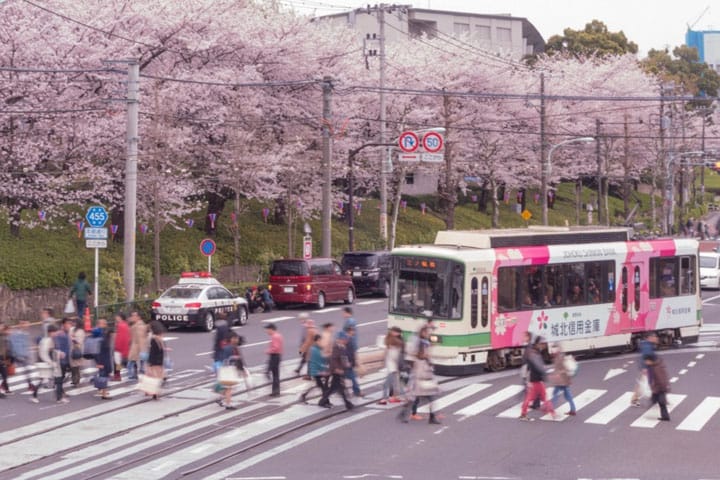 You can still find nostalgic trams in the busy Tokyo. We introduce here some of the great places you can visit along Toei Arakawa Line, one of the two street car lines in Tokyo. A university cafeteria, a fascinating shrine, a nostalgic shopping street - e
Tokyo is full of so many busy subway and train lines. However, you can also see an old tram running the streets of the city, helping to slow down the fast pace of city life.
If you want to enjoy the historical landscape of Tokyo, you should take the Toei Arakawa Line. It's very simple, so you don't have to be worried about getting lost and it's cheap if you get one-day pass.
Here are some of the spots you shouldn't miss between Waseda station and Asukayama station. Get ready for your carefree trip along Toei Arakawa line!
Toei Arakawa Line
Most of the trams in Tokyo have been shut down for traffic control and instead subways have been constructed in the underground since 1972. There are only two trams existing now - the Toei Arakawa Line and the Tokyo Setagaya Line.
Five different tram cars are operating along Toei Arakawa Line. All of them are single-car tram. There are 30 stations along the line, and you can see shōtengai (shopping streets), traditional houses, and Shintō shrines along the way. If you get off and take a walk in the area around the stations, you can find unique shops and interesting landscapes. Let's find out what you can see between Waseda station and Asukayama station!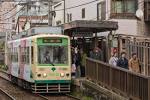 When taking the Toei Arakawa Line, you have to get on from the front side and get off from the other side.
It's a single-car tram, so the seats are limited.
Waseda station
Waseda station of Toei Arakawa Line is found in the middle of the road.
Only a five-minute walk from Waseda station is Waseda University. You can take a walk around the campus even if you are not student. Ōkuma Garden on Waseda campus is known for the beautiful colored leaves in autumn and cherry blossoms in spring. Tsubouchi Memorial Theatre Museum is a popular tourist spot for its elegant European style architecture. The admission to the museum is free.
The cafeteria of Waseda University is also highly recommended. It is near Ōkuma Garden and open from noon until 8 PM during weekdays and until 3 PM during the weekend. Non-students are welcome and everyone can enjoy affordable meals there.
The menus at the cafeteria are affordable, mostly around 600 yen.
Hōsenji Temple near Waseda University sells amulets for academic success. The color of the amulet is dark red, the school color of Waseda University, and it has the initial "W" on it.
Kishimojinmae Station
Kishimojin is a name of the shrine nearby. Its torii catches your eyes and the flea market held there every month attracts many customers. Please check their website for the schedule.
Kishimojin-dō is a shrine with a history spanning over 500 years and is only five minutes away from the station. People come to pray especially for safe deliveries and healthy children. It's not a big shrine but is worth visiting for its quiet and solemn atmosphere especially if you are interested in shrines.
Zōshigaya Station
Zōshigaya cemetery near the station is where Sōseki Natsume (one of the greatest modern Japanese writers) rests.
After another five-minute walk from the cemetery, you will find the Zōshigaya Missionary Museum. This western style house was built by American missionary during Meiji period. Although it was built over 100 years ago, it's well preserved and the admission is free.
Kōshinzuka Station
Sugamo Jizō-dori Shopping Street is known as "Harajuku for seniors". The street is full of food shops, tool shops and clothing shops, which all address mature customers. You can come here to find something traditional such as Japanese foods and daily goods.
You will see a unique post with a cute duck, which can be found only here, in front of the post office.
Asukayama Station
If you are taking the Toei Arakawa Line during April, the season of cherry blossoms, you can't miss Asukayama station. From Asukayama Park, you can enjoy the magnificent landscape of cherry blossoms and the tram.
Asukayama was developed as a leisure spot for people during Edo period, and has become known for its great cherry blossoms. Inside the park, there are playgrounds for kids and museums for adults. There are three museums in this park - The Paper Museum, The Kita ward Asukayama Museum, and The Shibusawa Memorial Museum.
One-Day Pass
The one-day pass for Toei Arakawa Line is only 400 yen (200 yen for children). With this pass, you can visit the many fascinating places near the 30 stations along Toei Arakawa Line. Get away from the busy Tokyo life for a day and visit the historical area of the city to take a look at the real life of the locals.

The information presented in this article is based on the time it was written. Note that there may be changes in the merchandise, services, and prices that have occurred after this article was published. Please contact the facility or facilities in this article directly before visiting.