5 Cool Treats To Enjoy In Asakusa!
Tokyo's summers are hot!! Let's try five different sweets found in beautiful Asakusa to help you stay cool while you sight-see.
Summers in Japan are harsh and humid, definitely weather that isn't easy to deal with if you aren't prepared. This makes the summer a hard time for travelers to Japan to get used to.
At times like this, the best thing to do is take plenty of breaks and enjoy some of the icy cold treats that will help keep you cool during the day. Today let's visit lovely Asakusa and try some of the amazing cool treats found there.
1. The Strongest Gelato in the World: Suzukien
Japanese matcha green tea is famous all around the world. At Suzukien in Asakusa, you can enjoy the world's most flavorful green tea gelato. You can choose from seven different levels of flavor depth for the matcha gelato, with 7 being the absolute deepest flavor. If you find yourself in Asakusa and want to try something unavailable anywhere else in the world, by all means try this fragrant gelato.
Read also: Try the Richest Matcha Gelato in the World at Asakusa Suzukien

2. Homemade at a Japanese Cafe: Chakura
Close to Asakusa Temple you will find the Japanese cafe Chakura (茶蔵) which is visited by numerous tourists both domestic and international every day.
The most recommended dish on their menu is the Natural Ice Shaved Ice with Prize Winning Matcha Green Tea & Kintoki (azuki beans) (1280 yen with tax). A wonderful Japanese standard, this dish features soft shaved ice, ice cream and azuki bean toppings. They also have domestic green tea soft serve and ice cold drinks at Chakura.
Chakura is most well-known for its homemade tastes. Everything from their delicious syrups to their handmade condensed milk is all produced at their store.
3. Wet Your Whistle with Cold Matcha: Asakusa Kibidango Azuma
Azuma is a shop famous for selling kibidango (*1). Found along the Nakamise Shopping Street, this shop is constantly ranked as either the first or second most popular shop in the area. At Azuma, other than their wonderful kibidango, you can enjoy cold matcha green tea. The mild sweetness and slightly viscose texture of this cold whipped green tea really hits the spot on a hot, humid day. One glass is very reasonably priced at 110 yen, so why not enjoy a kibidango alongside this refreshing drink?
*1 Kibidango: a dumpling made using millet flour.

4. Summer Special Cold Taiyaki: Kurikoan
Cold taiyaki with azuki bean paste and whipped cream (210 yen with tax)
Photo courtesy: Kuriko Corporation
A popular traditional sweet in Japan, fish-shaped taiyaki are wheat flour buns filled with sweet adzuki bean paste or custard cream that have been cooked on an iron plate. Topped in plenty of rich whipped cream, these cold hiyashi kurikoyaki are amazing on a hot day. Even though they are cold, the bun is still fluffy and light and the whipped cream goes brilliantly with both the red bean paste or the custard cream. This item is only available during the summer, so if you are interested, please hurry and try these cold taiyaki at Kurikoan.
Read also: Taiyaki, Fish-Shaped Japanese Sweets

5. Fluffy Shaved Ice: Asakusa Naniwaya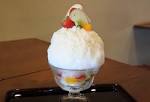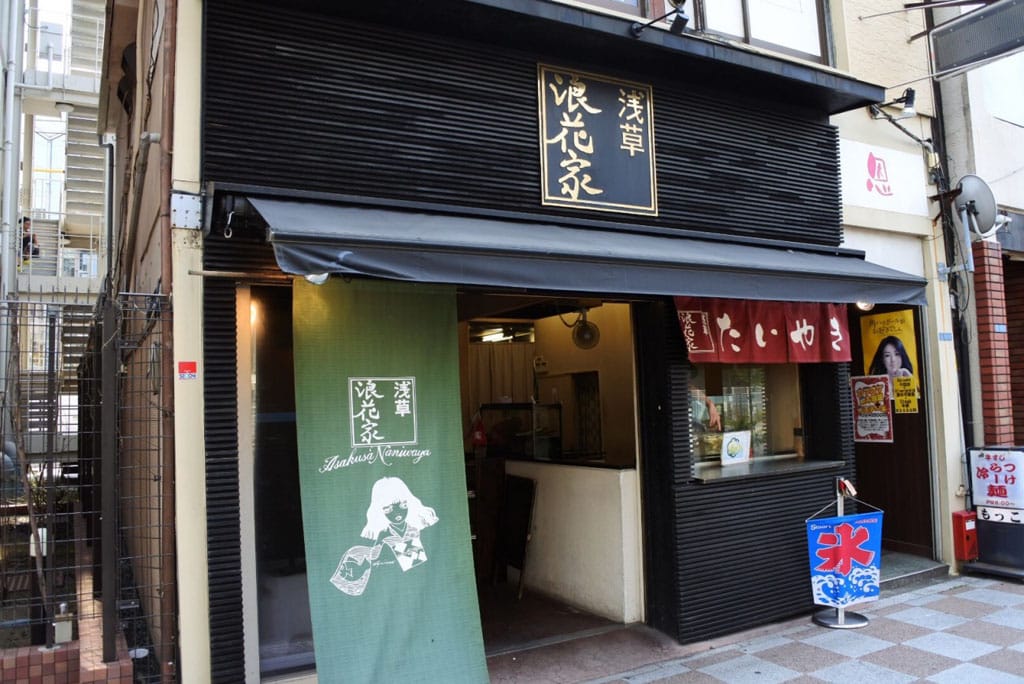 Asakusa Naniwaya is a very well-known taiyaki shop, but they also sell incredible kakigōri (shaved ice)! Their most recommended summer dish is their milk syrup with lots of fruit shaved ice (750 yen with tax) with its sweet milky syrup and stacks of delicious seasonal summer fruits. The fluffy shaved ice melts as soon as it hits your tongue, leaving only the sweet taste of milk behind. They also have very popular green tea and red bean shaved ices as well.
All the sweets mentioned above are the perfect summer treats! No matter which you choose, each of these 5 shops has something that will help you combat the heat of Tokyo's summers.

The information presented in this article is based on the time it was written. Note that there may be changes in the merchandise, services, and prices that have occurred after this article was published. Please contact the facility or facilities in this article directly before visiting.