5 Activities Unique to Amami Ōshima Island
Amami Ōshima is a island located south of Kagoshima prefecture. We introduce some of the activities and places that make it a charming destination.
Amamiōshima, Kagoshima Prefecture, is a tropical island close to Okinawa, the southernmost prefecture in Japan. There are various things that can be experienced only on this island, and the following article is about the five things that visitors should try.
1. Traditional Dyeing
Dorosome ("mud-dyeing") is a natural dyeing process practiced only in Amami Ōshima. We visited Kanai Kōgei, where visitors can try their hands at mud-dyeing.
The following photographs describe this unique dyeing process.
The red dye is extracted from the wild yeddo hawthorn, which is called tēchigi in the local dialect.
This is the dye.
The threads are dyed with this natural liquid.
The dyeing and drying process is repeated many times, to enhance the reddish brown color.
After 50-plus cycles of the process mentioned above, the "dorosome" starts, at this place.
The reddish brown threads turn into this color, due to the chemical reaction caused by the iron contained in the mud.
The dorosome process is repeated over and over, to refine the glossy threads.
Read also: Mud Based Black Dye - The Dorosome Handicrafts From Amami Ōshima
2. Ōshima Tsumugi - Local Weaving Methods
Ōshima tsumugi is a special product of this island. It is the name of a fabric made from hand-woven, mud-dyed silk threads.
While being famous for its intricate patterns, it is also light, warm and wrinkle-free. Only products using the mud-dyed silk threads mentioned above are allowed the title of Ōshima tsumugi.
We visited Maeda Tsumugi Kōgei.
This is a product of high craftsmanship, using mud-dyed silk threads. The pattern shown in the picture is called "Tatsugō-gara".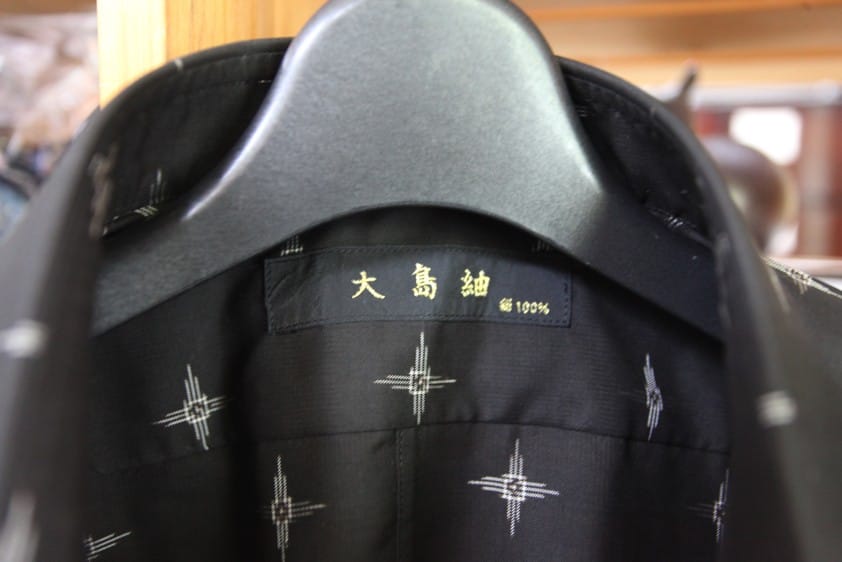 The Ōshima tsumugi shirts are light and comfortable to wear, thanks to the fine weaving.
There are also pass holders and wallets made from Ōshima tsumugi.
Read also: Handicrafts From Amamiōshima: Ōshima Tsumugi Weaving
3. The Amami Cuisine
One of the pleasures of travelling is eating local dishes, made from ingredients produced in the area. On this trip, we visited Natsukashaya, a restaurant which is also popular with the local residents.
This purple rice dish catches the eye.
A purple liquid, extracted from the wild plant shown in the photograph, is used as a natural dye for this dish.
This is yagi jiru (goat soup). It has a distinct taste, and the local residents eat this soup to beat the summer heat.
These are the kokutō shōchū, alcoholic beverages produced in Amami Ōshima. Shōchū is ordinarily distilled from products such as sweet potatoes, wheat or rice, but on this island, it is produced from kokutō - unrefined sugar, one of the special products of Amami.
The local residents also enjoy passion fruit soaked in kokutō shōchū. This is a very strong drink, so be careful when tasting it.
4. Keihan Rice: A Local Dish
One dish you must try at Amami Ōshima is the keihan rice.
Although written with the same Japanese characters, keihan rice should not be confused with "torimeshi" rice. "Torimeshi" is rice cooked with meat and vegetables, while the "keihan" dish is a bowl of rice topped with sliced chicken, omelet stripes, shiitake mushrooms and pickled papayas. Onions, minced nori (dried seaweed) and sesame are also added.
5. Water Sports
Visitors to this island should also try the water sports. We went windsurfing at the Amami Kaizoku Juku.
The sea surrounding Amami Ōshima is not only beautiful, but also calm. In some areas the waves are low, so it's an ideal place for beginners, as they can enjoy the sport and the sea at the same time.
On the day of our visit, the waves were low, so we were able to have fun windsurfing, without tumbling into the sea.
Amami Ōshima, with its rich natural environment, has been called the "Oriental Galapagos" and a "natural treasure." When the weather is fine, the sea turns blue, a sight to behold. Don't miss the natural beauty of this island.
In Conclusion
Amami Ōshima has a wide variety of appeals, and we chose the five things that the visitors should try. This island holds many treasures, both natural and traditional. If you have the chance to visit, take it.
From the Tokyo area, you can go directly to Amami Ōshima by using the flights of Vanilla Air.

For MATCHA Readers Only! 5% Discount Coupons!
MATCHA's readers benefit from a 5% discount service on their purchase of activity tickets from the Voyagin website. Upon performing your online payment, please insert the discount coupon code "voyaginmatcha". You will receive a 5% discount on your purchase! (This service does not apply for Tokyo Disneyland and DisneySea)
Purchase tickets from Voyagin here
21% OFF Amami Island 3D2N Stay—Amazing Culture & Nature Tour
Recommended articles
Information
Kanai Kōgei

Address: Kagoshima, Ōshima-gun, Tatsugō-chō, Toguchi 2205-1
Hours: 10:00-18:00
Closed: Sundays**The store will open on Sundays if there is a request from the customers.
Wi-Fi: -
Credit Cards: Not Accepted
Language: -
Menus/Pamphlets in Other Languages: -
Nearest Station: Using a car is recommended.
Fare: 2500 yen and up for the dorosome and aizome experience.
Religion: -
Phone Number: +81-997-62-3428
Website: Kanai Kōgei (Japanese only)

Maeda Tsumugi Kougei

Address: Kagoshima-ken, Ōshima-gun, Tatsugō-chō, Ura 166-3
Hours: -
Closed: -
Wi-Fi: Not Available
Credit Cards: Some cards are accepted.
Language: -
Menus/Pamphlets in Other Languages: -
Fare: -
Religion: -
Phone Number: +81-997-62-3076
Website: Maeda Tsumugi Kougei (Japanese only)

Natsukashaya

Address: Amami-shi, Kasari-chō, Wano 1397
Hours: 12:00-14:00 For dinnertime, reservations are required.
Closed: Tuesdays
Wi-Fi: Not Available
Credit Cards: Some cards are accepted.
Language: -
Menus/Pamphlets in Other Languages: -
Price Range: 5000 yen
Religion: -
Phone Number: +81-90-5292-6123

Amami Kaizoku Juku

Address: Amami-shi, Kasari-chō, Tekebu 2991-7
Hours: 9:00-18:00
Closed: The shop will be closed in case of typhoons.
Wi-Fi: Not Available
Credit Cards: Not accepted.
Language: -
Menus/Pamphlets in Other Languages: -
Price Range: -
Religion: -
Phone Number: +81-90-9577-4175
Website: Amami Kaizoku Juku (Japanese only)

The information presented in this article is based on the time it was written. Note that there may be changes in the merchandise, services, and prices that have occurred after this article was published. Please contact the facility or facilities in this article directly before visiting.