Sightsee On The Way - Rest Stops Between Tokyo and Karuizawa
The service and parking areas along Japan's highways are a great place to stop and take a break, eat delicious food and find some unusual souvenirs. Today let's travel from Tokyo to Karuizawa in Nagano and see the SA/PA's on the way!
Up and down Japan's highways there are numerous service areas (SA) and parking areas (PA), where, when you need to take a break from driving, you can stop and try some of the area's special products or goods.
In Japanese, the term used to express traveling in a direction towards Tokyo is nobori, while traveling away from Tokyo is kudari. Today we decided to travel from the Tokyo area to Karuizawa in Nagano prefecture and visit some of the interesting service areas and parking areas along the Kan-etsu and Jōshin-etsu expressways.
Read also: Enjoy The Service Areas On Japan's Expressways
Miyoshi PA (Kudari): Buy Souvenirs from Tokyo
One of the first stops you will see when departing from Tokyo is the Miyoshi PA (kudari), where you can purchase souvenirs from the Tokyo area.
Particularly popular with visitors to Tokyo are these Tokyo Bananas. A fluffy soft sponge cake filled with banana custard cream, these cakes have an airy, light texture and taste. They come in several varieties, such as plain and flower print, all of which are available here.
At Miyoshi PA there is a tax/duty exemption counter where you can fill out the necessary documents immediately after making your purchases so if you are visiting Japan, by all means please make use of this service.

Takasaka SA (Both): Rehydrate at Ultraman Vending Machines
Takasaka SA (kudari)'s Ultraman Zero
The second stop out of Tokyo is Takasaka SA (kudari), where just off to the side in front of the building you will see some unusual vending machines... featuring Ultraman (*1) Zero! This display is a must-see spot for superhero fans. And, when you buy a drink from one of these machines, you can hear Ultraman Zero's voice.
*1 Ultraman: the hero that protects the earth from villainous kaijū and aliens in the long-running tokusatsu (special effects) TV series. It began broadcasting in 1966 and has been loved by young and old ever since.
Takasaka SA (nobori)'s first generation Ultraman
At both the Takasaka SAs you can find Ultraman Zero (kudari) and the original Ultraman (nobori). So if you will be taking the same route on your way back into Tokyo, why not stop by to see the original Ultraman too?
And now that we've rehydrated at Takasaka SA, let's head off to our next destination!
Onto the Jōshin-etsu Expressway for Nagano at Fujioka JCT
When you see the Fujioka Junction (JCT) coming up, change lanes to the furthest left lane; at the junction you are going to switch over onto the Jōshin-etsu Expressway for Nagano.

Yokokawa SA (Kudari): Have Lunch in the Conifer Garden
Yokokawa SA (kudari) is the last service area before heading into Karuizawamae, and is well-known for its distinct triangular shape.
At their equally famous souvenir shop, Takaben, you can purchase daruma bentos, or lunch boxes in the shape of daruma (*2). Yokokawa SA is close to Takasaki city, where you will find a famous shop that sells interesting goods modeled after daruma. Making the best use of what nature has to offer, the flavorful contents of the lunchbox feature plenty of locally grown wild plants.
And, when you've finished eating, you can use the daruma box as a piggy bank or container for small items. What a great souvenir!
*2 Daruma: an ornament said to be a lucky charm in Japan; a representation of Bodhidharma, meant to aid in wish-granting. 80% of the daruma used in Japan are made in Takasaki, Gunma prefecture.
Also found at Yokokawa SA is the fashionable courtyard known as the Conifer Garden. With plenty of benches and tables to choose from, this is the perfect place to sit down and enjoy your daruma lunchbox on a sunny day.

See the Picturesque Sights of Karuizawa
Karuizawa at last - once you have paid your toll at the Usui Karuizawa tollgate.
Shiraito Falls (Shiraito no taki, 白糸の滝)
Kumoba Pond (Kumoba-ike)
Read also: Get Caught Up In Nature! Karuizawa's Shiraitonotaki and Kumoba-ike 
Karuizawa is a place that is truly surrounded by nature; there are incredible natural sights to be found all across this region. But when you find that you have had your fill of this rich greenery, once again it's time to hit the road and return to Tokyo.
Yokokawa SA (Nobori): Delicious Kamameshi at Oginoya
The nobori side of Yokokawa SA has charms all of its own! One that immediately comes to mind is the delicious kamameshi (a dish of rice, meat and vegetables served in a small clay pot) sold at the always-popular Oginoya.
These traditional Japanese dishes served in a clay pot really have the attention to detail that homemade dishes do. The simplicity of the flavors makes for a meal that is impressive to the last bite. And the fact that you can take this container home as a souvenir too is quite amazing.
With the service area there is a memorial corner dedicated to the local Shin-etsu Main Line station Yokogawa-eki featuring an actual train car from the line. It's a valuable experience, seeing what trains in Japan used to look like, and you are allowed to eat your lunch inside this train car as well.

Kanra PA (Nobori): Buy Tomioka Silk Mill Souvenirs
Continuing on to Kanra PA (nobori), this area is home to the Tomioka Silk Mill, one of Japan's many World Heritage sites. Kanra PA has been built in the style of the mill - out of red bricks - making it quite a stylish parking area.
Inside this stop you can find plenty of souvenirs from the Tomioka Silk Mill to choose from. Being able to buy souvenirs without having to leave the highway is a great help to travelers on a tight schedule.
Across from the building you will see some recreations of Jōmondoki (*3) that were excavated from an archaeological dig at a nearby kofun. With a small, park-like atmosphere, it's quite refreshing to take a short break here next to these pieces of Japanese history.
*3 Jōmondoki: straw rope patterned works of pottery that were made by the pre-modern Jōmon civilization of ancient Japan, roughly 15,000 years ago.

Kamisato SA (Nobori): Enjoy Udon in the Foodcourt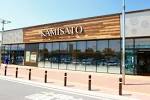 Kamisato SA (nobori) in Saitama prefecture is a popular stop that not only sells local Saitama goods but also souvenirs from Gunma, Nagano and Niigata.
There are both eat-in and take-out shops found here, where you can choose from a wide variety of amazing, different cuisines.
If you want to try something from the Saitama area, head to the udon and soba shop, Sainokuni. The noodles are made from wheat grown in Saitama prefecture and made on site in the shop itself. If you stand outside the shop you can even watch through the glass as they make the noodles fresh, which is a lot of fun.
The noodles are springy and have a solid texture to them; the combination of these noodles with pork, wild plants and sauce is sublime.

Yorii PA (Nobori): The World of the Little Prince
When you enter the Yorii PA (nobori), you will see an unforgettable character right before your eyes! Yorii PA (nobori) worked in collaboration to create this brilliantly executed Little Prince-themed parking area, a first of its kind. Right down to the design of the buildings, everything seen at this parking area has been carefully crafted to imitate the air of the book.
Also at Yorii PA (nobori) you can find Little Prince-themed souvenirs that cannot be found anywhere else in the world. If you have the chance, please come savor the atmosphere of the Little Prince's world here.

Ranzan PA (Nobori): Everything's Black?!
At Ranzan PA (nobori),everything is black! From the building to the food and souvenirs sold at this unusual parking area.
The one thing that really stood out though was this black soft serve ice cream. Made with a rich espresso flavor, it is just the thing to help wake yourself up after a long drive. Now we can head back out on the road safely.

Pasar Miyoshi (Miyoshi PA Nobori): Relish Japanese Dishes
Pasar Miyoshi PA (nobori) is a facility composed of many smaller stores; ones selling products and souvenirs from Saitama as well as numerous gourmet specialty shops offering foods from a wide variety of genres. Let's look at two of their popular shops.
Eat Fresh Sushi at Ōedo
At Ōedo, you can enjoy fresh nigirizushi (hand-formed sushi with fish or seafood on top).
If you take a seat at the counter you can enjoy selecting your own dishes from their sushi conveyor-belt. Not only that, but you have a special seat from which you can watch as the chefs prepare the sushi right before your eyes.
If you take a seat at a table, you can order a long plate with many different types of sushi on it to enjoy. For those traveling with their family or in a group, or for those who would like to sit and relax as they eat, the table seat is our recommendation.
Get Popular Tea Products from Araien
Araien is a tea shop specialized in Saitama's fine tea brand, Sayama-cha; they are best known for their matcha ice cream and other tea-based sweets.
These beautiful packages featuring tea leaves in their design all contain different varieties of tea. Wouldn't one of these make an excellent souvenir?
After leaving Miyoshi PA (nobori), you will soon find yourself once again in Tokyo.

Being able to stop at so many different and interesting parking areas and service areas along the way makes taking the highway in Japan an even more enjoyable experience. Every SA and PA has its own unique charms and more to offer than could be shown in just one article, so when you want to see a lot on your journey and try things you can't anywhere else in the world, head out for the highway!

The information presented in this article is based on the time it was written. Note that there may be changes in the merchandise, services, and prices that have occurred after this article was published. Please contact the facility or facilities in this article directly before visiting.