6 Popular Snacks Only At Tokyo Disney Resort
Tokyo Disney Resort is fun to enjoy, but don't forget the yummy snacks you can only find here! Let's look at the 6 most popular treats.
Japan's Tokyo Disney Resort is a fun place with many attractions, parades and shows, but you can't forget about the delicious gourmet treats. There are plenty of snacks you can only find at Tokyo Disney Resort.
There are many types of snacks, but this time we would like to introduce you to our six most recommended ones.
1. Popcorn
When Japanese people think of snacks at Tokyo Disney Resort, many would choose popcorn (regular box for 310 Yen).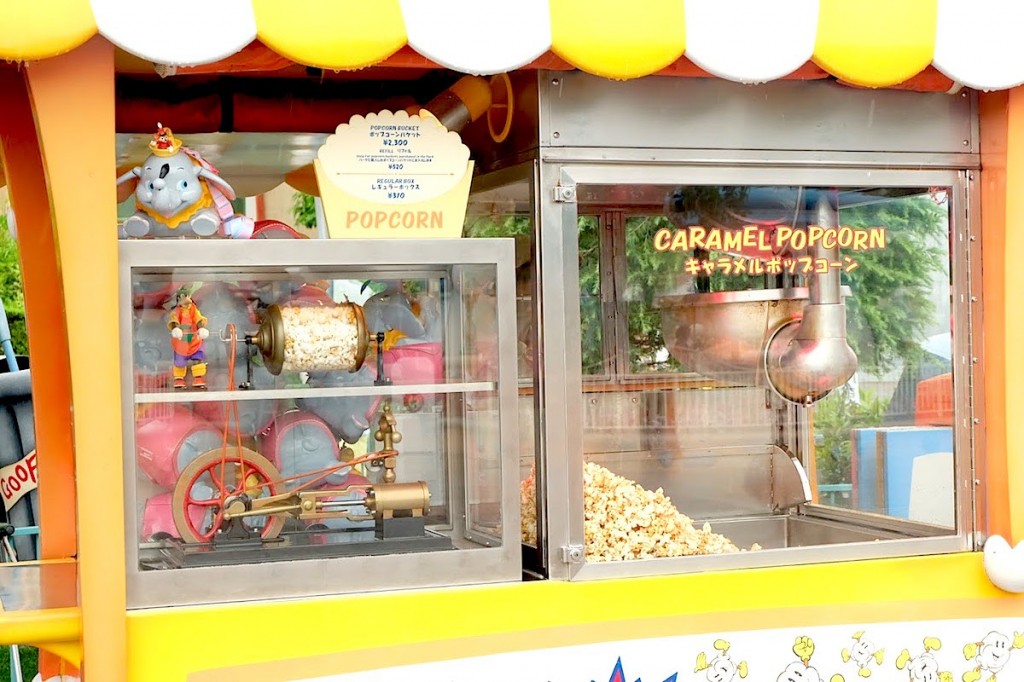 In Tokyo Disneyland and Tokyo DisneySea, there are many types of popcorn along with reusable buckets with different character designs. Many people enjoy themselves by purchasing a bucket of popcorn with their favorite character.
At Tokyo Disneyland, you can find six types of popcorn to choose from: curry, caramel, salt, soy sauce and butter, honey and milk chocolate flavors.
At Tokyo DisneySea, you can find seven types of popcorn: curry, caramel, salt, cappuccino, white chocolate, milk chocolate, and black pepper flavors.
The one that we highly recommend is the soy sauce and butter flavor at Tokyo Disneyland. The soy sauce and butter flavor matches the popcorn really well and it is a popular flavor found among many different types of Japanese snacks.
You can find this popcorn sold at the Café Orleans outside of the World Bazaar on the left hand side, in front of the Mark Twain steam ship in the Western Land area or in front of the Space Mountain in the Tomorrow Land area.
2. Churros
The churros (310 yen each, tax included) sold at Tokyo Disneyland are known for their crispy texture and gentle sweetness. Flavors come in café au lait, cinnamon, and strawberry.
The one in the photo is the cinnamon flavor. You can purchase these at the wagon outside of the World Bazaar on the left hand side or at the shop called "Rackety's Raccoon Saloon" in the Critter Country area.
When you take a bite, you will notice that it is in the shape of Mickey Mouse.
At Disney Sea, you can also find potato flavored churros (380 yen with tax) as well.
3. Smoked Turkey Leg
When visiting Tokyo Disneyland, you should try eating the smoked turkey leg at the Chuck Wagon shop inside Westernland. This is also a very popular snack to eat while walking around. There are many fans who order the turkey leg every time they visit Tokyo Disneyland.
At DisneySea, you can find it at shops, such as Refrescos in the Mediterranean Harbor area.
4. Swim Ring Bun (Tokyo Disney Sea)
You can find this cute ukiwaman (swim float shaped bun) at the Seaside Snack in Port Discovery. This firm bun has a tasty shrimp and squid based filling, giving it a great seafood taste; these buns cost 450 yen, tax included.
5. Gyōza Dumpling Dog (Tokyo DisneySea)
A typical Japanese gyōza dumpling has been transformed into a nice and filling Gyōza Dumpling Dog. The chewy outside and tasty dumpling filling on the inside match very well together. It is sold in areas such as the Nautilus Galley for 500 yen each with tax.
6. Little Green Man Buns (Tokyo Disney Sea)
These slightly strange looking sweet treats are designed after the Little Green Men from "Toy Story". You can find them at Mamma Biscotti's Bakery at the Mediterranean Harbor.
Inside a chilled, chewy mochi rice cake, you can enjoy three different flavors buns with chocolate cream, strawberry cream and custard cream centers to choose from. Each cup is 360 yen with tax.
In Conclusion
There are many other delicious delicacies sold at Tokyo Disney Resort, but we picked out some of the more popular ones. Despite them being just snacks, each are very high in quality. Please try them the next time you visit the Tokyo Disney Resort.
For more Disney fun!
The information presented in this article is based on the time it was written. Note that there may be changes in the merchandise, services, and prices that have occurred after this article was published. Please contact the facility or facilities in this article directly before visiting.