S-s-see The Snakes At The Tokyo Snake Center
S-s-see The Snakes At The Tokyo Snake Center
The Tokyo Snake Center is the first snake cafe in Japan. Here you can get up close and personal with some adorable snakes and enjoy a top-notch snake-themed cafe menu.
Throughout Japan there are numerous animal cafes where you can meet and interact with different types of animals; there are cat cafes, owl cafes and more to choose from. In Harajuku though, you will find Japan's first snake cafe, at the Tokyo Snake Center. As you would expect at any animal cafe, here you can enjoy a great cafe menu and interact with the snakes.
Choose Your Snake and Take it to Your Table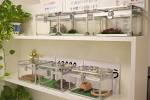 When visiting the Tokyo Snake Center you can choose the snake that most appeals to you and, while still in its case, bring it to your table. The admission fee to the cafe costs 1000 yen (with tax) and comes with a drink.
And now you can also exchange the snake you picked for another during the experience.
The tanks that the snakes are kept in have the snake's name, sex and species indicated on the label. If you found a snake you really connected with, don't forget its name when you go home. By the way, the serpentile staff at this cafe are known as snake attendants.
As the snakes don't have any hair, don't smell and their cages can't be opened, it's safe to bring the snakes right to your table and enjoy the cafe's menu items alongside your new friend.
Soothing Snake Attendants
With the exception of the snakes that were already at other customers' tables, there were 22 varieties of snakes and 63 snakes in total at the cafe today. The staff oversee all the care, shedding and feeding of the snakes and make sure that they are rotated through equally, so that no matter when you visit you can meet a snake attendant that is feeling at its best.
You are free to take photographs throughout the cafe, but don't expect the snakes to pose for you. However, you will see snakes coiled up, other snakes bathing - just snakes doing what they would normally do.
Enjoy the Snake-themed Menu and Goods
When you pay the entrance fee, you get a drink with plenty of options to select from. Other than drinks, the cafe also has a lovely food menu with various sweets and appetizers. The menu is written in both Japanese and English, and, while not perfect, the staff can speak some English, so non-Japanese speakers can relax and have friendly conversations with them.
The Daily Special Cake Sampler set (864 yen with tax) features an adorable 'hisscuit' (snake biscuit) in the shape of a snake. Other snake-motif dishes include the Guru-guru Toguro parfait (864 yen with tax), which is a parfait modelled on the image of a coiled snake, and the Snake Dog (540 yen with tax) which is a hot dog with a snake face.
You can also purchase postcards, shed snake skin and other original Tokyo Snake Center goods from the shop as well.
Meeting Your Snake with an Attendant
If you pay an additional 540 yen (tax included), you can sit over on the special sofas and actually touch a couple of snakes. The two snake attendants in this part of the cafe are much larger and you can spend about 10 minutes with them.
The breeds chosen to be snake attendants are of course non-venomous and fairly docile, so incidents of being bitten by the snakes are exceedingly rare and not a worry at all. The snakes don't like to have their heads or tails touched or to be squeezed too tightly, so if you keep those points in mind, you won't have any problems when you meet the snakes.
All the snake attendants at the Tokyo Snake Center are quite docile and gentle, so even people who are a little afraid of snakes might find that their impression of them changes. If you'd like to learn more about snakes and see them up close for yourself, then please head to the Tokyo Snake Center in Harajuku.

The information presented in this article is based on the time it was written. Note that there may be changes in the merchandise, services, and prices that have occurred after this article was published. Please contact the facility or facilities in this article directly before visiting.