Follow The "Kamogawa Rule" And Be A Real Kyotoite!
Have you ever heard of Kyoto's Kamogawa Rule? It's a rule that people follow without even knowing!
Many tourists fall in love with the city of Kyoto for its quaint historic atmosphere, delicious cuisine, and more. Perhaps some of you even consider yourself a Kyotoite?
But wait. You can't call yourself a Kyotoite without knowing that one special rule. Do you know what I'm talking about? To all the travelers heading to Kyoto for the first time, we'd like to share this one with you as well.
Kamogawa
Kamogawa is a 23 kilometer long river, an iconic landmark of the city. The river's name often pops up in literature and history. Long ago, it was known to overflow when hit by heavy rains.
Today, the Kamogawa river has spacious paved paths along its banks where you can go for a walk through the historical city of Kyoto. It's the perfect spot to sit back and relax.
The Kamogawa "3 Meter" Rule
Now let's take a look at the Kamogawa riverbank on an ordinary day.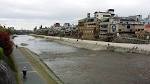 Do you see the people sitting by the riverside?
Let's zoom in.
See them?
The Kamogawa Rule can be seen in this photo. It's often followed without people knowing. Have you figured it out?
Yes.
The river is a spot for lovey-dovey couples!
...Not true. Of course the Kamogawa river is great for travelers visiting alone as well.
Now look again. Closely.
That's right. Everyone sits along the river keeping 3 meters in between the next!

This is the Kyoto Kamogawa "3 meter" Rule!

Nobody knows why this happens... But for some reason people seem to sit evenly every 3 meters along the river.

If you don't believe us, we recommend you go see for yourself. Even try to sit 1.5 meters away from someone else. The next time you check, you'll be 3 meters away from them.

As for myself, I just watch from above.

The information presented in this article is based on the time it was written. Note that there may be changes in the merchandise, services, and prices that have occurred after this article was published. Please contact the facility or facilities in this article directly before visiting.