Saitama's 7 Best Accomodations: Resort Hotels To Traditional Ryokan
Get to know Saitama, an area with great sightseeing areas, nature spots, delicious local cuisine and wonderful accommodations to stay during your trip.
Located north of Tokyo, Saitama is a great area to find traditional architecture, sightseeing areas, nature spots, and delicious local cuisine. This time, we would like to introduce you to seven great accommodations to stay at during your trip around Saitama.
Read also: SAITAMA SPECIAL CONTENTS

1. Miyamoto Residence: 200 Year Old Inn Run by a Former Sumō Wrestler
Photo courtesy of: Miyamoto residence - Miyamoto cottage
The Miyamoto residence and Miyamoto villa (Miyamotoke - Miyamotosō) is a traditional ryokan (inn) with a main house, warehouse, and stable that has been passed down for generations since the end of the Edo era and remodeled into an inn.
Not only can you enjoy an authentic Japanese house, but this accommodation is limited to only six groups per day, so you can leisurely spend your time here. The current manager of this ryokan is the twelfth head of the 200 year old farmer house, Mr. Kazuteru Miyamoto from the Miyamoto family. He is also known as the former sumō wrestler, Teruki Tsurugidake.
The annex that was completed in 2010 using the Miya construction methods (a type of Japanese construction method that is used in shrines and temples) has rooms with open air baths or half open air baths. Furthermore, there are three types of private baths for you to spend quality time with your close friends and family.
Photo courtesy of: Miyamoto Residence and Villa
Authentic Japanese cuisine can be enjoyed on an irori with a selection of Japanese dishes to choose from. You can choose from farm-style cuisine, roasted skewers on the irori made with local ingredients or even a special farm-style chanko nabe (*1) (not available in the summer). The great part about this inn is that you can only enjoy these dishes here!
*1 Chanko nabe: a hot pot stew originally made for sumō wrestlers that contains chicken meat balls, vegetables and more. Lately, it is considered to be a standard hot pot stew.
2. Wadō: a Relaxing Ryokan with Quality Hot Springs
Photo courtesy of: Wadō
Chichibu in Saitama prefecture has seven hot springs and is frequently referred to as Chichibu Nanayu ("The Seven Waters of Chichibu").
The oldest of the seven hot springs in Chichibu is the Yakushi no Yu ("Doctor's Spring") at the Wadō mineral springs. This spring is said to have been used to cure poor eyesight and heal wounds.
If you would like to enjoy this hot spring, you should stay at the Wadō ryokan. Take this opportunity to leisurely spend your time at the open air bath or private bath set in your room.
Photo courtesy of: Wadō
The rooms at Wadō were renovated into a more modern Japanese look in 2015, making it even easier to relax in the superb hot springs.
3. Suzaki Ryokan: Found in the Town Known for Ogano Kabuki
Photo courtesy of: Suzaki Ryokan
Ogano is a town in Chichibu that is known for the Ogano-style Kabuki. The Suzaki Ryokan is a hot spring inn that has been operating since the Meiji era in Ogano.
The private open air baths and calming interior creates a comforting atmosphere for visitors during their trip.
Photo courtesy of: Suzaki Ryokan
Not only can you enjoy the delicious local cuisines of Ogano at the ryokan, but you can also spot the traditional Ogano Kabuki on a pop-up stand placed on a dashi (*2) in the area. In addition, you can experience a historical fudasho meguri (*3 ) pilgrimage up the mountain or even go around tasting local B rank cuisine.

*2 dashi: a festival car or float, especially those used for religious/historical festivals.
*3 fudasho meguri: a pilgrimage wherein one visits temples or shrines that offer amulets.

4. Hotel Heritage: Hot Springs Resort
Photo courtesy of: Hotel Heritage
In the Hiki district of Saitama, there is a peaceful hot springs resort surrounded by the forest of Musashi Kyuryō called Hotel Heritage.
Hotel Heritage has 199 rooms and its annex, Hotel Aspire has 51 rooms. They contain a variety of different types of rooms, so you can most likely find a room suited for you.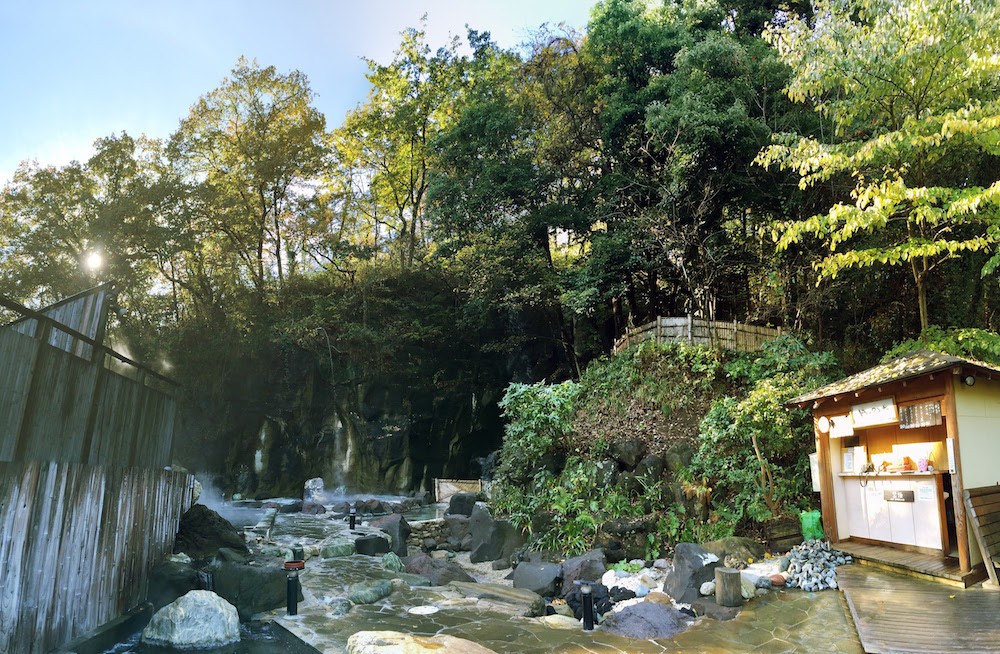 Photo courtesy of: Hotel Heritage
This hotel is especially popular thanks to their rocky open-air hot springs and the unisex natural open-air hot springs (bathing suits required). Along side the hot springs, you can enjoy golf, tennis and the pool in the summer. You will surely be able to have fun at the hot springs and other facilities as well.
5. Urawa Royal Pines Hotel: Restaurants with a Mt. Fuji View
Photo courtesy of: Urawa Royal Pines Hotel
A hotel located in Saitama city, the Urawa Royal Pines Hotel is known for their great rooms, service, Japanese, Chinese, French restaurants and pastry shop. Visitors can enjoy a range of casual and high end dishes according to their tastes and the purpose of their visits.
Photo courtesy of: Urawa Royal Pines Hotel
On sunny says, you can witness the glorious view of Mt. Fuji from the Chinese restaurant Saiko on the eighteenth floor and restaurant RPR on the nineteenth floor.

6. Palace Hotel Ōmiya: a Hotel with Great Accessibility
Photo courtesy of: Palace Hotel Ōmiya
Only a three minute walk from Ōmiya station, Palace Hotel Ōmiya is located in a convenient area with great accessibility to tour around.
Photo courtesy of: Palace Hotel Ōmiya
After your journey, rest up in the comfortable beds that are all imported beds from Sealy's, the number one bed/mattress brand in America. This hotel is also equipped with fitness gyms, bars, Japanese, Western, and Chinese restaurants and offers the best service it can in order to make your stay as cozy as possible. Not only all of this, but Palace Hotel Ōmiya is also located near the expansive shopping center at Ōmiya Station's West exit, making this an incredibly convenient hotel.
It is fairly close to and easily accessible from Ōmiya Station, the large scale shopping mall Cocoon, Saitama Super Arena, and the Railway Museum.

7. Ikoi no Mura Heritage Minoyama: Embrace the Nature of Chichibu!
Photo courtesy of: Ikoi no Mura Heritage Minoyama
Ikoi no Mura Heritage Minoyama is located in Nagatoro, a popular tourist area in Chichibu that is surrounded by vast wilderness. It is a resort hotel that has Japanese-style rooms with a great view. The highlight of the hotel is the natural hot springs, Kuma-san no Yu ("Mr. Bear's bath") where you can see the beautiful mountain ranges of Chichibu along with a sky full of stars.
Photo courtesy of: Ikoi no Mura Heritage Minoyama

Traditional dishes using local ingredients, nature tours and all sorts of other great services welcome the guests that are visiting. It is a perfect hotel for those who want to spend quality time in Chichibu.

From authentic ryokan to large hotels, a wealth of choices in accommodations await you. Staying at any one of these amazing places will surely make your stay in Saitama a memorable experience.

The information presented in this article is based on the time it was written. Note that there may be changes in the merchandise, services, and prices that have occurred after this article was published. Please contact the facility or facilities in this article directly before visiting.