7 July Tanabata Love Story: Japanese sweets "Milky Way" by Kyoto Shichijo-Kanshundo
On July 7th we celebrate Tanabata, a festival dedicated to the legend of two lovers. At Kanshundo in Kyoto, you can find Tanabata inspired traditional sweets that are gorgeous and delicious!
What do you think of this number? One may take it as a birthday, and others may not find any special meanings.
The Darkness of Eternity, the Light of Encounters
Photo credit by lililizizitt : GATAG
This number is related to a love story, of a couple who only can see each other once a year. I will introduce the story to you briefly.
Once upon a time, there was a married couple, Hikoboshi and his wife Orihime; they loved each other so deeply that they neglect their work.
This made the God angry and the God separated them with a milky way. On one side there's Hikoboshi, and on another there's Orihime. The milky way split their love.
However, since their love was very strong, they could not concentrate on work due to the sorrow of being split apart.
The God was bothered then, so the two of them received the opportunity to meet once a year. Every year on the 7th of July, a bird bridge called Kasasagi is built for them to see each other.
If it rains though, the Kasasagi cannot spread its wings to be a bridge. Therefore, on the 7th of July, or Tanabata day, people hang up their wishes for the sky to be clear - so that the two in love can reunite with smiles on their faces.
This is the famous Tanabata story for the 7th of July.
The Tanabata legend, woven by the technique of long-established store Shichijo-Kanshundo
In Kyoto, you can find a type of Japanese sweets called "Milky Way", which uses the love story as its theme.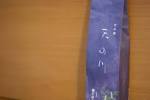 This yokan (a kind of Japanese jelly) "Milky Way"condenses the couple's affection and prayers. It would be nice to taste it while thinking of someone you love.
For someone you only can meet once a year, what kind of feelings and words would you have?
Information
Address: 551 Higashiiru Nishinomonmachi, Shichijo-Dori Honcho, Higashiyama-ku, Kyoto City
Opening Hours: 11:00~18:00 (LO 17:30)
Closed Days: None (Except for 1/1)
Wi-Fi: Not provided
Credit Cards: can be used
Languages: Japanese
Closest Station: City Bus stop "Sanjusangendo Mae", Keihan Line "Shichijo" Station
Access: about 10 minutes City Bus ride (206, 208) from JR Kyoto Station, close from bus stop "Hakubutsukan Sanjusangendo Mae"
A 5-minute walk to the east from Keihan Line "Shichijo" Station
Price Range: 150 yen ~ 1400 yen
Phone Number: 075-541-3771
Official Website: http://www.7jyo-kansyundo.co.jp/greeting.html

The information presented in this article is based on the time it was written. Note that there may be changes in the merchandise, services, and prices that have occurred after this article was published. Please contact the facility or facilities in this article directly before visiting.