Let MATCHA Design Your Trip To Japan! Part 2 - Travel Tips for Kansai
We took up the challenge of designing a trip plan for one of our readers who answered our advertisement. These are all suggestions for a family planning to visit Tokyo, Kyoto and Nara during autumn.
MATCHA launched a public inquiry the other day, asking readers who plan to come to Japan to give us the necessary details in order for us to suggest them places to visit and things to enjoy during their trip.
We selected one submission and we will tailor a trip plan according to the preferences of the applicant.
Theme: A Family Trip to Japan designed by MATCHA
Time: October 9th - 19th
Who is traveling: A family of five (parents, grand parents and a small child)
Estimated cost of the trip: 8000 US dollars
Preferences: Visit Tokyo, Kyoto, Nara and Osaka. Experience both traditional and contemporary Japan, wear kimono, eat delicious Japanese food.
This is the second part of our recommended trip plan, focusing on activities and sightseeing destinations worth seeing in the Kansai region.
Read also: Let MATCHA Design Your Trip To Japan! Part 1 - Travel Tips for Tokyo
1. Enjoy A Three Day Stay in Kyoto!
Head to Kyoto on the fifth day of your trip, taking the Shinkansen ("bullet train"). If you have the JR Railpass, you traveling with the Shinkansen will be very convenient.
Because we want you to experience lodging in an authentic Japanese house, we suggest you seek accommodation at Khaosan Kyoto Guesthouse. This facility has various types of rooms available and is ideal for families. The conditions are excellent and the accommodation fees are very affordable.
Image from Kiyomizudera Temple – A Must-See in Kyoto
While in Kyoto, be sure to visit the places for which the old capital is famous for, such as Kiyomizudera Temple and Kinkakuji with its Golden Pavilion.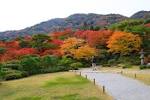 Image from A Kyotoite recommends "The Best Touring Route of Saga and Arashiyama"
The areas in western Kyoto, Sagano and Arashiyama are famous for their beautiful autumn foliage. Each temple and shrine in this area is worth seeing not only for their impressive architecture, but also for their stories, as they played an important role in Japan's history. It is sure worth spending a whole day here.
Read also: A Kyotoite recommends "The Best Touring Route of Saga and Arashiyama"
For more ideas on what to visit in Kyotoin order to make your trip unforgettable, please be sure to check out our article on 
We warmly recommend you to try taking part also in activities that are rather off the beaten path such as a sushi making workshop at AWOMB, or making wagashi ("Japanese sweets") at Kanshundō.
Image from SOU・SOU in Kyoto– Japanese Clothing for Modern-Day Japan
Dropping by SOU・SOU in Kyoto will give you an insight into the charming blend between Japanese traditional clothing and contemporary styles. We especially recommend the SOU・SOU Warabegi store, which handles clothing for children. You might find an item that your child will be able to enjoy wearing for a longer time, both as a unique item and as a souvenir from Japan.
For more tips and suggestions to enhance the experience of being in Kyoto, be sure to check out our selection of 6 MATCHA Articles You Should Read Before Going To Kyoto!
2. Spend A Day in Nara!
Image from The Mysterious Historical City Of Nara
While in Kyotoyou should definitely do on a one day trip to Nara. A visit to world heritage sites such as the temples Tōdaiji and Kofukuji will make you feel as if you were traveling through time to ancient Japan, when the state began to consolidate, an age that coincides with the beginning of Japanese Buddhism.
Image from Are There Really Deer Everywhere In Nara Park?
Be careful not to spoil the deer in Nara Park by feeding them too much! They are most adorable when watched from the distance. Trust us on that.
Image from Fastest Mochi Making In Japan! Come To Nakatanidō In Nara
While in Nara, consider stopping by Nakatanidō to witness the fastest mochi rice making in Japan and taste the delicious mochi rice cakes that are a specialty of this town.
3. Experience the Vibrant City of Osaka!
Image from Osaka From Above: Umeda Sky Building's Floating Garden Observatory
A one or two day visit to Osaka will create an inspiring contrast to the calm, historical atmosphere of Nara. Enjoy the city view from the amazing Umeda Sky Building and/or have fun at the Osaka Aquarium KAIYUKAN - where the world of aquatic creatures will fill with enthusiasm all the members of your family.
Image from For Osaka Newbies – How To Enjoy Dōtonbori, Osaka's Downtown
Be sure to try the delicious foods of Dōtonbori and marvel at the ingenuity of the front signs of the shops on this street. The above picture, by the way, shows the front sign of a takoyaki shop, takoyaki being a dish that is representative of Osaka.
In Conclusion
What do you think of the trip plan suggested by MATCHA?

Whatever you decide to do during your trip to Japan, please make sure you experience both the traditional and the contemporary elements of Japanese culture. We hope you get to spend an equal amount of time in the Kantō and Kansai regions, vising the major cities and famous spots of both areas.

And one more tip! Please do visit the famous sightseeing places, but make sure you enjoy also niche destinations and activities, things that are "off the beaten path". It is these experiences that will make your trip to Japan unique. On MATCHA we introduce plenty of such activities, so please use our articles for reference. And most of all, enjoy your trip!

Recommended articles:
10 Itinerary Suggestions For A One-Day Trip From Kyoto
5 Places With True Japanese Culture For Great Travel Memories!
6 MATCHA Articles You Should Read Before Going To Kyoto
The Shortest Ways to Travel to Nara from Kyotoand Osaka

The information presented in this article is based on the time it was written. Note that there may be changes in the merchandise, services, and prices that have occurred after this article was published. Please contact the facility or facilities in this article directly before visiting.