Shaved Ice Specialty Shop, "yelo", in Roppongi
Shaved ice is one of Japan's special summer features. In the summer, we can experience the real pleasure of shaved ice. But in this article, I'll introduce to you a shaved ice shop were you can enjoy shaved ice throughout the year.
A Fashionable Shaved Ice Shop in the Center of Roppongi
This shaved ice specialty shop just opened in April 2014 and is located near Roppongi Station. It's only a 2-3 minute walk from the station. The name of the shop is "yelo".
In general, shaved ice shops is opened only during the summer, but this shop is opened everyday throughout the year. Moreover, it's opened from 11 a.m. to 5:00 a.m.
By the way, "yelo" means "ice" in Spanish.
The entrance is under the left side of the board. This semi-basement construction is like a secret base, so you'll be a litle pumped up before going in.
The inside of the shop is like a bar. It's very relaxing. The atmosphere here is different from other traditional shaved ice shops in Japan. There are 6 seats at the counter and 5 tables for 2 people each. Fortunately, it wasn't crowded when I went.
The interior design is a standard red color which is different from the image of shaved ice. The meaning behind it is to feel warm, even in winter, because this shaved ice shop is also opened in winter.
Many Flavors and Arrangements
There are many shaved ice photos on a fan shaped menu.
Tiramisu
Caramel
Mango lassy
Strawberry
4 kinds of berry
Carrot and mascarpone
Avocado and mascarpone
Chai
Matcha
Cafe au lait
There are 10 kinds of shaved ice. And what's more, you can choose various toppings, such as "Almond","Oreo","Milk jelly","Adzuki bean jelly", and "Tapioca". It's a nice treat that you can decorate your own shaved ice.
It takes about 5 minutes until your shaved ice is ready. It looks very colorful and rich with flavor.
If you eat one scoop,you may be surprised by the texture, fluffiness, and milky taste.
The shaved ice with matcha flavor tasted bittersweet but delicate and mild.
Mango lassy is a mix of fresh mango juice and yogurt, giving it a light taste so you'll want to eat it again some time soon.
Chai is decorated jelly on the shaved ice. I ordered clear tapioca to decorate it more.
After eating it, I enjoyed drinking the melted ice with tapioca.
The caramel shaved ice tasted not only sweet, but bitter too. I ordered a 20% alcohol shot and poured it onto the caramel shaved ice. It was delicious. I recommend you to order the alcohol syrup if you feel like you haven't had enough to drink at night.
The Secret to this Taste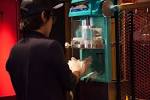 I asked the shop staff what the secret to their tasty shaved ice was. The shop staff answered, "We pour our original syrup 5 times into the container while making the shaved ice to keep the rich flavor."
And they use pure ice to make it, so we can feel the fluffy and mild texture. Its texture is like more like ice cream than shaved ice.
How about tasting a fluffy and cold shaved ice at "yelo" after eating and drinking in Roppongi?
Information
yelo
Address:5-2-11 Roppongi,Minato-ku,Tokyo
Telephone:03-3423-2121
Open:11:00a.m.-5:00a.m. /11:00a.m.-11p.m. on Sunday/No holidays
Closest Station:Roppongi Station
Access:4min. walk from Exit A3 in Roppongi Station
Price Range:Matcha 850 yen,Mango lassy 850 yen,Chai 750 yen,Caramel 800 yen
Official Homepage:http://yelo.jp/
The information presented in this article is based on the time it was written. Note that there may be changes in the merchandise, services, and prices that have occurred after this article was published. Please contact the facility or facilities in this article directly before visiting.