Cafes And Latte Art That Will Make You Say Kawaii!
From cat cafes to renovated historical warehouses, Japan is a paradise for cafe culture fans. If you want to find the cutest cafes that Japan has to offer, take a look at our selection!
Fans of cute culture and animal lovers are sure to enjoy visiting Japan's various cafes. Creative and colorful interiors, delicious sweets and amazing savory dishes, not to mention adorable latte art await you at spots all across the country.
This article is part of an on-going series and will be updated monthly as new locations are found that make MATCHA's writers go "Kawaii!!"
Animal Cafes
Japanese Encyclopedia: Animal Cafe
A popular type of cafe in Japan, animal cafes have been growing in scale and variety since the beginning of last decade. What is an animal cafe, you say? Read on!
Cat Cafe Temari No O-Uchi: A Visit to the World of Cats (Kichijoji)
A mysterious and whimsical forest-like atmosphere awaits you in this adorable cat cafe. Found in Kichijoji, this cafe has plenty of friendly and entertaining cats on the premises, and great drinks too.
Enjoy Drinks With Penguins At Penguin Bar Ikebukuro!
This spacious and unique bar in Ikebukuro is home to a troop of penguins that live in their own enclosure in the bar. While you cannot touch or interact with them, these penguins are just plain fun to watch.
Meet Little Birds In Kotori Cafe, Omotesando
Calling all bird lovers! Here is a cafe for you, the Kotori Cafe in Omotesando has many sweet little birds for you to interact with and plenty of adorable dishes on its cafe menu.
Meet Owls In Kichijoji: Musashino Cafe & Bar Owl Village
If birds of prey are more your style, then the Musashino Cafe and Bar Owl Village is just the place for you. Here you can interact with amazing owls and if you are lucky, even get to feed them.
S-s-see The Snakes At The Tokyo Snake Center
If you would like to get up close and personal with some sweet little snakes, then you must check out the Tokyo Snake Center in Harajuku, Japan's first snake cafe! Here you can sit with your snake and have a drink or a meal, then interact with a larger species of snake in the experience area.
Character Cafes
Of Course It's Popular! Pompompurin Café in Harajuku
Sanrio fans have plenty of cute cafes to choose from, but this is my personal favorite. Surrounded by creamy yellow and caramel brown, this Pompompurin Cafe is really cute and a lot of fun to spend the afternoon relaxing in.
Welcome to the Moomin World! Moomin House Café in Oshiage
The Moomins are characters from a Finnish comic series that have found great fame in Japan. Come to their House Cafe in Oshiage and enjoy fantastic sweets and drinks inspired by these cute characters.
Enjoy Ghibli Meals At Baby King Kitchen
Ghibli fans will be thrilled to find this restaurant and cafe on the side streets of Koenji. From cute cookies made on-site to dishes you'd swear came straight off the movie screen, Baby King Kitchen is a must for Ghibli lovers.
Too Cute to Drink! 4 Tokyo Latte Art Cafes: Comic Character Edition
Fans of Doraemon, Ghibli, Moomin and Sanrio characters are sure to enjoy these four cafes in Tokyo, known for their amazing latte art and dishes inspired by the characters themselves.
A Delicious My Melody?! The My Melody Cafe in Shibuya PARCO
The Guest Cafe and Dinner in Shibuya Parco was renowned for its incredible Sanrio themed cafes, such as My Melody and Little Twin Stars, but unfortunately for those wanting to enjoy these cute treats, Shibuya Parco is undergoing renovations and will not be open again until the fall of 2019. You can find our previous articles on this cafe here and here.
Even More Cute Cafes
New School Cute: Inside The Kawaii Monster Cafe in Harajuku
Bright, brilliant colors and crazy, delicious dishes will have the visitors to this new cafe in trendy Harajuku begging for more. With things like rainbow pasta and yummy mixed drinks, Kawaii Monster Cafe is a must for fashion fans.
Kichijoji's Picture Book Cafe HATTIFNATT
For those with fond memories of reading picture books as a child, the Picture Book Cafe HATTIFNATT is very nostalgic. The entrance way really makes you feel like a child again - it's only 130 cm tall!
Aww, How Sweet! The Panda Latte at C's CAFE In Ueno
When people say Ueno, most people think of the zoo and of course its popular pandas! C's Cafe in Ueno station is the only place you will find these multi-colored panda lattes.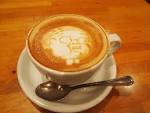 5 Cafes in Tokyo to Enjoy Original Latte Art
If you're looking for amazing, interesting and cute latte art, these five shops in the greater Tokyo area can easily meet your coffee and cuteness needs. Why not visit all five and compare the art for yourself?
At Cafe Yu In Fukuoka, Coffee And Pottery Make A Perfect Pair
Visitors in the Fukuoka area love Cafe Yu - here not only can you enjoy delicious meals but, as the cafe's theme is pottery, you can also choose your own handmade mug and drink cutely decorated lattes from them. A must for visitors to the area!
Too Cute to Drink! 4 Tokyo Latte Art Cafes: Animal Edition
Bears, bunnies, pandas and even custom latte art can be had at any of these cafes found in the Tokyo area. At one shop you can even request text or other illustrations if the shop isn't too busy.
Akarimado: A Renovated Nostalgic Cafe in Akasaka

Cute and elegant sweets are the standard at this renovated blast from Japan's past. A refined and nostalgic air fills Akarimado Cafe, and you will be swept away into Japanese history by the authentic atmosphere of this Taisho era interior.

What do you think of our selection? Please look for updates to this list of cafes, as we will add more and more articles on the latest cute cafes in Japan!

The information presented in this article is based on the time it was written. Note that there may be changes in the merchandise, services, and prices that have occurred after this article was published. Please contact the facility or facilities in this article directly before visiting.