Let's Make Takoyaki At Takonotetsu In Umeda, Osaka!
Ever tried preparing some takoyaki on your own? No equipment? No ingredients? In that case, come to Takonotetsu, a takoyaki restaurant in Osaka, where you can try out both making and eating usual (and unusual) takoyaki dishes.
Osaka and takoyaki – you can't have those separated under any circumstances.
But, why not step up your takoyaki game a little bit? Now that you've come to the takoyaki-capital, Osaka, why wouldn't you try making those golden balls of happiness yourself, instead of only eating them? What, you don't have the necessary equipment? You're unfamiliar with the ingredients? Fret about it no longer. Let us inform you about a place in Osaka where you can indulge in some takoyaki-making and takoyaki-eating, at the very same table.
Head to Takonotetsu!
Takonotetsu, a takoyaki restaurant in Umeda, Osaka, was created back in 1979, with a wish to provide their customers with a place where anyone can both make and eat takoyaki.
Now, pardon us for asking, but first, we would like to know how do you feel about takoyaki – is it a snack, or something else? Well, whatever your answer might be, here in Osaka, takoyaki is regarded as a proper lunch or dinner. Simply put – a proper meal. That is why this restaurant is opened from 11:00 until 23:00, to cover all meal-periods in a day.
Of course, the menu is a wondrous book itself – you won't only find your usual takoyaki there, but also ones with shrimp, salted Pacific cod offal in spicy sauce, cheese, pineapple, and many other "that's inside?!" reaction-invoking types of unusual takoyaki combinations. But it ought to make you want to try them all, as they all sound intriguing and fun! This time, we have picked usual takoyaki, and the "sun-yaki", with the salted Pacific cod offal and cheese inside.
Let's Make Takoyaki!
First, you have to grease the hot plate thoroughly with some oil. By the way, did you know that this oil-distributing item is called tako-bozu (which can be roughly translated as "the baldy")?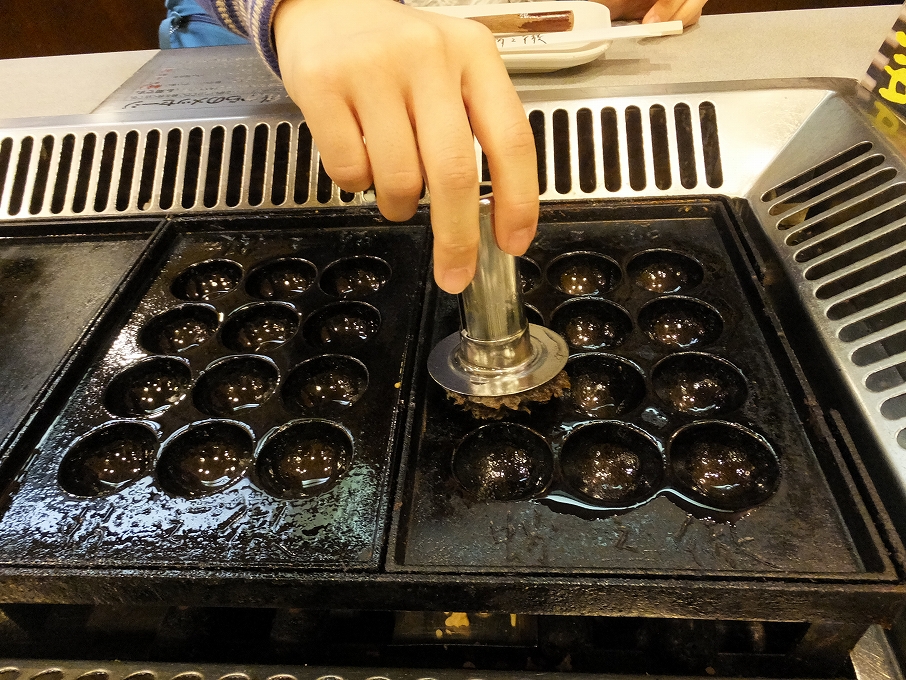 When the hot plate appears to be hot enough to bake the takoyaki, spill a little bit of the batter to hear that sizzling sound, and then pour the batter over the hot plate as evenly as you can. We got the employee to do this part for us.
You can put in the tenkasu (crunchy bits of deep-fried flour batter), and the red pickled ginger as much, or as little, as you'd like. Even if you get ahead of yourself and (or just unintentionally) put a lavish amount of it in, it should end up alright in the end.
The star-appearance at this takoyaki-making show belongs to the takopin, the special eyeleteer designed for turning takoyaki over and over again to bake it evenly.
First, use the takopin to gather the splattered dough to the center of a ball, and to separate the balls one from another.
That was the preparing-for-battle procedure and now comes the time to show off your takoyaki baking skills! At this point, there is no room for amateurs and weaklings – only those who aren't afraid to tackle this risky business, and who have the full-on confidence about their swift arm, are allowed to enter the battle ring. The only advice we can give you is to aim for a 90degree turn first, and then to turn it all upside down (the ball, not the hot plate) so that the batter flows down to form a perfectly round ball. Or something like that.
But even if the shape is somewhat uneven, or you tried to turn a half-runny, not-yet-baked takoyaki, and it seems hopeless at the moment, don't worry – if you keep rolling it up and down tirelessly, it'll eventually appear roundish and ball-like. Actually, it might be even more enjoyable to just keep rolling it and turning it around for the fun of it – using your takoyaki-awakened sixth sense.
Look, even poor, untalented persons such as us, the writers, miraculously managed to make it look like a proper takoyaki!
There are countless cases when a person from Osaka gets a takopin handed over, with much-obliging words, "Here, you're from Osaka, you must be an expert!" But, unbelievable as it may sound, there are still people from Osaka with wooden fingers who just can't manage takoyaki-turning all that gloriously. Do have some pity on them, please.
And finally, let us pour some sauce and mayonnaise over top, and decorate it all with some aonori (green dried seaweed) and golden hanakatsuo (dried bonito flakes). You'll find two types of sauce available for use – the one labeled with red is quite spicy, so be warned before you put too much of that one on top.
Voila! It's done, and believe us, it tastes all the better when you think about how you prepared it all by yourself (or, in our case, with a little help of professionals, as well).
So, how did you like your takoyaki-baking? There are truly many different takoyaki restaurants in Osaka, but here at Takonotetsu, you get to make your own takoyaki before you get to eat it!
Information
Takoyaki restaurant Takonotetsu
Address: Osaka, Osaka, Kita, Kakuda 1-10 (behind Hep Five)
Hours: 11:30-23:00
Closed: None
WiFi: None
Available Credit Cards: None
Language: Menus in Japanese and English
Nearest Station: JR Osaka Station
Access: 5 minute walk from Midosuji Exit of JR Osaka Station; 3 minute walk from the 3rd-floor south ticket gate of Umeda Station (Hankyu Railway Main Line); head towards Hep Five
Price: takoyaki one serving (12 pieces) 600 yen
Religion: for a menu related to tradition/religion, ask at the restaurant
Phone Number: 050-5797-7533
Website: http://takonotetsu.com/ (Japanese)

The information presented in this article is based on the time it was written. Note that there may be changes in the merchandise, services, and prices that have occurred after this article was published. Please contact the facility or facilities in this article directly before visiting.