Japanese Convenience Store Guide - Meals, Everyday Items, And ATMs
Convenience stores in Japan are an irreplaceable part of daily life and travel, with over 55,000 across the country. Learn how to take advantage of the goods and services at Seven-Eleven, Lawson, Family Mart, with one-stop shopping for food and everyday items, and free WiFi and international ATMs.
About Convenience Stores in Japan and How to Use Them
There are approximately 55,000 convenience stores in Japan. Known as conbini in Japanese, these stores sell food and snacks of all types, everyday items like stationery and even clothes. They are great to drop into when you've forgotten something and are incredibly easy to find in most places in Japan. Convenience stores also have ATMs, mailing and shipping, and other helpful services.
Continue reading to learn more about what you can find at Japanese convenience and how to take advantage of all they offer, from snacks to withdrawing cash and purchasing event tickets.
What to Expect at Japanese Convenience Stores
There are several different convenience store chains across Japan, and if you ask someone to point you to a nearby conbini, they will direct you to one of them. The most famous chains are Seven-Eleven, Lawson, and Family Mart. These three chains alone account for more than 38,000 convenience stores across the country. Other common convenience store chains are Mini-Stop and Daily Yamazaki. They have become an irreplaceable part of life in Japan.
Food, Snacks, and Drinks at Japanese Convenience Stores
Food is the most plentiful thing sold at convenience stores. As most convenience stores are open 24 hours a day (with some exceptions), people come in at all hours of the day, with people picking up beer snacks at night and morning commuters grabbing bento boxes and coffee.
Fresh items and groceries, including vegetables, noodles, eggs, and tofu, are also in-stock at most stores. For those who are cooking, a fast way to get ingredients is to stop by. 
Pictured above are onigiri (rice balls) in all types of varieties, including salmon, pickled plum, and other fillings. Most onigiri cost between 100 to 200 yen, making them a great choice for a quick snack or light meal. 
Convenience stores also stock a great variety of meals, like noodles, salads, and pasta. You can also find bread, sandwiches, cup noodles, and bento boxes at most stores. 
Each convenience store carries their own brand of these items, resulting in slightly different selection and flavors. For snacks, popular items like Kitkat, Pocky, and Meiji chocolate are typically found at all stores. 
Although options are limited, you can find food items friendly for vegetarians and even vegans.
Satisfy Your Hunger and Thirst with Hot and Cold Food, Beverages, and Alcohol

Any convenience store will have multiple varieties of tea (pictured above). Within the glass-doored refrigerator case, all sorts of tea bottles are packed in rows. You will find many varieties of green tea, oolong tea, herbal tea, and other blends. Coffee in cans and in bottles are also sold.
Furthermore, ice cream and alcoholic beverages are stocked year-round, and every time you walk by the convenience store, you may be tempted to stop in. They have Japanese beer, chu-hai, cocktails, whiskey, and even wine. Please note that the legal drinking age in Japan is 20.

There is also a hot snack corner next to the register at most stores, which will have fried chicken, French fries, croquettes, buns, and other choices. These items vary slightly across convenience store chains and also change seasonally. The staff will take these items out for you, so tell the person at the counter what you want directly.
Pick Up Toothbrushes, Smartphone Chargers, and Everyday Items
Convenience stores carry a large variety of everyday items, from toothbrushes to chargers, to apparel and soap. If you've forgotten to pack something or lose an item, there's a good chance you can find a replacement at a convenience store.
There are masks, tissues, cat food, and seasonings like soy sauce.
Convenience stores also sell popular Japanese magazines and reading material, including fashion magazines and travel-focused publications.
Withdraw Yen from Convenience Store ATMs
Most convenience stores have an ATM on the premises, so you can withdraw or deposit cash if you have an account with an affiliated bank. You can withdraw from international accounts at Seven-Eleven, Lawson, Family Mart, and other convenience stores with machines.
Please note a small international withdrawal fee will be charged when you take out money but if you need cash this is a very easy and fast option.
Purchase Tickets at Convenience Stores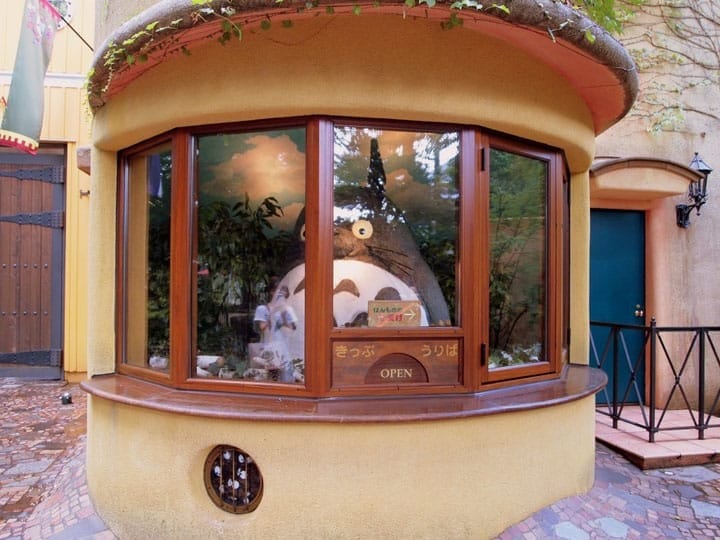 Purchase tickets for the Ghibli Museum at Lawson convenience stores. Picture from The Ghibli Museum In Mitaka - Welcome To The World Of Ghibli!
Convenience stores have multimedia terminals where you can purchase tickets for events and admission to certain museums, like the Ghibli Museum (available at Lawson store locations) and Tokyo Disney Resort. You can search on the machine itself for events you wish to attend, and if you have an online code or have made a reservation, you can input the code to find your ticket faster. Take your receipt to the register to pay and get the ticket.
WiFi, Luggage Delivery, and Other Convenient Services
Convenience stores have a number of other helpful services that even travelers in Japan for a short time can take advantage of. In fact, there is little you can't do at convenience stores.
For example, free WiFi is available at all convenience stores. You can also send items, including luggage to Narita and Haneda Airport (depending on the store location) from convenience stores. Prepaid cards are sold for iTunes, Amazon, and other Japan locations of companies, which can be helpful depending on your situation.
Printers, copy machines, and scanners are also available (ranging around 10 to 50 yen per use) if you need an extra copy of an airplane ticket or reservation confirmation.
Use Convenience Stores and Travel Smart
Convenience stores are full of helpful services that make everyday life and travel easier in Japan. Head to your closest convenience store and experience one for yourself.

The information presented in this article is based on the time it was written. Note that there may be changes in the merchandise, services, and prices that have occurred after this article was published. Please contact the facility or facilities in this article directly before visiting.