How To Enjoy Japan's Summer Fireworks To The Fullest!
If you visit Japan during summer, by all means do go to a fireworks festival. We introduce here some advice and useful information you should know based on a real trip.
Firework festivals are held all over Japan from July to August.
Fireworks displays in Japan are some of the most beautiful fireworks displays in the world. If one of these fireworks festivals is held when you visit Japan, we would love for you to see it. Now, we will introduce some helpful information to know when you go to firework festivals, including what it is like to be there and things you should keep in mind.
Yokohama Sparkling Twilight 2017
Yokohama Sparkling Twilight is a fireworks festival held in July in Yokohama, which is just about 30 minutes away from Shibuya.
The 2016 show was really crowded with people of various ages; both young people and families alike arrived about an hour before the display was meant to start. People often get to the venues early in order to save spaces to sit. The venue for Yokohama Sparkling Twilight was Yamashita Park; the fireworks display lasted 30 minutes from 19:30 to 20:00. It was not that long but 3,000 beautiful, colorful fireworks burst over the Port of Yokohama.
This firework festival will be held on Saturday, July 15th - Sunday, July 16th 2017, from 19:30-20:00, while the rest of the festival takes place both days from 11:30-20:30 both days.
Read also: Feeling the Breeze at Yokohama's Yamashita Park
Things You Should Bring to Firework Festivals
Firework festivals are held outside and as such you will need to bring a few things to make watching the displays more comfortable. Here we have a list of the recommended items to bring to a festival, so that you will feel totally prepared to watch these amazing lights.
1. Picnic Blankets
Many people come and see the fireworks display, and as such you are more than likely going to find yourself sitting on the ground. Picnic blankets or tarps will keep your clothes from getting dirty and can be purchased at 100 yen shops or convenience stores. It's a good idea to bring them with you because, although sold at these stores, those near the venue might be sold out when you arrive.
2. Long Sleeves Jackets or Cardigans
It is humid and hot during the day in summer in Japan, but depending on the weather, the nights might feel a bit cold, especially if you are near the water. Since it got colder when the fireworks festival was over, the jackets we brought were really useful. In addition, ashes and remains of fireworks could be scattered around you depending on where you sit. So if you go to the fireworks festival, we highly recommend you bring your jacket with you.
3. Mosquito Repellents and Anti-itching Remedies
Firework festivals are usually held near water, either the sea or rivers, or you may be sitting on grass in order to watch the displays. As Yamashita Park is located along the seaside, there are fewer mosquitoes than in other areas. But we still got bitten by mosquitoes on our way to the park. So please prepare for mosquitoes ahead of time with some repellent and, just in case you are unlucky enough to get bitten, bring along some anti-itching remedies too.
4. Drinks and Food
Drinking and eating while watching fireworks displays is perhaps the best way to enjoy the festivals.
Convenience stores around the location of a firework festival could be crowded with people shopping and using the facilities, so we bought alcohol and food at a supermarket near our home and brought it there. As we supposed, the convenience stores around the festival were really packed. There were no food stalls, called "yatai", at the festival we went to, but in general, food vendors can be found at many firework festivals. If you'd like to try some great Japanese fast food, then these yatai stands are the best choice.
Be Prepared for the Crowds and Enjoy the Fireworks Display!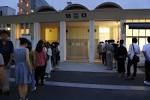 Washroom facilities near the festival site are going to be full of people, so it's a good idea to do your business elsewhere before the festival starts. In general, the bathrooms in the train stations are less crowded. Ideally, try to hurry so that you don't lose your spot or miss the start of the fireworks.
Many people visit firework festivals, with the most popular ones drawing upwards of one million spectators.
Yamashita Park, which is the designated place to see the Yokohama Sparkling Twilight festival, was also already packed one hour before the festival started. So if you go to any of firework festivals, it is better to arrive at the site one or two hours in advance in order to find and keep a good space for yourself.
The firework display started with whistle sounds. Small fireworks came first and then they gradually got bigger. Not only circular fireworks but also heart shaped or smiley face fireworks exploded in the sky. As the ending was getting close, the scale of the beautiful fireworks also increased. A lot of people shouted in awe as they were moved by the stunning fireworks.
When the firework display is over, most people head back towards the stations, which makes them very crowded. It's a good idea to top up your prepaid IC card or buy a return ticket beforehand. As we had extra time, we walked to the next station which was less crowded and headed home.
Firework festivals really kick off the summer season in Japan. Please plan out your visit well and make sure to enjoy some stunning firework displays!
More fireworks?
The information presented in this article is based on the time it was written. Note that there may be changes in the merchandise, services, and prices that have occurred after this article was published. Please contact the facility or facilities in this article directly before visiting.