Japanese Encyclopedia - Manga Kissa (Manga Cafe)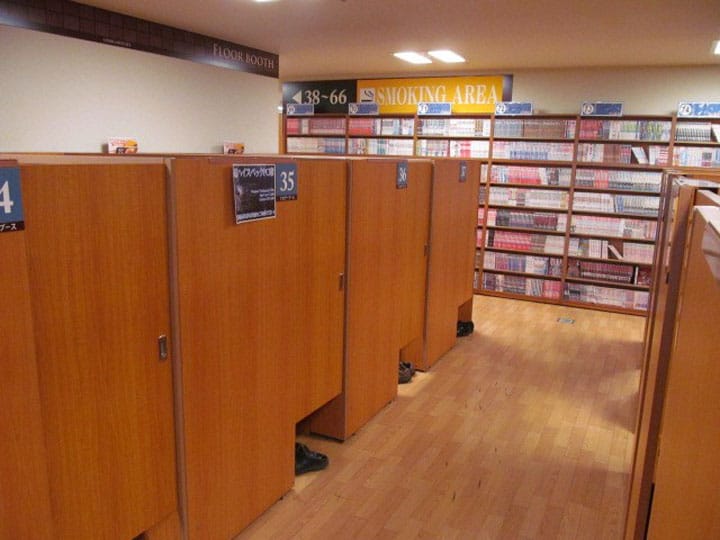 In Japan if you want to read manga to your heart's content, then not going to a Manga Kissa is simply out of the question. Manga Kissa are facilities that provide various kinds of services besides putting comics at their customers' disposal. Here is a lis
It's probably safe to say that many people have become interested in Japan through manga (Japanese comics) and anime.
Japan is one of the world's foremost leaders in manga and animation. A staggering number of manga have been published so far and there are even special shops where one can read manga exclusively. These places are called "Manga Kissaten" (from here on referred to as Manga Kissa), a slight variation on the standard Internet Cafe. For a set price and time period, one can read as many comics as they like, making this a convenient place to spend some time.
Today we'll explain how a Manga Kissa operates, what kinds of things you can do there, and introduce you to one particular Manga Kissa with a rather unique flavor.
The Manga Kissa System
Though Manga Kissa differ slightly from place to place, fundamentally they operate in the following way.
When you first visit a Manga Kissa you'll often be expected to register as a member, so be sure to bring some personal identification with you. After registering, you choose your seat and indicate how long you would like to stay.
Regarding seating, you probably have an image of internet cafes outside Japan, in which computers and seating are arranged in an open area. Of course some Manga Kissa also have these open spaces, but the majority are comprised of enclosed booths (photo below).
You can choose a room with a regular reclining seat, one with a comfortable sofa that seats two, or even a room where you can lie down on a tatami floor. Depending on their size, rooms can accomodate solo visitors, couples and even small groups.
A Manga Kissa usually costs about 500 Yen for one hour. They also have convenient 3 hour and 5 hour "sets", and overnight sets. When purchasing a set, the longer you stay the cheaper the per hour cost becomes.
If you go beyond the time limit, your stay will be extended automatically. Generally speaking, when you check-out at the front counter, they will adjust the price based on the total length of time you were there (*1).  After your seat and time have been confirmed, and with your room number in hand, off you go navigating the hallways in search of your own personal booth. Next you scan the shelves looking for that manga you've been wanting to read, then with your bundle of goodies you retreat back to your room where you can relax and fully enjoy yourself. Just one point to keep in mind. In consideration of the other customers, please make sure to return everything to where it came from, or take it to a designated return counter。
(*1) - For example, if you stay 60 minutes longer than your original plan, in most cases that extra hour will cost you less than the flat 500 yen per hour fee, because the final bill will be adjusted according to the total length of time you were there for (the longer you stay the cheaper the per hour cost becomes).
In Addition To Manga and Internet You Can Also Do This!
Many people probably don't know that there are countless fun things to do at a Manga Kissa, in addition to reading comics. They also have magazines and newspapers, and the booths which come equipped with personal computers and headsets are usually Wi-Fi compatible. This means that you can get caught up in a little work, watch movies and DVDs, and also play TV games.
There's a free drink counter (coffee, tea, juice...) and most places have a food menu ranging from simple snacks all the way up to a complete lunch or dinner. You can place your order at the counter, but most customers like to order via their own room phone and have the food delivered directly to their booth.
Many Manga Kissa have billiards, table tennis, darts and other leisure activities. Other locations up the ante by offering specialized services such as showers (toiletries can be purchased), massage chairs, photocopy machines, storage facilities, children play areas and female-only zones with make-up rooms. Make no mistake, you can spend the entire day here and not get bored!
Recently Manga Kissa have also become reasonably-priced accomodation for those who've missed their last train home. But having said that, it's best to exercise some caution and check ahead of time into what kind of services are available, since many places do not have secure lockable rooms or female-only floors.
Not Your Everyday Internet Cafe
A Japanese-themed Manga Kissa / Internet Cafe, Nagomi Style Cafe AKIBA
Among the more than 1,000 Manga Kissa found across Japan, there are also some rather unusual versions. For example, Nagomi Style Cafe AKIBA.  Overflowing with Japanese sensibility, it evokes images of a traditional Kyoto-style inn. Curiously, it's almost like wandering into a Kyoto festival-like atmosphere where you are warmly welcomed by kimono-clad staff.
Based on their own particular concept, many Manga Kissa offer a unique, one of a kind atmosphere and specialized services. So with a little searching, you're sure to find one that matches your personal taste.
In Closing
In addition to being able to choose from a vast collection of manga, just simply passing away the time here can be an enjoyable experience. Many customers have apparently also been impressed by the Japanese standard of comfort and cleanliness found in Manga Kissas as well. Even when you only have a little time to spare, you can quickly pop in by yourself and soon get totally absorbed in your favorite comic.  When you're not rushed for time, we recommend that you bring along your friends and liven up the atmosphere with a game of darts or billiards. While in Japan, why not extend your boundaries a little and give a Manga Kissa a try?
For more on Manga and Anime:
The information presented in this article is based on the time it was written. Note that there may be changes in the merchandise, services, and prices that have occurred after this article was published. Please contact the facility or facilities in this article directly before visiting.