10 Great Shopping Destinations In Hiroshima
Hiroshima, with its many sightseeing destinations, attracts many travelers from all over the world. It is not well known however that Hiroshima is also great place to shop. This article introduces 10 shopping spots in this international city.
Hiroshima's Best Souvenir Shops

Hiroshima, a city with wonderful sightseeing destinations, is home to the Genbaku Dome and Itsukushima Shrine on Miyajima island, both of which are registered as World Heritage Sites. You might have never thought of Hiroshima as a place to do shopping, but actually there are a lot of shopping centers which meet the travelers' needs in Hiroshima.
We will be introducing ten recommended shopping centers where you can find a wide range of goods starting from traditional crafts such as Miyajima zaiku (Miyajima's traditional crafts) and Kumano-fude (Kumano brushes), Hiroshima Toyo Carp goods (a professional baseball team in Japan), products made from moshio (Japanese seaweed salt) or lemons from the Seto Inland Sea area, anime goods as well as cheap home electronics.
1. Hiroshima Hondori Shotengai
Hiroshima Hondori Shotengai is a shopping street which passes through the middle of Hiroshima's downtown, Kamiyacho, from east to west, located between the exit of the Hiroshima Peace Memorial Park and Hiroshima PARCO shopping mall. Its nickname is "Hondori". It is really easy to access from Kamiyachō Shareo which is an underground city at Kamiyacho and Hondōri Station on the Astram line and Hiroden streetcar line.
A wide variety of stores such as restaurants, local product shops, clothing and general goods stores as well as pharmacies are found on this shopping street. If you want to buy souvenirs from Hiroshima, you should visit Hiroshima Yume Plaza and Nagasaki-ya. A popular 100 yen chain store, Daiso, specialized shops such as JUMP SHOP Hiroshima, which sells official items from Weekly Shōnen Jump (Weekly boy's manga magazine), Sofmap Hiroshima, which sells electronic products, are all available here. You should also check out SUN MALL located within Hondori shopping street.
2. Hiroshima PARCO
After passing through Hondori Shotengai, you will find Hiroshima PARCO. It is a shopping mall mainly filled with clothing stores as well as Club Quattro on 10th floor of its main wing, Tower Records, a retail music chain, on 9th floor of its new wing and MUJI Ryohin on 7th to 8th floor.
The Kinzagai Shotengai (Kinzagai shopping street) starts from in front of PARCO's main wing, while Namiki-dori and Alice Garden where events are held are located on the other side of this building. In addition, Don Quijote, which is a discount chain store, is found diagonally opposite Alice Garden.
3. SOGO Hiroshima and Pacela
SOGO Hiroshima store is a landmark of the downtown area, Kamiyacho. Its appearance was designed based on the scales of a koi carp, which has a deep connection to the image of Hiroshima
There is a Hiroshima bus center on the third floor of its main wing which makes SOGO Hiroshima one of the main gateways to Hiroshima, along with Hiroshima station and Hiroshima airport.
The depachika (basement floor where food and groceries are sold) called Daishokuhinkan Everyday" on the first and second basement levels here sells Hiroshima's own local sweets and gourmet foods. Adjoining shopping malls such as AQ'A Hiroshima Center City, SOGO new wing, and Pacela, all combine to form a huge shopping complex in this area.
4. An Underground Shopping Street: Kamiyachō Shareo
Kamiyacho Shareo, which is directly connected to the basement of SOGO, is an underground shopping street that runs from east to west between the Former Hiroshima Municipal Baseball Stadium to Hatchōbori and from south to north between Hondori station and Kenchō-mae Station of Astram line. It is mainly focused on women's clothing stores. In addition, restaurants and general goods stores are gathered here. Over the weekends, various events are held at its main square which usually acts as a recreational area.
5. HIROSHIMA ORIZURU TOWER
HIROSHIMA ORIZURU TOWER opened in July, 2016, making it the newest attraction in the city. From its rooftop observation deck, called Hiroshima no Oka (Hiroshima hill), you can look out across the city and see the Hiroshima Peace Memorial Park and the Genbaku Dome. If the weather is clear, you can even see all the way to Miyajima.
A local specialty store, SOUVENIR SELECT Hito to Ki and a cafe, The Akushu Café Park Side are both located on the first floor and are great places to pick up Hiroshima's original souvenirs such as Japanese seaweed salt, products made from Seto Inland Sea lemons and traditional handicrafts such as Kumano brushes.
The Akushu Café WIND SIDE on the top floor sells momiji manju flavored soft-serve ice cream and Seto sorbet. It is the best place to view the whole city from on high while enjoying local specialties.
ORIZURU SQUARE on the 12th floor provides you with space to make origami cranes in order to pray for peace; these cranes are put up on the ORIZURU WALL. It is amazng that all of the origami cranes made by visitors can be seen from outside!
6. Tenmaya Hatchobori Building
The Tenmaya Hatchobori building used to be a department store called Tenmaya Hatchobori store. Its first to fifth floor is now occupied by Yamada-Denki LABI Hiroshima. Home electronics mass retailers in Kamiyacho and Hatchobori besides this Yamada-Denki LABI Hiroshima are found in the main and new wing of Edion and Yamada Denki which offer competitive price and foreign languages service to attract international travelers. Uniqlo, which sells casual clothes, is found on the sixth floor.
In addition, next to this building there are two department stores. One is Mitsukoshi which offers high-quality gourmet dishes. Another is Fukuya which is famous for its movie theater called Hatcho-za, which is equipped with wide cozy seats.
7. ASSE Hiroshima Station Building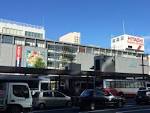 ASSE is directly connected to the JR Hiroshima station building which has eight floors in total; from the first basement level to the seventh floor. It offers restaurants, souvenir stores, grocery and clothing stores.
There are a lot of restaurants available on the second floor, which serve Hiroshima's local dishes such as Rei-chan; the famous okonomiyaki restaurant, Bakudan-ya; Hiroshima's tsukemen (cold Japanese noodles) specialty store, Ka-pu dori; and a yakitori (grilled chicken) specialty store. Its first floor directly connected to ticket gates of JR Hiroshima station sells a lot of Hiroshima's sweets.
8. Fukuya Hiroshima Ekimae Store / Yaleyale A Wing Town
The second basement level connected to the south gate underground square of Hiroshima station is Yaleyale A wing Town and its first basement level to eleventh floor is the Fukuya Hiroshima Ekimae store.
Seria, which is a 100 yen store chain, is on the second basement level, a grocery floor called Lala Kitchen on the first basement level, Junku-do, which is a large bookstore, is on the 10th floor as well as a wide array of restaurants and an observatory deck style food court on the 11th floor.
9. HIROSHIMA FESTIVAL OUTLET MARINA HOP
HIROSHIMA FESTIVAL OUTLET MARINA HOP is a large outlet mall facing to the sea. Although it is not that well known yet, Marina Hop has a pier where speedboats depart to Miyajima island. A luxury sightseeing cruise called on a pirate boat called Kaiou also operates from there.
Outlets, an amusement park called Marina circus as well as fashionable restaurants can be found here. Over the weekends, various events are held where families can spend a whole day at while feeling the refreshing sea breeze.
10. Miyajima Omotesando Shopping Street
Miyajima Omotesando Shopping Street located between Miyajima pier and Itsukushima Shrine is always full of visitors. You should try their anago meshi (grilled eels on the top of rice), age-momiji (deep-fried momiji manju served on a stick), grilled oysters and chigiriten (deep-fried kamaboko fish cakes) while walking down the street. In addition you can buy Miyajima's special handicrafts such as bamboo ladles, ceramic bells and sculptures from locally run shops and studios here.
A huge paddle for serving rice is exhibited in the middle of the shopping street. This is a great place to take a photo of your trip to Miyajima.