What To Do In Historical Kamakura: 6 Sightseeing Spots
Kamakura is a charming city close to Tokyo, full of historical places, amazing temples and shrines, and other sightseeing destination. The city used to be Japan's capital in the early days of the shogunal rule, and it has preserved the elegance of that er
Where is Kamakura?
Kamakura is located an hour outside of Tokyo, and prospered as the center of Japanese political life during the 12th and 13th century. Even now, the area retains vestiges of that era, with many shrines and temples.
Another of Kamakura's charms is its natural beauty - the mountains and its proximity to the sea! Kamakura boasts great hiking trails, beaches and gorgeous natural sights to enjoy.
The Weather and What to Wear
Komachi Street entrance in front of Kamakura Station
The Kamakura region is bordered by mountains to the north and surrounded by the ocean to the south. Because of its geography, Kamakura's summers are cooler than Tokyo's, and its winters are also warmer because of its barrier against northern winds. However, there is nothing to blot out the hot sun in the actual city area, so you'll want to bring anti-UV gear like hats and sunglasses in the summertime.
The coastal winds along the Kamakura beaches are strong, and mornings can be a little chilly, even in summer. Cold weather wear is a must in winter, and a light cardigan or some other extra layer is useful in the summer months.
From the station, you'll have to walk to get to many of the sightseeing spots, so wear sneakers or other practical shoes.
Also read:
Take a Bus or Train, Walk, or Ride in a Rickshaw!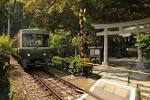 When sightseeing in Kamakura, you'll be using public transportation. Using the JR Yokosuka Line and Shonan Shinjuku Line, as well as the Enoshima railway and the municipal buses, you can get to the closest station with no hassle.
From Kamakura Station, you can walk through Komachi Street to go souvenir shopping, and there are other places to visit on foot, too. One of the most enjoyable things you can do in Kamakura is just to stroll around the city, looking at the old townscape.
If you want to take a more traditional form of transport, you can hop on a rickshaw. Rickshaws can carry two people, and its operator pulls the rickshaw around while he takes you on a tour of major Kamakura spots.
Rickshaws come with a guide, so if you want to know more about the sightseeing spots you're visiting, you should think about hiring a rickshaw.
6 Spots to See in Kamakura
Kamakura has many places where you can see traces of old Japan. Here, we'll introduce you to six places we recommend in Kamakura.
1. You Can Go Inside the Giant Buddha?!
The Kamakura-Daibutsu is a giant statue of Buddha located on the grounds of Kotokuin Temple. Along with Nara's Todaiji, it is one of Japan's three great Buddhas.
The giant Buddha boasts a height of more than 11 meters, and you can go inside it for 20 yen. Visit the Buddha to see one of the statues that exemplifies Japan.
Also read:
2. Visit Old Japan at Tsurugaoka Hachimangu Shrine
Tsurugaoka Hachimangu is a shrine located within walking distance from JR Kamakura Station. On the grounds of this historical relic, you can feel the aura of refinement from classical Kamakura, back when it was the prosperous center of the country.
The path that leads from the station to the shrine, known as Danzakura, is lined with cherry blossom trees on both sides. It's a pleasant walk from the station to the shrine, as you look around the city streets.
3. See Kamakura's Four Seasons at Hasedera Temple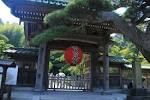 Hasedera Temple is just as famous as Tsurugaoka Hachimangu and the giant Buddha as a Kamakura attraction. Above all else, the temple's wooden image of Boddhisatva Kannon - the eleven-faced goddess of mercy - is Japan's largest wooden boddhisattva, towering above visitors with a height of over nine meters.
Hasedera is also known as the Temple of Flowers, since it's a great spot to view fall foliage and blooming seasonal flowers, like hydrangeas in June. The scenery, which can be enjoyed all year-round, is quite popular.
4. Improve Your Financial Fortunes at Zeni Arai Benten!
The Zeni Arai Benten temple, hidden away in the mountains of Kamakura, has long been said to have the power to influence visitors' luck with money.
If you put money into a strainer at the temple and wash it with spring water from the temple compound, it's said that before long, that money will multiply several times over. The temple is not just for people who desire more money; the god of the temple teaches that it is important to be spiritually clean and humble, in both mind and body.
5. See the Magical Bamboo Forest of Hokokuji Temple
Behind the sanctuary at Hokokuji Temple, also known as "the bamboo temple", there is a vast bamboo forest. As you walk through the forest of roughly two thousand trees, which blanket the entire area, the fairy tale-like atmosphere will make you completely forget how long you've been there.
The temple is small and a bit far from the station, but everyone who's visited has said that they were glad they came. By all means, come to Hokokuji and step into its mysterious world.
6. Enjoy Surfing and the Sunset at Yuigahama
Yuigahama is the beach that runs along the coast of Kamakura. In the summer, there are beach houses and fireworks festivals, which see big crowds of beach-goers. Yuigahama is famous for its wonderful sunsets, so it's a great place to relax and watch the setting sun.

Kamakura has ancient relics and temples with rich histories, as well as abundant natural beauty. If you wish to visit a place with a different vibe than that of major cities, visit Kamakura to fully experience the scenery of another side of Japan.

The information presented in this article is based on the time it was written. Note that there may be changes in the merchandise, services, and prices that have occurred after this article was published. Please contact the facility or facilities in this article directly before visiting.