10 Places To Visit In Nara, The Ancient Capital Of Japan
Nara was the ancient capital of Japan about 1400 years ago and is a popular day trip sightseeing destination, close to both Kyoto and Osaka. This article introduces 10 of Nara's many famous sites.
Close to Kyoto and Osaka - What is Nara Like?

Nara is a part of the Kansai region, and is conveniently located near Osaka and Kyoto. Over 1400 years ago, Nara used to be the capital of Japan. As such, only in this city can visitors find historical sites such as shrines and temples which have more than 1000 years of history.
The main charms of Nara are its historical buildings, the best known of which is Todaiji temple. Nara has an older history than Kyoto which makes it a favorite destination for travelers to visit throughout the year.
Introducing the Areas in Nara
Although famous temples and shrines such as Todaiji Temple and Kasuga Grand Shrine are located in Nara city, you can also find other sightseeing spots outside of Nara city. We will be introducing each area of Nara and ways of traveling to them one by one.
Attractions in Nara City
Nara city is located in the center of Nara prefecture and is an area where there are many shrines and temples. In fact, eight shrines and temples found within the city are registered as World Heritage Sites and are known as the "Historic Monuments of Ancient Nara". The city as a whole shows the true depth of its fascinating history.
Destinations Outside of Nara City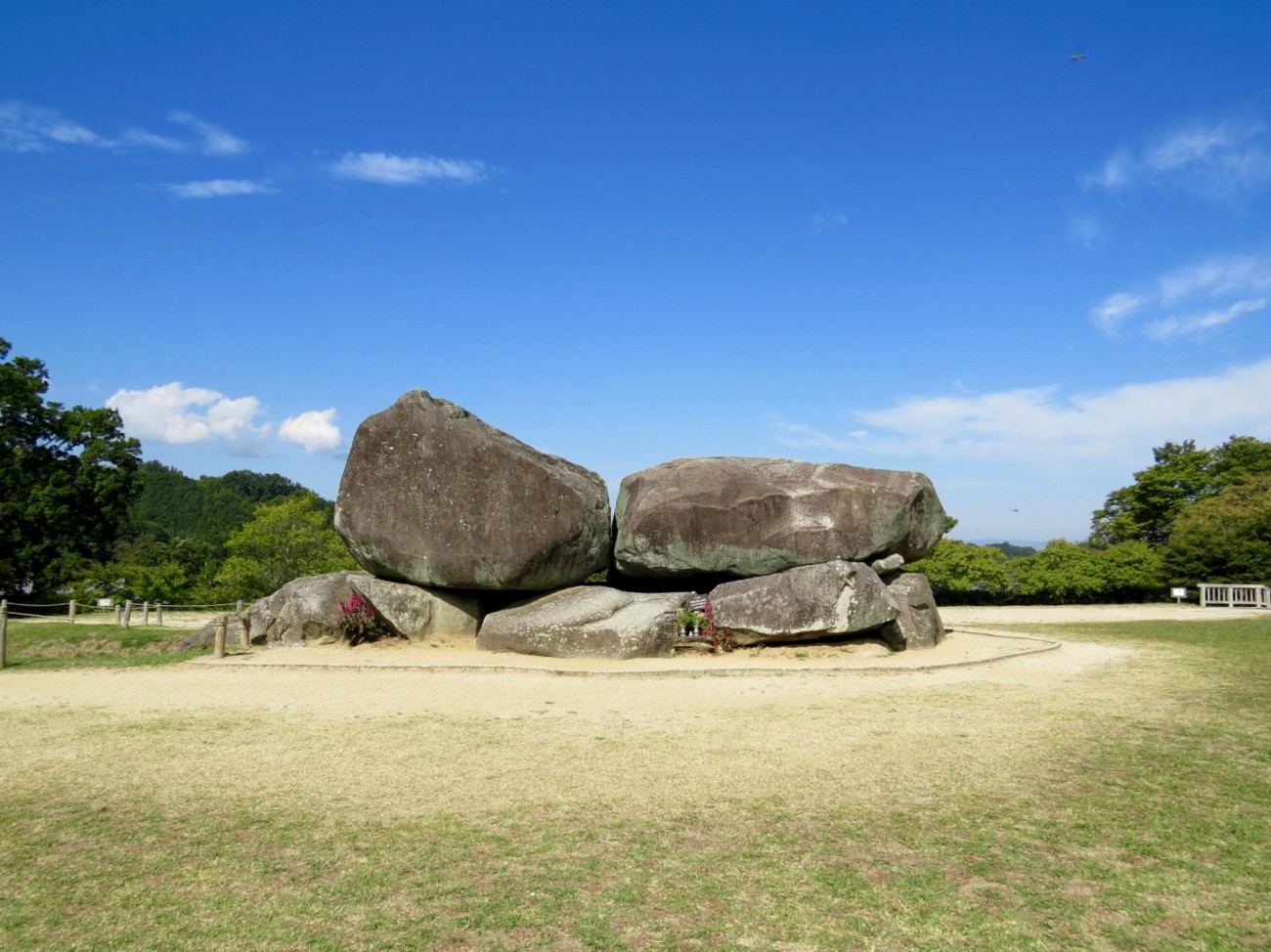 Asuka village located in central Nara prefecture and just south from Nara city is an area where an ancient palace and historic sites created during Asuka period (late 6th century to early 8th century) still remain. Omiwa, which is one of the oldest shrines in Japan, is also found in Sakurai city in this area.
If you want to discover the nature of Nara, head to the Yoshino area. This is the southern part of Nara prefecture, where Mount Yoshino is located. It is a famous destination to view beautiful cherry blossoms in the spring but also well-known for its other seasonal shades.
Find Out the Best Routes for You! Bus, Train or Sightseeing Taxi
If you are hoping to visit the major attractions inside Nara City, taking the Grutto (loop) bus is the best. There are two routes to this bus, one which heads towards Nara park route and the other to Heijo Palace. Both of them cost 100 yen per ride.
When you go outside of Nara city, taking either JR Nara line or Kintetsu line is the best, depending where you want to travel to.
If you purchase a Nara World Heritage Free Ticket, you can enjoy unlimited rides on Nara Kotsu Bus Lines and Kintetsu lines for anywhere from 1 to 3 days. You can purchase this ticket at any stations of Kintestu Railway. Please visit their official website (English/Traditional Chinese/Simplified Chinese/Korean/Thai) for more details about this pass.
A sightseeing taxi is another option to choose from. It is more expensive than others, but you can explore around more freely without having to worry about last train or whatnot with one.
Renting a bike is a good option if you are planning to visit some attractions near train stations. You will definitely discover different characteristics of Nara as you enjoy the fresh air.
Top 10 Famous Attractions in Nara
Nara has a lot of tourist attractions that really make it easy for people see what the city was like so long ago. Now we will introduce ten recommended destinations and what to see in each place.
1. Todaiji Temple: See The Great Buddha Statue
Todaiji Temple is one of the representative attractions in Nara. It was built in 8th century, giving it not only a far-reaching history but also prompting it to be recognized as a World Heritage Site.
A must-see thing in Todaiji is the Nara Daibutsu (a giant bronze statue of the Buddha) which is one of the three largest Buddha statues in Japan. The Great Buddha Hall where the giant bronze statue of the Buddha is placed is also stunning. One of the pillars of the Great Buddha Hall has a hole in it which is the same size as Buddha's nostril. It is said that passing through this hole will bring you happiness. Please check it out when you visit Todaiji Temple.
2. Horyuji Temple: Check Out the Oldest Wooden Building in Japan
Horyuji Temple, constructed in 7th century, is well known as the oldest existing wooden building in Japan. This temple was home to Prince Shotoku who was the main politician at the time when the temple was built.
Its five-storey pagoda is exceptionally popular and also part of the World Heritage site list - with one distinction: admission to this pagoda is free!
3. Nara Park and its Deer
Nara Park is located in the center of Nara city. Within its grounds you will find shrines and temples, including Todaiji Temple, as well as museums!
More than 1200 wild deer live in the park and are an attraction all on their own. Other than the deer, this park has picturesque scenery all year round, making it an excellent place to visit at any time.
4. Yakushiji Temple: Unique Architecture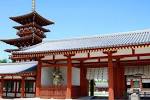 Yakushiji Temple is a temple complex with eight buildings within its grounds, and is also registered as a World Heritage Site. Its unique architectural style was inspired by Chang-an, the capital of China during The Tang dynasty.
'Yakushi nyorai' (the Medicine Buddha) statue found here has been recognized as a National Treasure in Japan. While this is a must see point, the complex is huge and has many other attractions, so it is a good idea to designate some extra time to this location during your visit.
5. Kasuga Grand Shrine: a Shrine Decorated with Lanterns
Kasuga Grand Shrine is a shine built by the Fujiwara family, who were exceptionally influential in Japanese politics around the 8th century.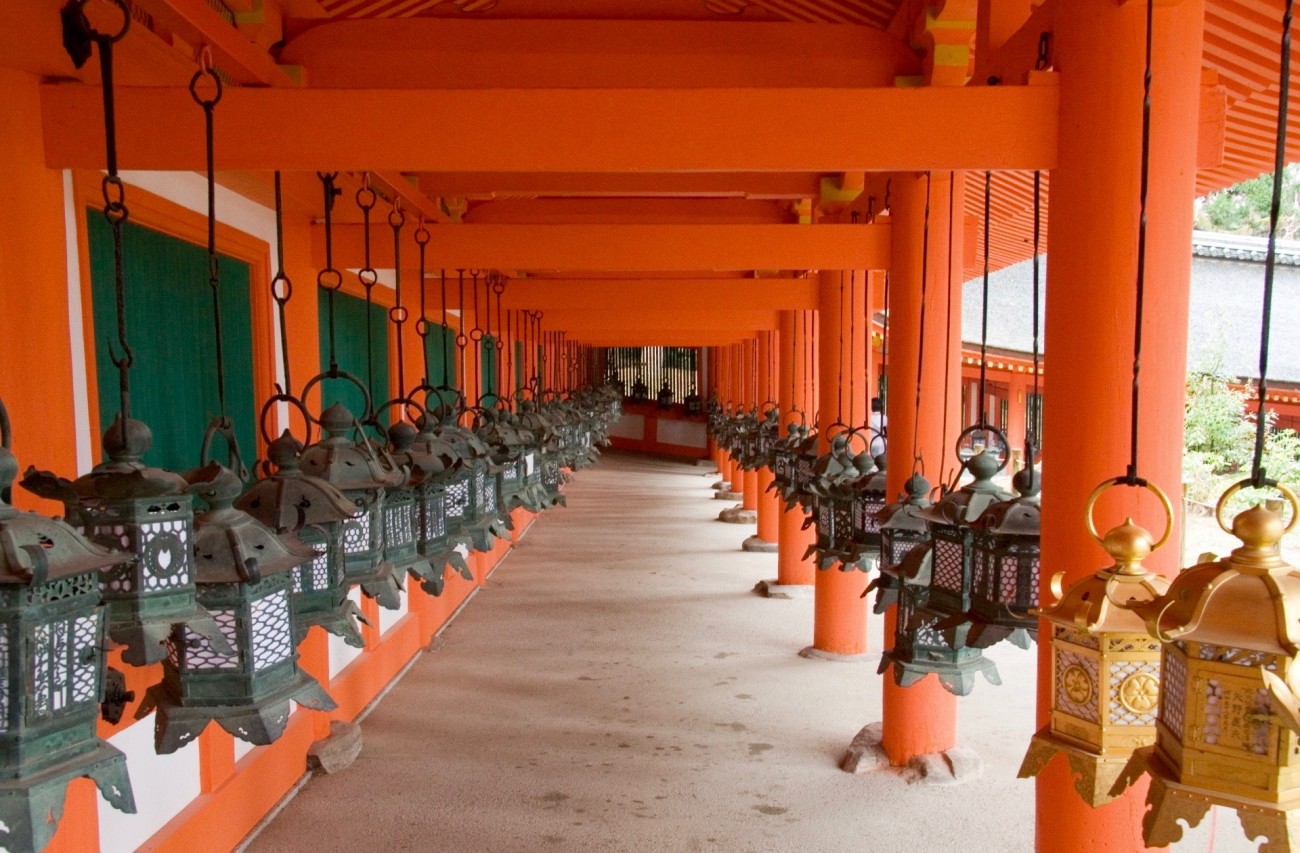 Also a World Heritage site and considered one of the model shrines of Nara, Kasuga Grand Shrine is decorated with numerous lanterns, giving it a subtle elegance.
6. Heijo Palace: The Heart of the Ancient Capital, Nara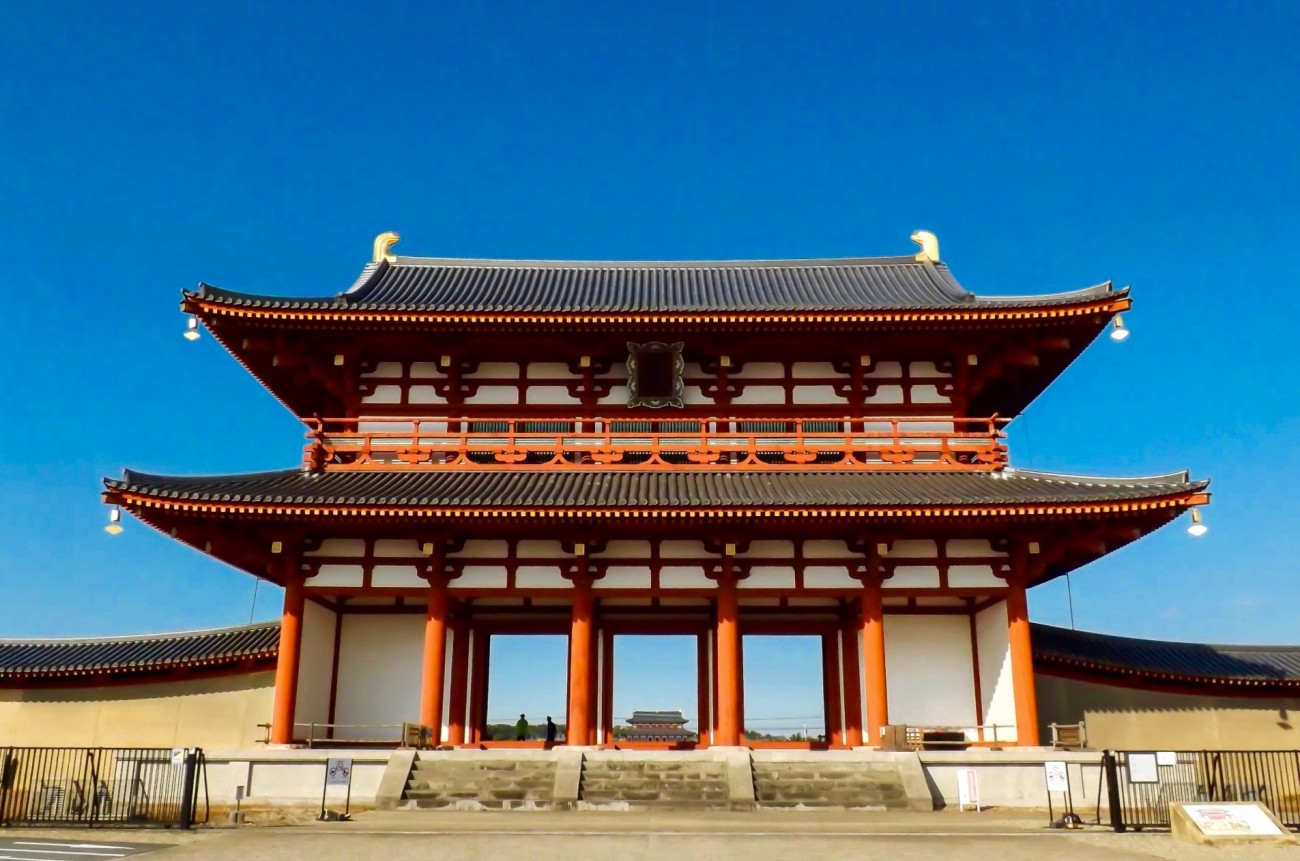 Heijo Palace is the site of the original palace in Nara when it was the capital. Unfortunately, the original building was destroyed, but it was reconstructed and now operates as a historical information center, allowing visitors to see what the area was like over a thousand years ago.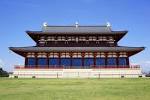 Its architecture was inspired by the ancient capital of the Chinese Tang dynasty, Chang'an. It is also part of the World Heritage Site List. You can surely feel Nara's glory when you visit this spot.
7. The Statue of Maitreya Boddhisatva (Miroku Bosatsu) in Chuguji Temple
The wooden statue of the Boddhisatva Maitreya in Chuguji Temple is famous for its elegant beauty. Chuguji is located next to Horyuji Temple. The position of the statue, with its legs crossed and a slight smile on its face is very impressive.
This figure is so well constructed that even with close inspection the seams that hold this wooden statue together cannot easily be noticed. When you visit Chuguji, please make sure to pay this statue a visit.
8. Mount Yoshino: Feel the Seasons in Nara
Mount Yoshino, located in central Nara prefecture, is a magnificent mountain which is best known as a cherry blossom viewing spot. Here you can see 1000 cherry blossom trees all at once, which has given rise to the expression hitome senbon which means "a thousand trees at a glance".
Besides the cherry blossoms in spring, stunning views can be enjoyed here throughout the year. Hydrangeas during the rainy season in June, new green leaves in summer, fall foliage at the end of October, white landscapes in winter. It offers amazing scenery at any time of the year.
9. Ishibutai Kofun: Kofun Found in Asuka Village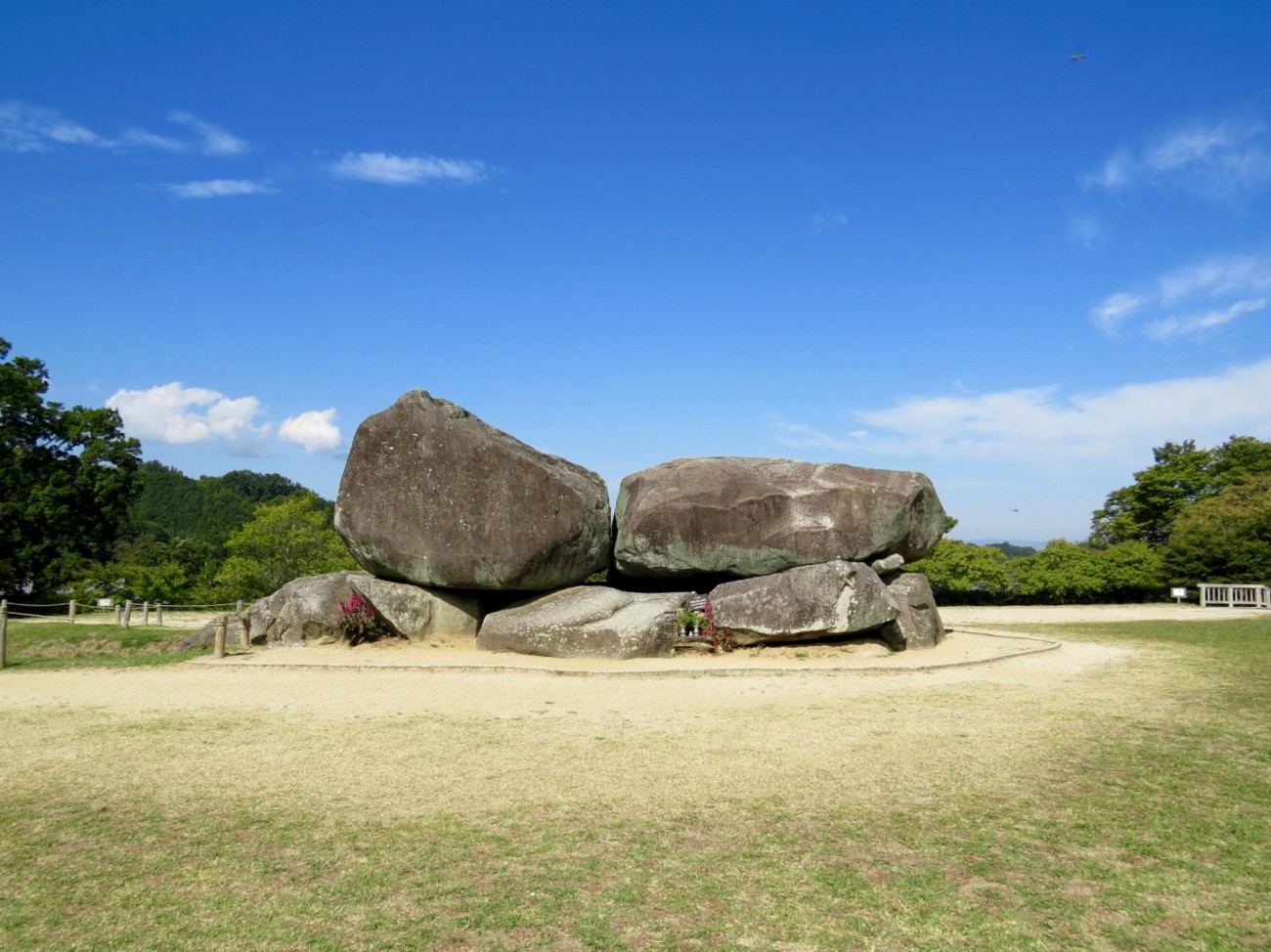 Ishibutai Kofun is a kofun (*1) placed within the Asuka Historical National Government Park in Asuka village. It is said that it is the tomb of Soga no Umako who used to conduct politics in Nara.
Only a stone coffin remains now and its surrounding is called the ishibutai (stone stage). The weight of this stone is 2300 tons, an impressive weight! The craftspeople at the time must have had a high degree of skill in order to be able to move this massive rock. We highly recommend you stop here when you visit Asuka Village.
*1 Kofun: a mound shaped tomb that was built in order to house members of high society, similar to a family tomb.
10. Nara-machi: Discover Japan's Old Town
Nara-machi has been called "Naramachi Urban Landscape Formation Area" in order to preserve its historical townscapes. Within its traditional landscape, machiya (Japanese town houses built at the end of Edo period), can be seen freely here.
Town houses in Nara-machi have been remodeled and are now used as restaurants, general goods stores as well as accommodation facilities. Why don't you go inside and experience what Japanese people's lives were like back in the past?
Nara used to be the center of Japan, which means that it is rich in cultural heritage and historic landscapes. Please visit the many famous attractions here and feel the charms of the old capital, Nara!