Kamakura Area Guide - Transportation And 10 Places To Visit
Kamakura is one of the most elegant historical cities close to Tokyo. Visit Kamakura, one of the ancient capitals of Japan, to enjoy the sight of the Great Buddha statue, of the enchanting bamboo temple Hokokuji, of Tsurugaoka Shrine, and other great sites!
Where is Kamakura?
Kamakura is a city in Kanagawa Prefecture where you can find traditional and historical streetscapes. The city used to be the capital of Japan, between the 12th century to the 13th century. Geographically, it is surrounded by mountains and the sea.
From then until today, a Great Buddha statue and other historical sites and temples exist in Kamakura. The city also attracts many visitors because of its great hiking and sea bathing possibilities. It is easily accessible from Tokyo and is an attractive one-day trip destination.
Transportation in Kamakura
Kamakura area has the JR Yokosuka Line, JR Shonan Shinjuku Line, and Enoshima Electric Railway. From stations to each sightseeing spot, you can choose whether you want to take a bus, taxi or even a rickshaw.
You can find information about how to reach Kamakura from Tokyo and transportation within Kamakura itself in this article.
From Tokyo or Shinagawa Station, Take JR Yokosuka Line
If you are coming from Tokyo or Shinagawa station, take the JR Yokosuka Line, which will bring you directly to Kamakura station. From Tokyo station, it costs 920 yen (a 57 minute ride) and from Shinagawa station, 720 yen (a 49 minute ride).
From Ikebukuro, Shinjuku, or Shibuya Station, Take Shonan Shinjuku Line
If you are coming from Ikebukuro, Shinjuku, or Shibuya station, take the Shonan Shinjuku Line. It takes 1 hour and 3 minutes from Ikebukuro, 57 minutes from Shinjuku, and 52 minutes from Shibuya. The fare is 920 yen from these three stations.
You have to be careful with the destination when taking Shonan Shinjuku Line though. If it is bound for Zushi, Yokosuka or Kurihama, it goes directly to Kamakura station, but if it's bound for Kozu or Odawara, you have to transfer to the JR Yokosuka Line at Ofuna station.
If you are coming from somewhere else, fly to Tokyo or take a bullet train to Shin-Yokohama first, and then take one of the above lines.
Take the Enoden to get to the Great Buddha or Hasedera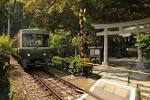 If you want to visit the Great Buddha statue of Kamakura or Hasedera Temple from JR Kamakura Station, take the Enoden, or Enoshima Electric Railways train. The Enoden is a popular railway with quaint scenery that you can observe from its windows; this train runs along the coast from Kamakura station to Fujisawa station.
There are a lot of popular spots along the railway line such as Yuigahama Beach and Kamakura High School. Take advantage of the Enoden to see around Kamakura.
We suggest using the Japan Rail Pass to get between Tokyo and Kamakura via JR lines. View this link to see details and book online.
Take a Rickshaw from JR Kamakura Station
Rickshaws are available at JR Kamakura Station. They are small and fit only two passengers, making it ideal for couples or small groups. A rickshaw driver will pull you along as they point out sightseeing spots and historical points.
It costs a bit more than other forms of transportation, but you can get more familiar with Kamakura and its surrounding area this way.
You can heighten your experience in Kamakura by wearing kimono. We suggest for the day (booking available online via Klook).
10 Places to Visit in Kamakura
Kamakura is an area with charming Japanese traditional buildings and beautiful nature. We recommend these ten places especially in Kamakura.
1. Hokokuji: a Mysterious Temple with a Bamboo Grove
Hokokuji is accessible from Kamakura station by bus and takes 12 minutes to reach. There are over 2,000 bamboo trees behind the temple.
It is also called the "Bamboo Temple" because of the fantastic scenery of a bamboo grove behind it. It is definitely worth visiting even though it's a bit far from the station.
2. Tsurugaoka Hachimangu: A Symbol of Prosperity
Tsurugaoka Hachimangu is a shrine located a 10 minute walk from Kamakura station. If you visit the shrine, you can see Kamakura as it was when it was the capital.
From the station to the shrine, there is a path called Dankazura with cherry blossom trees. You can enjoy walking the path to the shrine while feeling the historical atmosphere of Kamakura all around you.
3. Hasedera: Hydrangea and Brightly Colored Leaves
Hasedera is a temple located a 5-minute walk from Hase Station on the Enoshima Electric Railways line. You can enjoy beautiful landscapes each season, which is why the temple is also called the 'Flower Temple'.
It is known especially for its hydrangeas during the rainy season in June and for its colored leaves around the end of October, which is the best season to visit the temple with colors. Stroll in the shrine and enjoy the beautiful nature of Kamakura.
4. Daibutsu - See Inside the Great Buddha
The Great Buddha of Kamakura can be found in Kotokuin Daibutsuden, which is a 10 minute walk from Hase station. It is one of the three Great Buddha statues in Japan.
You can go inside the Buddha statue itself for 20 yen. If you visit the Great Buddha, you can't miss seeing what it's like inside.
5. Komachi Street: The Market in Front of the Station
Komachi Street is a shopping street outside of the East Exit of Kamakura station. A series of yatai-style food shops and small general stores offering unique goods run along the 360 meter-long street.
You can buy Japanese traditional street foods like senbei and takoyaki on Komachi street. Grab your favorite street food and look for cute souvenirs.
6. Meigetsuin Temple: Enjoy the Four Seasons in Kamakura
Meigetsuin Temple is a 10 minute walk from JR Kita-Kamakura station. It is famous for its beautiful hydrangeas, which attract many visitors during the rainy season in June.
The circle window is a must-see in Meigetsuin. It is said that the view of this Japanese Garden through the window represents truth and enlightenment. You can feel the power of Zen while taking a walk in Meigetsuin.
>
7. Kamakurakokomae Station: Famous Location for Anime Fans
Kamakurakokomae station is one of the stations found on the Enoshima Electric Railway line. This station became famous as its image was used in the popular Japanese anime SLAM DUNK, and the beautiful landscape around it attracts many photographers every weekend.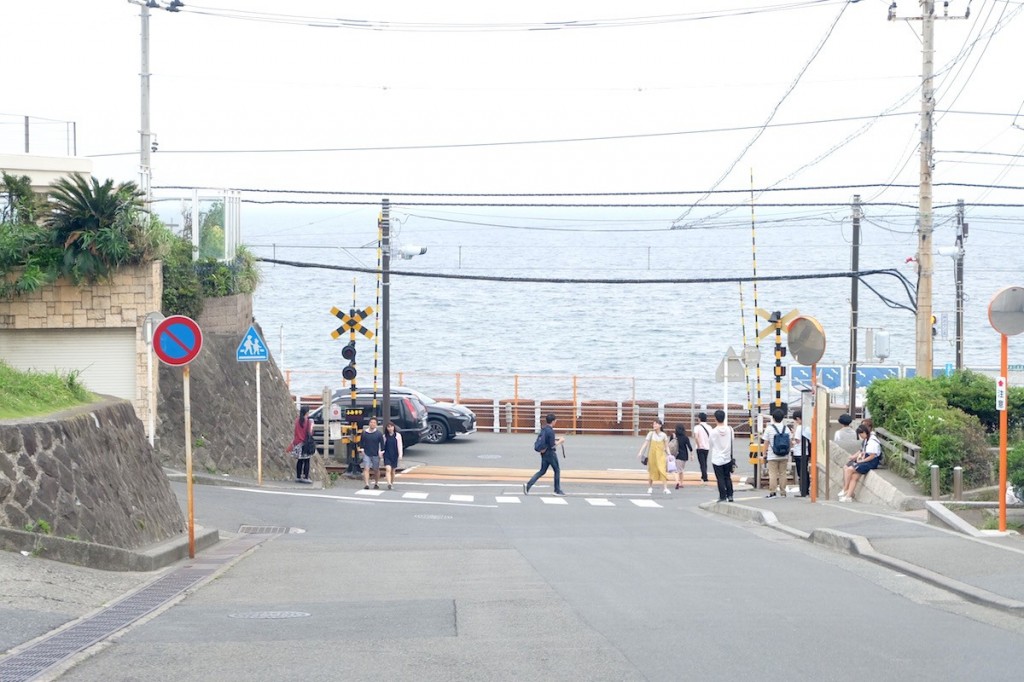 The slope from the station along the coast with railway tracks in the foreground is a particularly wonderful view. The place is a popular filming location not only for anime but also for TV programs and commercials. If you like taking photos, you must visit there.
8. Zeniarai Benten Shrine: For better financial fortune
Zeniarai Benten Shrine is in the mountainous side of Kamakura and it has been said for many years that the shrine brings better economic fortune toits visitors. It is said if you put coins in a basket and rinse them with spring water inside the shrine, you will gain more money.
9. Yuigahama Beach and Inamuragasaki: Ocean and Sunset Views
Yuigahama Beach and Inamuragasaki are part of the coastal area in Kamakura. The area attracts a lot of tourists for sea bathing and fireworks festivals every summer.
The two beaches are also known for their stunning sunset views. If you want to relax, you can visit there to enjoy the beautiful sunset.
10. Engakuji: Experience Zen Meditation
EngakujiTemple is near Kita-Kamakura station. Some of this temple's attractions are its large gate and a dragon illustration on the ceiling.

You can experience Zen meditation at Engakuji as well. If you would like to have some peace of mind, why not try a session of Zen meditation for yourself?

Kamakura is where you can enjoy both historical sites and beautiful nature. Visit the places mentioned above to have a taste of Japanese traditions and culture!

The information presented in this article is based on the time it was written. Note that there may be changes in the merchandise, services, and prices that have occurred after this article was published. Please contact the facility or facilities in this article directly before visiting.