What To Do In Hakone - 6 Must-See Places And Travel Tips
Hakone in Kanagawa Prefecture is great for a day trip from Tokyo. Known for its nature and onsen, this is a must-visit destination in eastern Japan. Learn the top six places to see, from museums to hot springs and Mt. Fuji views, and transportation tips.
Hakone - The Best Place for Hot Springs, Nature, and Art
Hakone, located in the western part of Kanagawa Prefecture, is a popular destination for onsen, or hot spring lovers. However, Hakone is not only about hot springs - here you can find a variety of attractions, from beautiful outdoors and nature to museums and fun forms of transportation, like a ropeway, cable cars, and mountain trains.
Express trains run regularly from Shinjuku to Hakone as it only takes 2 to 2.5 hours to reach from the greater Tokyo area. Hakone is an excellent place to visit if you want to take a day trip from the city.
This article introduces the top six locations to visit and tips on weather and transportation to make the most out of your vacation.
6 Recommended Spots in Hakone
There are numerous spots in Hakone including hot springs and museums. Here is a list of six recommended spots.
1. Hakone Open-Air Museum
The Hakone Open-Air Museum is where you can enjoy art outdoors. Accessible via the Hakone Tozan Railway from Chokoku No Mori Station, this is considered a must-visit spot in Hakone that is easy to get to.
The museum exhibits internationally-famous artwork that visitors can explore outside, which balances well with its natural surroundings. Niki de Saint Phalle's "Miss Black Power" is particularly famous and a must-see in person. There are also many pieces by Japanese artists.
The natural background of Hakone becomes part of the art itself, creating a truly unique experience. There is no proper set route or time limit to adhere to either, so feel free to take your time and appreciate the art.
2. Hot Springs in Hakone-Yumoto
Hakone-Yumoto is a part of Hakone where many trains and transportation from Tokyo arrive. Notable for its high-quality onsen, this is an ideal place to relax before or after seeing other parts of Hakone.
It is also convenient and fun to explore without entering the hot springs. Souvenir shops and the beautiful mountain scenery around the station attract a lot of visitors every day.
Hakone Yumoto has been historically known for its hot springs since the Nara Period (710-914). Here you will find over hot spring inns and footbaths in the town, so you can freely experience hot springs for yourself.
3. Owakudani
Owakudani, formed from volcanic eruptions around 3,000 years ago, allows you to see the continuous active volcanic activity in Hakone. White smoke from the ground billows around this area. Due of its unique landscape, it was called the "Valley of Hell" back in the Edo Period. You can reach Owakudani by riding the Hakone Ropeway. On clear days, you can see Mt. Fuji from the ropeway and Owakudani area.
The black hard-boiled egg, prepared in the hot spring water, is a popular souvenir and must-try snack.
Volcanic gas causes the egg shells to oxidize, turning them black naturally. It is said you will increase your lifespan by seven years if you eat an egg. The eggs are sold by multiple shops in the area by Owakudani Station, so you should try one when you visit.
4. Lake Ashi
Lake Ashi is a lake created from an ancient volcano eruption and is the largest in Kanagawa Prefecture. One of the best ways to enjoy the lake is by riding the Hakone Sightseeing Cruise, pirate-themed boats that let travelers see the view around the lake.
Located close to Moto-hakone-ko, a stop on the cruise, is Hakone Shrine. It is a particularly famous shrine with its enormous torii gate by the lake. Make sure to stop by for pictures and to feel the tranquil atmosphere of this shrine.
5. Chisuji Falls
Chisuji Falls is found in the Owakudani area, located next to Horaien, a renowned Japanese garden. It is 3 m in height and 25 m in width, and is said to look like thousands of lines of water flowing between the rocks, which is why it was named Chisuji (one thousand lines).
The area is also known for its koyo, or beautiful colored leaves during the fall. Be sure to capture the beautiful natural scene. The sound of flowing water echoes in the woods around you, making this a sensory-filled outdoor experience.
6. Hakone Glass Forest Museum
Hakone Glass Forest Museum is a museum and shop selling glassworks in the Sengokuhara area of Hakone. An arch of crystal glass and water fountain can be seen shining beautifully here.
The museum was designed with Venice, Italy, in mind, as glass is one of the most famous items produced there. This museum is an excellent place to appreciate fine glass art in nature.
Hakone Weather and Recommended Clothing
Hakone is at a higher altitude and surrounded by mountains, so the temperature and humidity is much lower here than in Tokyo. It gets cold after dark even during the summer, so you should bring a light jacket or sweater with you even in the summer months. Hakone experiences rather heavy snows and cold during the winter, so being prepared with extra hats, scarves and gloves is a good idea.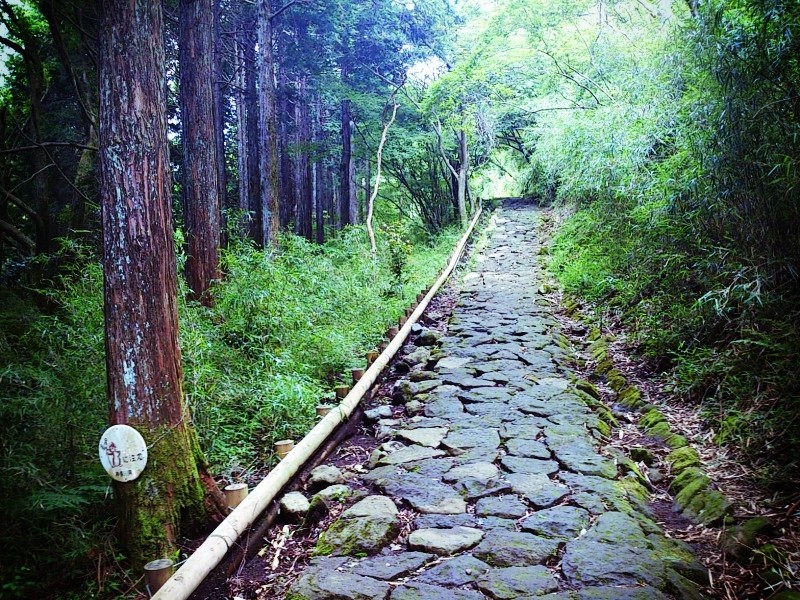 While in Hakone you will find yourself walking more than in the city, so it is a good idea to wear a comfortable pair of walking shoes during your visit.
And, as the weather can change quite quickly in the mountains, it is always a good idea to bring along some rain gear just in case when traveling to Hakone.
Transportation in Hakone
The Hakone area has a good transportation network, which is very useful when you want to visit different sightseeing spots - if you know how it works. There are trains, a ropeway, and boats to ride. Using the Hakone Free Pass is especially convenient when staying in the area for a couple days or more.
Book your ticket by following the link below:
Hakone Free Pass (2 Days, 3 Days)
Climb the Steep Slope with the Hakone Tozan Train
The Hakone Tozan Train connects Hakone Yumoto station and Gora station on the mountain. This train is unique in that it is the switchback style - it travels in a zigzag pattern.
Along this line you can see beautiful hydrangeas in the summer and gorgeous fall colors in the autumn. This line is especially useful if you are planning on visiting the Hakone Open Air Museum.
Enjoy a Bird's-eye View of Hakone from the Ropeway
The Hakone Ropeway connects Sounzan station and Togendai station, and is a wonderful place to enjoy the sight of Hakone from above.
If you are lucky, you can even see Mt. Fuji when there's a clear sky. Owakudani is another great place to check out if you would like to see an active volcano.
Take Advantage of the Hakone Freepass
The Hakone Free Pass is convenient if you would like to see around Hakone. This pass gives you free access to almost all of the public transportation in Hakone. The shortest pass is valid for two days and you can buy one at any of the stations on the Odakyu Line or online.
Purchase online via Klook
For details, visit the Hakone Navi official website.
Nippon Rent-a-car TX Asakusa Office

Renting a car is another option. You don't have to worry about the schedules of public transportation while you are traveling this way.

Choose the service that best suits your needs and schedule.

The information presented in this article is based on the time it was written. Note that there may be changes in the merchandise, services, and prices that have occurred after this article was published. Please contact the facility or facilities in this article directly before visiting.