Finding Japanese Souvenirs - The Best Shopping Spots in Kyoto
Kyoto is the ideal place to find unique Japanese souvenirs. In this article we introduce some of the shopping spots worth checking out, as well as what kind of souvenirs can be purchased there. Keep your memories of Kyoto with these great souvenirs!

Kyoto is a popular sightseeing destination among visitors from Japan and from around the world. Today we'll be introducing some recommended shopping spots where you can find Kyoto-exclusive souvenirs.
Recommended Shopping Spots in Kyoto

Kyoto is known for its many World Heritage Sites and unique atmosphere. But there are also many places in this wonderful city where visitors can enjoy shopping.
1. Shinkyogoku and Teramachi-dori Street

This is a shopping street right by the Hankyu Kyoto Line Kawaramachi station, or the Tozai Subway Line Shiyakusho-mae station. Shops that sell washi (Japanese paper) and sensu (fans) line the street. It's a great spot to search for Kyoto-exclusive items.
Kyosensu - Elegant Fans from Kyoto

From A Gentle Breeze from "Sensu" to Cool Late Summer Heat
Kyosensu - Kyoto-style fans - are made only in a few places in Kyoto and Shiga. They are each carefully made by skilled craftsmen. Hakuchikudo is a sensu specialty store, where you can find various traditional Kyoto sensu fans.
Hidariuma: A Go-To For Geisha
Hidariuma is a long-established cosmetics store founded in 1897. The store offers many cosmetics items such as oil blotting paper, and it is said that many geisha often stop by.
Kyukyodo: A Long-Established Washi Specialty Store
From You Can Find a Great Gift at "Kyukyo-do" in Kyoto
Kyukyodo is a long-established washi (Japanese paper) specialty store. Other than binsen (letter paper), they also sell brushes and other stationery. There are various items with traditional Japanese patterns and designs available here. Maybe you'll want to use some of the traditional Japanese stationery to express your thoughts of gratitude toward someone special?
2. Enjoy the Aromatic Tea of Kyoto
The Long Established Ippodo

There are many shops specializing in Japanese tea in Kyoto, but by far the most famous is Ippodo. We highly recommend stopping by to those who want to try the genuine taste of Japanese tea.
Experience Matcha Art
From Enjoy Matcha Art In Wazuka, The Town Of Tea
If just drinking delicious matcha is not enough, then please head here! Wazukacha Cafe is located in Wazuka, Kyoto, Japan's number one producer of tencha, which is an ingredient in matcha tea. Visitors can learn about how to enjoy matcha, or even how to create some matcha art, and enjoy the matcha experience to the fullest here.
Read also:
Enjoy Matcha Parfait at Gion Tsujiri
Matcha is of course delicious as it is, but some might think its taste is a little too bitter. For the latter category we recommend enjoying the tea with some sweets. Gion Tsujiri is an Uji Matcha specialty store established in 1860. They offer not only matcha tea, but various Japanese-style sweets as a different way to enjoy the tea leaves. You will be craving more once you've experienced the unique balance between sweet and bitter.
3. Nishikidori - Loved By Locals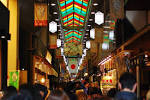 Nishikidori street is a popular spot among visitors to Kyoto, but at the same time it is a shopping street loved by the local people as well. The street stretches about 390 meters, and is really "Kyoto's Kitchen", as you will be able to find various ingredients such as Kyoto vegetables, yuba, and tofu for sale here.
Walk and Eat
From Kyoto's Kitchen "Nishiki Market" Packed with Both Visitors and Locals
Other than normal groceries and side dishes, you might even find some matcha warabimochi. These warabimochi (glutinous rice sweets) are made from matcha prepared at the store. Most warabimochi are covered in a light kinako powder, so you can enjoy a very Kyoto-like taste instead here.
Souvenirs
From Kyoto's Kitchen "Nishiki Market" Packed with Both Visitors and Locals
Other than fresh groceries, here you will be able to find the perfect Kyoto souvenir. Items such as individually wrapped snacks and Kyoto pickles can be found and purchased at reasonable prices.
Japanese Arts and Crafts
Now we'll introduce some stores that offer lovely small accessories, such as tabi socks and sensu fans.
Pioneer of Kyosensu: Miyawaki Baisenan
Miyawaki Baisenan is said to be a shop that exemplifies Kyoto's history and style. If you want to bring home a genuine and unique Kyosensu fan, this is your first stop.
Incense Items: Kungyokudo
Kungyokudo is an incense specialty store established in 1594. The incenses available here are created mainly from vegetable perfume, and are very popular among the Japanese, as well as tourists from China, Nepal, and other countries.
70-Year-Old Used Kimono Shop
If you wish to purchase a kimono in Kyoto, you might want to consider a reasonably priced antique kimono. Echigoya is a kimono recycle shop where visitors can find beautiful kimonos at very good prices. Buying a kimono would probably make your Kyoto trip much more memorable.
Sneaker-Like Tabi Socks?

From SOU・SOU in Kyoto– Japanese Clothing for Modern-Day Japan
Sou・Sou is a Japanese clothing store with the concept of "creating a new Japanese culture". Here you will be able to find appealing items with new modern designs that have been inspired by Japanese traditions and patterns.